Over the past few weeks I've been watching the latest developments at various garden centers throughout the region and have been working to get into that spirit. To some extent, they have all been grappling with a mix of weather as their seasonal supplies of plants arrive to the marketplace. Last week I noted an explosion of new plants and supplies and was happy to take some photos of new growth. Plants tend to be very photogenic, especially if they are tended well.
I wonder what drives customers to a particular gardening center or nursery? Are they on a voyage like I am? Or are there other factors at play?
Proximity may be one factor. Price probably also weighs in on some consumer behavior and the kinds of deals, coupons, etc. that are being offered as incentive to get the customer through their door. The plants themselves must also be taken into account. Quality counts. For me, it's also about the Oxygen. Regardless of which center I go to for my gardening needs, I inhale much better and enjoy the scent much more than say when I'm taking my car for repair.
General's Garden in Warwick is in a great location as it is easy to get off Rt. 94 and into their gardening center, where there is plenty of parking. The hospitable and down to earth nature of their store manager, Kerry, is another reason to stop in, as are owners Deborah and Michael Sweeton. I must say that my spending behavior has a lot to do with the disposition of a store's staff. Finally, General's Garden has a wide variety of plants and supplies – enough to suit my needs, like the Rosetone, bird seed or new pot that I found myself gravitating towards.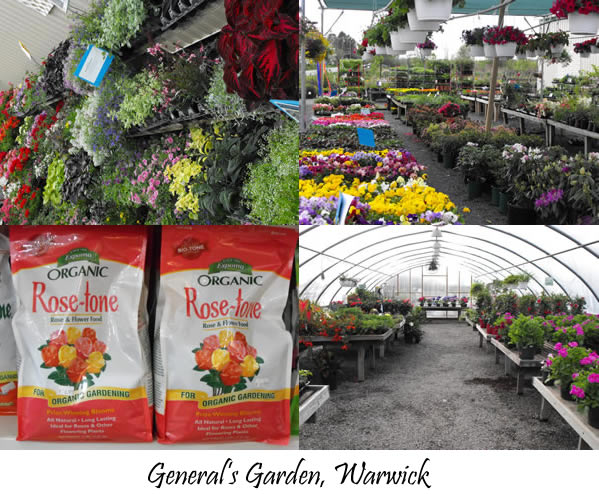 Penning's Farm Market, right across the way, is another big retailer of plants and gardening supplies. My eyes feasted on their hanging plants and large selection of pots while my mouth salivated for something to eat. At Penning's I can read the local paper, listen to some pleasant tunes, have a draft on tap and consider my Mother's Day options as I come to pick up my produce, organic meat and get a garden plant at the same time. They too have a wide selection of plants with a greenhouse filled with new prospects.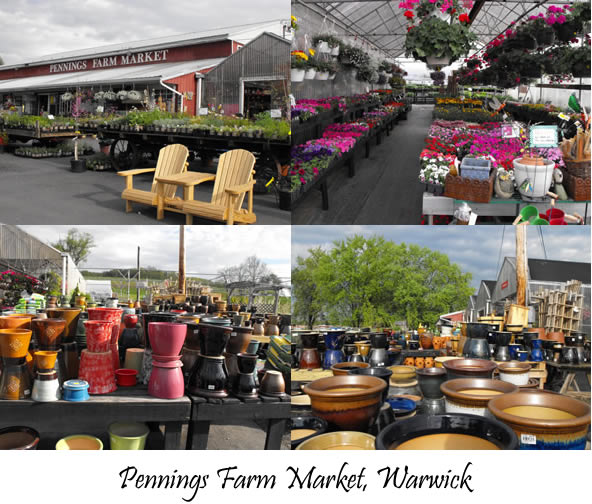 Over the hill in West Milford, Eden Farms is home to a large number of high quality plants, many of which are grown from seed. Their wide selection of spinners, unique gardening supplies and friendly staff are another reason to stop in and shop. There is a gardening gift I'm eager to purchase which I know will make a great gift to that gardening diva in your life. And of course mulch and soil is readily available.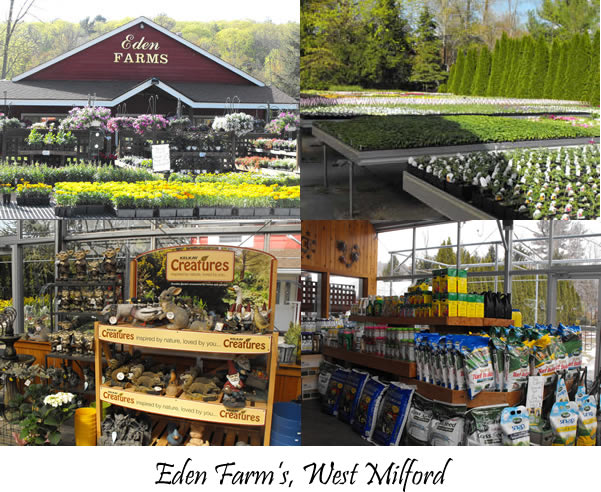 Auntie El's in Sloatsburg has been another favorite destination, in part because I really enjoy their baked products, some recent produce (we had oranges that were delicious), and also because right now they are showing off their gardening stuff, with so many plants vying to be taken home and interesting supplies like windmills and Mexican Pots. I took home some basil and I'm going back for a tomato plant and bloody Mary mix. Who knows what else I will find in this very eclectic center.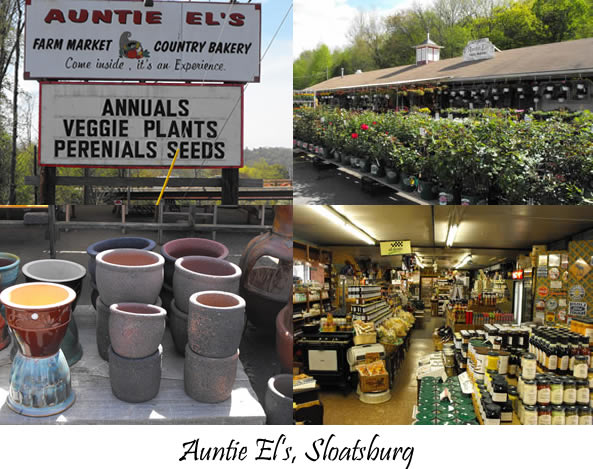 Hickory Hollow Nursery and Garden Center, located in Tuxedo, is unparalleled in terms of their huge selection of trees and shrubs. Right now as well they have many high quality plants in store and a great gift center. The energy on their property is wonderful as you are amidst waterfalls and plant life.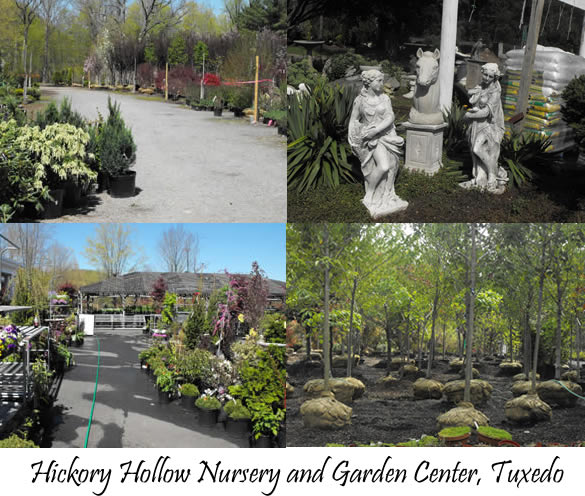 Finally Greenwood Lake's Gardening Center is growing its business nicely, as I've seen a large increase in plants from last year. Their entrance way with a new fountain really adds charm and they too have a great selection of plants that are ready to be enjoyed.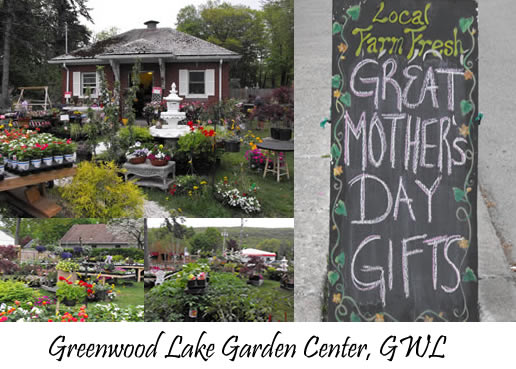 What I really enjoy about getting out and exploring garden centers is to be amongst that which is growing. Somehow as the season unfolds and the growth continues, I find my spirit moving in a similar direction.