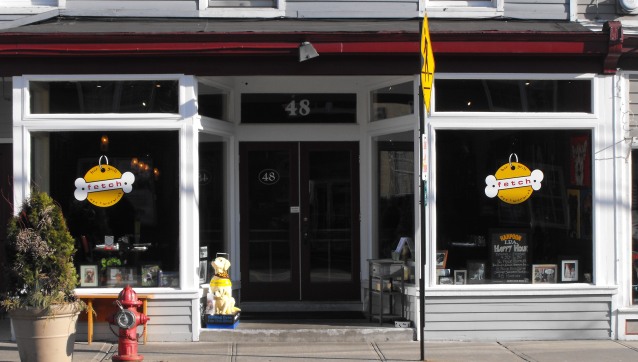 The love we have received, given and felt for our two dogs has been deeply profound. Having two dogs in our lives, a Maltese named Gigi and a Chihuahua named Chiquita, Kerryl and I feel blessed to have them as companions and best friends. We love our dogs and can't imagine our lives without them! They definitely have made our lives whole. Who that has dogs, can't say the same?
Which brings us to Fetch, a new addition to Main St. dining in Warwick, NY, where you won't find a more dog friendly environment, at least in spirit. At Fetch dogs rule. Yet don't worry, you won't have to share your dish. There anyway. Unfortunately or fortunately, dogs are not allowed, only their pictures, which adorn the walls of the restaurant. This canine theme resonates throughout the space and helps create the warm and friendly ambiance. It might be comforting to know that your dog too is welcome to hang amidst a crowd of their brethren.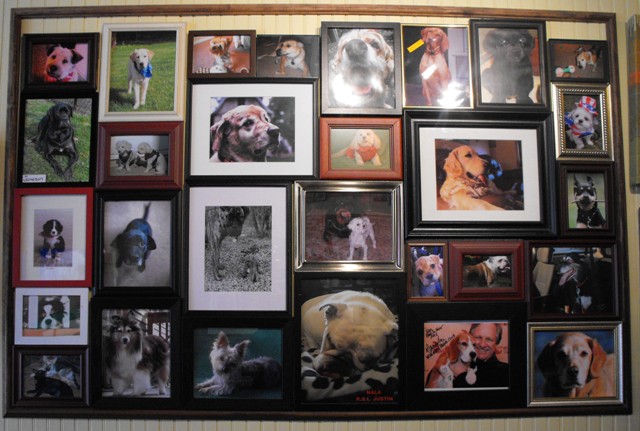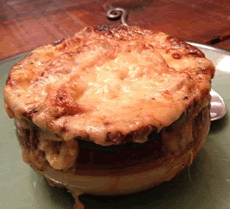 Whether you love dogs or not, Fetch has a great menu for its diversity, uniqueness and creativity. You have to experience the menu to believe it. It's like none other that we know, unless you have eaten at Fetch's other restaurant in the city. You can get "pubby" food such as buffalo wings, chicken fingers, and burgers, "heartier dishes" like beef stew and turkey pot, "original dishes" like spaghetti and meatballs, philly cheesesteak or baked macaroni and cheese, "exotic foods" like thanksgiving eggrolls and asian barbequed skirt steak salad, and "finer faire" such as the grilled Atlantic Salmon, or cracked black pepper crusted tuna. They even have fajitas and cincinnatti style chili. And if you feel like something from the Greek Isles, you'll find a Greek flat bread salad!
So now that we've given you a taste of what's on the menu, what did we order? We started out with the Thanksgiving eggroll, which is stuffed with roasted turkey breast and cranberry sauce served with Harry's mushroom gravy. It was delicious! Then we had Adam's Apple Salad, another winner, which consisted of grilled granny smith apples, spiced rubbed pecans, wild mushrooms and crumbled stilton blue cheese served over a bountiful helping of fresh spinach. My main course was mom's meatloaf, and I will say no more. Meatloaf is my favorite all-time dish and this one rates way up there for taste and tenderness. I particularly loved the roasted root vegetables that it was served with. Kerryl ordered cracked black pepper crusted yellow fin tuna served in a burgundy and balsamic teriyaki reduction with pickled ginger, sautéed spinach and carmelized onion mashed potatoes. Again, another comfy and delightful dish.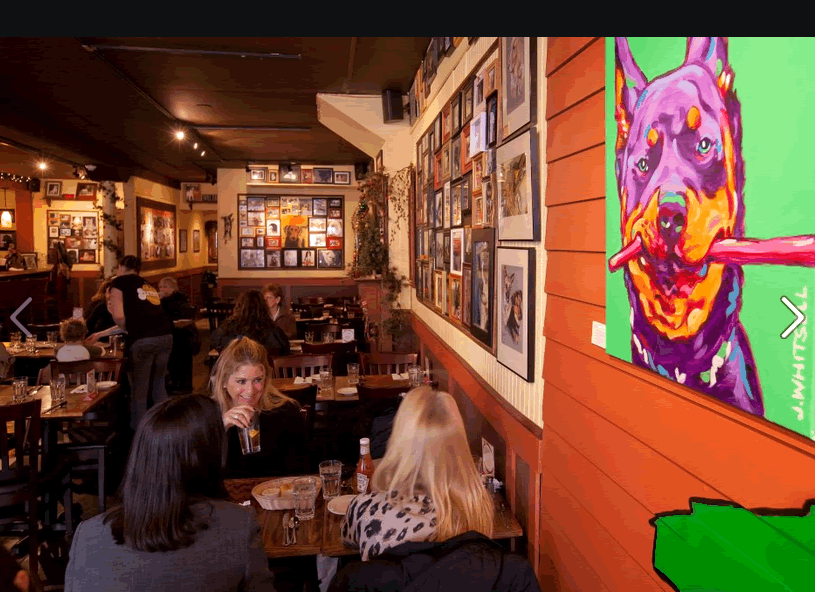 Kerryl and I were pleasantly surprised with the subdued lighting, which created a romantic ambiance that we often appreciate when we go out to dinner. It was perfect, fitting for Valentine's Day, which we were celebrating. We were also very happy with the service, which was warm, attentive and professional, as we definitely felt we were being treated as "one of their best friends." Since Valentine's Day fell on a Tuesday, we were able to participate in a live band Karaoke open mic which starts every Tuesday at 9 p.m.
At the root of all of these key ingredients making Fetch a hit, is its owner and executive chef, Adam Powers. His warmth, generosity, and talent have made Fetch a fun and worthwhile dining destination.
The generous portions of food reflect his generous spirit. The gracious offer of coming in on your birthday for a free dinner is another giving and endearing gesture. When you sit at a particular table called the doghouse, part of the check proceeds go to the Warwick Valley Humane Society. And on the first Sunday of every month, you can come for lunch and adopt "your new best friend" as the Warwick Valley Human Society puts up for adoption several dogs and cats outside the restaurant.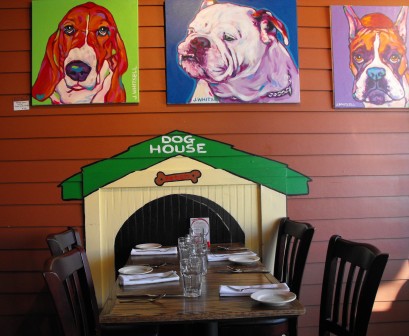 At Fetch, you surely won't go home hungry. And your dog will be thankful, for you'll have left-overs to share with your favorite pooch. Just ask Gigi and Chiquita.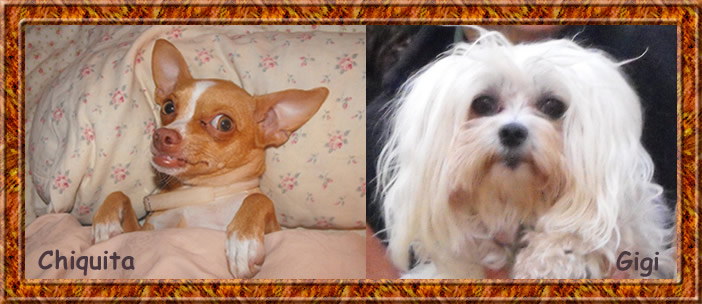 To learn more about Fetch, visit their website at http://fetchbarandgrill.com/
and follow them on Facebook https://www.facebook.com/pages/Fetch-Bar-Grill/211904445540828?sk=info