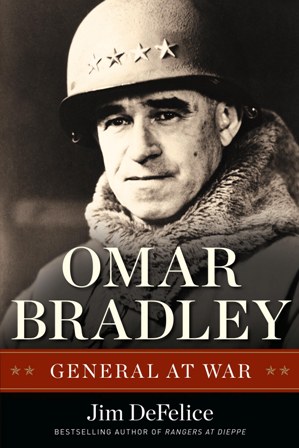 The book, Omar Bradley, General at War, by Hudson Valley Writer Jim DeFelice, written in 2011, is the story of a midwestern American boy's life's journey from a life of poverty to his good fortune of admission to West Point, the US ARMY and ultimately to US General. Bradley's role in World War II included North Africa, Sicily, and ultimately DDAY, the Battle of the Bulge, and the defeat of Nazi Germany.
Unassuming, nonflamboyant, compared to Patton or the British General, Bernard Montgomery, Bradley was a great tactician. It was during the early fighting that Bradley was discovered to be a general concerned with the welfare of his troops. He lived most of the war in a truck. He loved mathematics and excelled at baseball on West Points' varsity team. It was there that he would meet, amongst others, Eisenhower, in his 1915 class. General George Marshall found him especially trustworthy.
As his career developed he encountered George Patton as his neighbor when stationed in Hawaii. Patton was flamboyant, loved entertaining and showing off, while Bradlley who had married his childhood sweet heart preferred a quiet life. In Sicily, Patton got into severe trouble over an incident of his slapping a non-wounded patient suffering from battle fright. Covered by the media, word spread as the story could not be contained. Thus, in preparing for D Day, Patton's role was that his army would be aimed at Calais, rather than at Normandy. Patton would redeem himself later, especially in the Battle of the Bulge. Omar Bradley, working under Patton in North Africa after the Kasserine Pass debacle reorganized US forces in North Africa.
Omar Bradley is a fascinating, detailed and descriptive story as DeFelice describes the unassuming Bradley, comparing him with other notable generals the likes of Montgomery, Eisenhower and Patton.
---
Excerpt from the book Omar Bradley: General At War by Jim DeFelice, a Hudson Valley writer:
Introduction
First Impressions
Northern Africa, February 23, 1943
The C-54 Skymaster ducked down from the clouds, its Pratt & Whitney radials pulling it toward the long, tan dagger jutting into the azure ocean ahead.
Africa.
As the plane dropped lower, green blotches appeared: trees spared the fury of the working bulldozers that razed the nearby land, turning it burnt yellow even as the aircraft dropped. A short, precariously narrow gray line appeared in the sand ahead. Ants were running near it.
Not ants, but men. Not a line but a runway, unfinished. The men were laying steel planks to widen and extend it.
General Omar Bradley, stiff and tired from a flight that had begun the night before inBrazil, roused himself and gazed out the window.
"We're landing, sir," said Chet Hansen, one of the general's two aides.
Bradley nodded. Taciturn, he continued to gaze out the window as the military transport bumped onto the steel grid, its wheels whining. A gust pushed the aircraft hard to the side as it landed; the Air Corps pilot mastered it, keeping the drab green airliner on the runway as he feathered the engines and went hard on the brakes. The short strip gave him little room for error.
The same might be said for the tens of thousands of Americans stretched out between the airport and the far-flung foothills ofTunisiawell to the east. Three months before, the troops had landed inNorth Africa, full of hope and vigor, sure that they would bring the war against the Axis to a quick and victorious conclusion. Now they weren't so sure. Their offensive had stalled badly. The reality of war had proven considerably more frightening than most had thought possible. Facing experienced German veterans, they had stumbled badly. Indeed, things were worse than most realized, as they had benefited from a good portion of luck at the start of the campaign, unnoticed as it may have been.
Luck had run out in a pass far to the east in Tunisia. There the young American force had been severely whipped in a mountainous area known as Kasserine Pass. At roughly the same time the C-54 was setting down, the architect of their defeat was repositioning his Panzers, threatening a strike that would break the young force entirely.
Bradley rose from his seat and made his way to the door with a mixture of anticipation, energy, and undoubtedly some apprehension. Though he was a general, he'd never been this close to war before. Though he was regarded as a master tactician—and had instructed thousands in the art—his plans had never been put to the test of real combat. And though he was held in the highest esteem by men who had already proven themselves under fire, he himself had never heard an angry bullet crease the air nearby. At fifty, he was a virgin to combat.
This would not have mattered much if he was coming to take a staff job, or even if he intended only to fulfill the role of an observer, in theory the job he had been assigned. But Omar Nelson Bradley, while modest in speech and demeanor, had ambitions that extended beyond the job of advisor or assistant. He wanted desperately to lead men into battle. He wanted to win, and he wanted to kill.
Nor had the man who sent him across the Atlantic intended that he merely observe. U.S. Army Chief of Staff George C. Marshall, who'd known Bradley for years, believed he could help turn the faltering U.S. Army around. Originally opposed to the African campaign, Marshall had come to see it as a crucial test for the still inexperienced army. It was a test that it had to pass, or it would suffer the most dire consequences.
* * *
Author Bio:
New York Times bestselling author Jim DeFelice is a long-time Hudson Valley resident who has lived in Dutchess, Ulster, and Orange counties. He's written more than 30 novels and military histories that explore the moral questions of war, politics, and heroism.
A frequent collaborator with Larry Bond (Red Dragon Rising), Dale Brown (Whiplash), and Richard Marcinko (Rogue Warrior), Jim's solo books include the novels Leopards Kill, Cyclops One, and Coyote Bird, and the military history Rangers at Dieppe.
His newest book, Omar Bradley: General at War, published in September 2011, is the first in-depth biography ever written on the West Point graduate, who planned and led the Normandy Invasion on D-Day.
To sign up for a free email series Hallmarks of Good Leadership, based on Omar Bradley's speeches and papers, send your name and email address to This email address is being protected from spambots. You need JavaScript enabled to view it.
Jim's websites are www.jimdefelice.com, and www.rangersatdieppe.com. You can follow him on Facebook at Jim DeFelice author page or through Twitter @jimdefelice.
Reviewer Bio: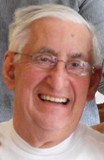 John F. Nitti, MD, who passed away on May 9, 2012, was a surgeon who spent most of his adult life practicing medicine at The Valley Hospital and raising a family in Ridgewood N.J. He spent two years in Japan during the Vietnam War where he operated on wounded U.S. soldiers, saving the lives of several young American military men, for which he received the grateful appreciation of many distraught parents of U.S. servicemen and women.
As president and founder of the Valley Hospital History Club, for over 20 years, Dr. Nitti organized countless lectures and programs. It was his lifelong love and passion of history that kept him involved in reading histories like DeFelice's Omar Bradley up to the very end of his life. He will be deeply missed.