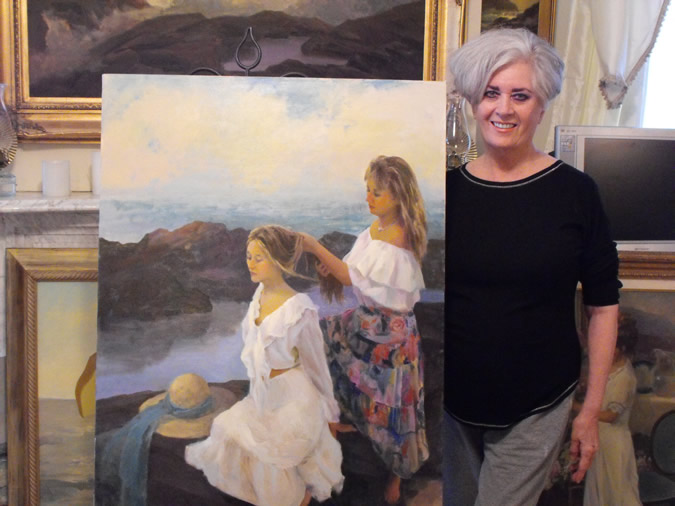 In 2011 Elaine Sgambati moved to Warwick, NY, where she opened Sgambati Fine Art Gallery and Art School, which is now offering oil painting classes for adults and children 8 and over. From a very early age, Elaine exhibited artistic ability, coming from a family of musicians, artists and designers while showing an innate talent for art.
At 21 she took her first oil painting class at the Ridgewood Art Institute in Ridgewood , NJ, discovering that she wanted to paint in the medium of oil. At the institute she studied still life, floral, landscape, seascape and portrait paintings from master teachers like Arthur Maynard and Frank Giovinazzo.
Four years later she was asked to join their faculty and taught adult and teenage classes for the next 17 years, where she would also reside with her family. Later she moved to Vernon, NJ for a short period of time and then to the Jersey shore, first teaching at the Ocean County Artists Guild while she was operating her own art school, Riverview Art School and Gallery in Island Heights, NJ.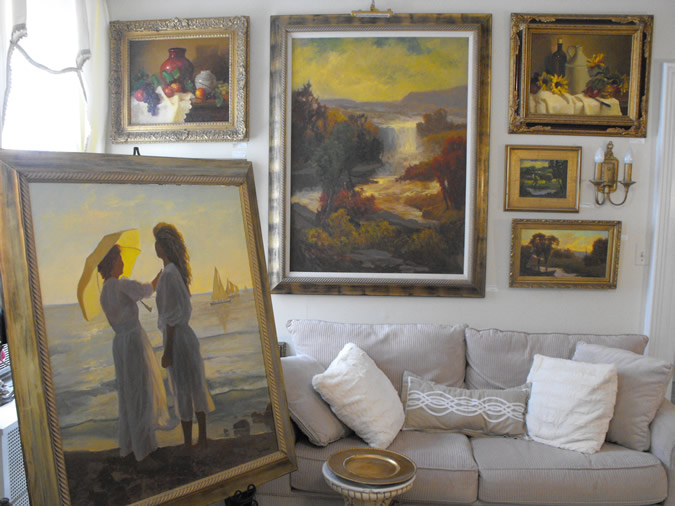 As an artist, Elaine's work is influenced by the Hudson River School painters. She is considered by many curators and gallery owners as a Master Contemporary Impressionist.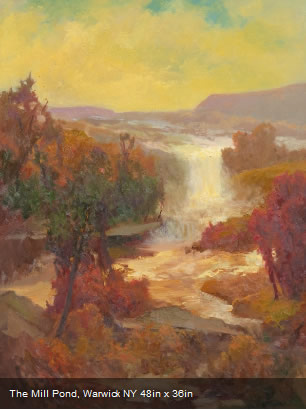 Having lived or traveled in a variety of places over the years has helped feed her passion for outdoor painting, environments like Monhegan Island, ME, the Hudson River in Edge Water, NJ, the Pocono Mountains, Bucks County PA, and Warwick, NY and these places are frequently the subject of her paintings.
Although depicting specific places, her works are primarily drawn from memory and imagination, like a very recent painting she did called "The Millpond, Warwick, NY." The title was inspired by a comment made by a realtor friend who was showing a property and said that she had just shown that place even though Elaine had never seen it.
Like her painting the Millpond, other paintings are often dramatically represented, like the tumultuous sea in her seascape "Rhythm of the Sea," which she drew from memory based on her experience in Monhegan Island. This painting also illustrates her pursuit of creating a convincing light and atmospheric effect which she believes is the basis of all fine paintings.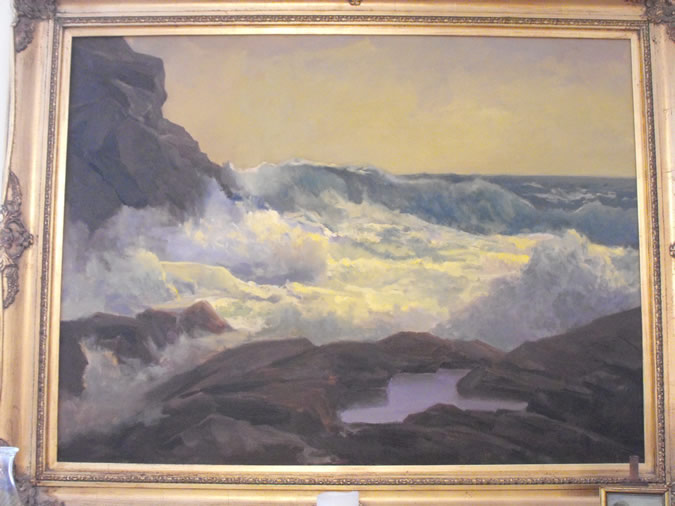 In her work you will also find figurative images drawn from friends and family who participate in telling a story set in a familiar landscape, many of which use the sea as a backdrop. One of her signature paintings called "Day's End" depicts a lovely figure, her daughter Lori, clad in a white beach dress contemplating the sea with her daughter at her feet who is playing in the sand. Again we see not only the dramatic landscape in which Sgambati is noted for creating but also we see the drama going on within each of the characters represented in her story telling.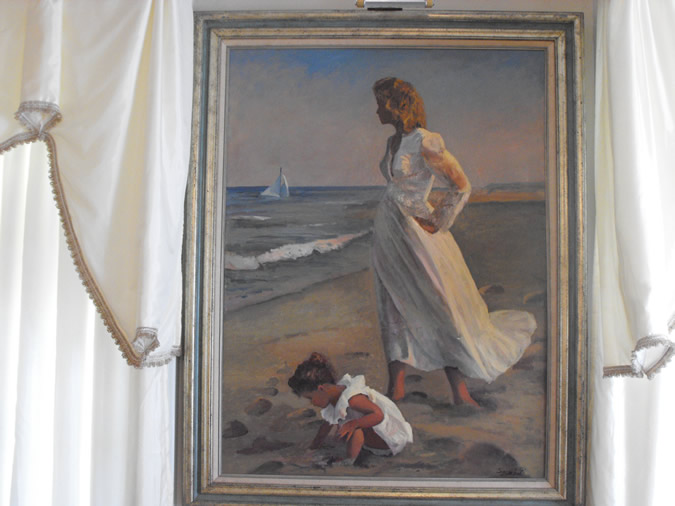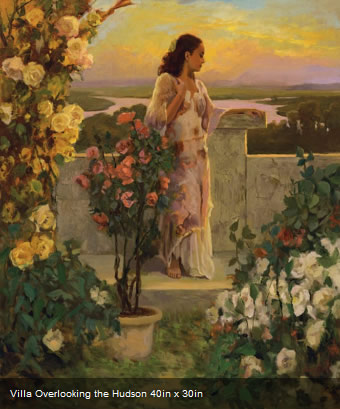 This technique is typified in "Villa Overlooking the Hudson" where many of her marked characteristics as an artist come into play: The creation of an imagined landscape, the use of light, dramatic atmospheric effects and the use of figurative images, mainly of women, who are in a contemplative mood.
Sgambati says, "Because I'm instrospective, I create characters who are as well." In this case her granddaughter Ashley serves as the focal point looking toward the Hudson River from a balcony surrounded by flowers.
No piece better in her repertoire illustrates Sgambati's introspection than her self portrait, "Room with a View," painted when she was living in Seaside Park. "I set up a still life and at my husband's request, got behind the still life as I had never done a self portrait before and brought forth this depiction."
This piece also illustrates poetic qualities that come forth in much of her work. She says, "Through the flow of light streaming through the window, we bypass the still life, and take the viewer's eye to the sunlit figure."
Her works we might also say are infused with a kind of romanticism inspired by the interiors of Old Master artists like Dutch painter Johannes Vermeer. Depictions set on water or dreamy pastoral bucolic scenes often are associated with such romanticism, as is the use of flowered landscapes with still life in the background, in which Sgambati spent many years mastering during her years of teaching at the Ridgewood Art Institute. She says, "Teaching on a regular basis helps any artist improve their work."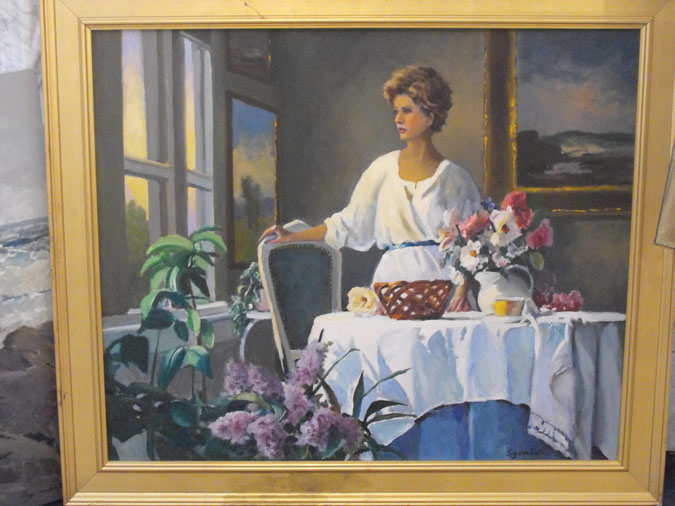 When it comes to learning how to paint, Sgambati is optimistic that anyone can learn to do it if given the proper principles and as one's passion grows. Often people who have seen and admired her work, when they are contemplating taking lessons, worry that they can't even draw a straight line. Her response: "There are no straight lines in nature."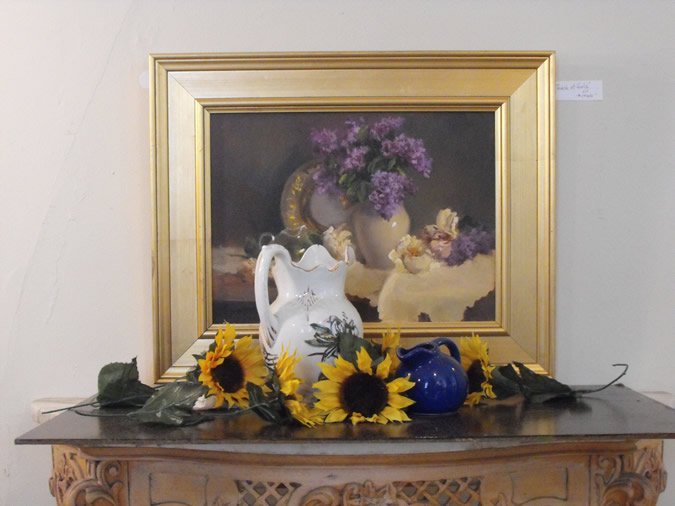 Although she does believe that some painters are born with an inherent talent and passion for art and who must paint to feel complete, as she herself does, she says that "many of her students are pleasantly surprised that after a few lessons their understanding of the principles of achieving a convincing light effect shows in their work leading to being confident and proud enough to frame the painting and hang it on their walls. Some enter art shows and are accepted. Some win prizes. They also become aware of the therapeutic effect painting has on their lives. It opens up a whole new world for them. It's never too late to discover your talent."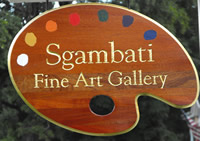 Gallery hours: 11-4 p.m., Sat and Sunday. To learn how to paint in oils, contact Elaine Sgambati at Sgambati Fine Art Gallery - http://www.esgambati.com/
Visit Elaine during Orange County's Open Studio Tour, October 19th and 20th. For more information, http://www.ocartscouncil.org/webpages/index.aspx