I've continued to be drawn to the art of photographer John Battaglino. I have been to his studio and home in Warwick NY on several occasions, where I've been given first rate hospitality - a tour of his studio, several wonderful lunches, access to his cultural library of books and videos, and priviledge to several conversations about his work. Most recently, John returned from a three week sojourn to Hardwar - India, where he photographed the Kumbh Mela, where the Indian Sadhus (holy men) and Hindu pilgrims gather every twelve years in one of India's most important spiritual and religious gatherings.
For John, it was not a new experience, as he first visited India 40 years prior, and has since returned on numerous occasions. He has traveled extensively over the sub-continent including several of the holy cities in which the festival takes place (Allahabad, Hardwar, Nasik and Ujjain). John writes, "When one visits these holy cities you experience a feeling that you are far away from the world and its affairs, and an inward-bound calling seems to prevail. The cool breeze from the Himalayas and the holy waters of the Ganges invokes a sense of inner peace."
John's excursion provided me with illumination. Although I have practiced Yoga and know something of the rootedness of Indian spiritual life, I had no idea of the extreme degree by which many Indians actually live. When I came into contact with John's photographs, some of which are fairly graphic, a new reality hit me. John shared with me his knowledge of this subculture, the practices they participate in, and some of the more subtle details surrounding their religious practices.
Taking several thousand photographs while he was there, he whittled down that number to around two hundred, from which I selected twenty. From those twenty, I have chosen twelve beautiful photos for John to explain, as that seems to be a significant number in India. However, feel free to browse through John's more extensive portfolio of work and find those images that resonate strongly for you.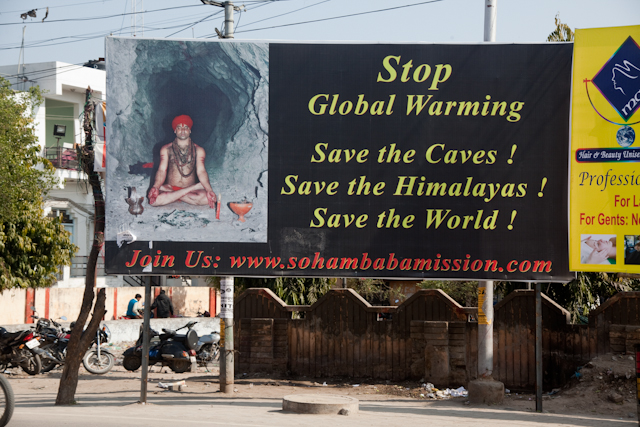 One of the Gurus who was there, he was the Green Guru ... was promoting the whole global warming ecological thing. I thought the picture was unique. It really didn't have anything to do with the Kumbh, it just showed the mentality highlighting some of our global problems. As ancient as the Kumbh is and the traditional practices of its participants, there is still forward thinking going on, like dealing with global warming. A setting of a cave, save the caves - it's just a different take on it. It's a parallel reality in a way.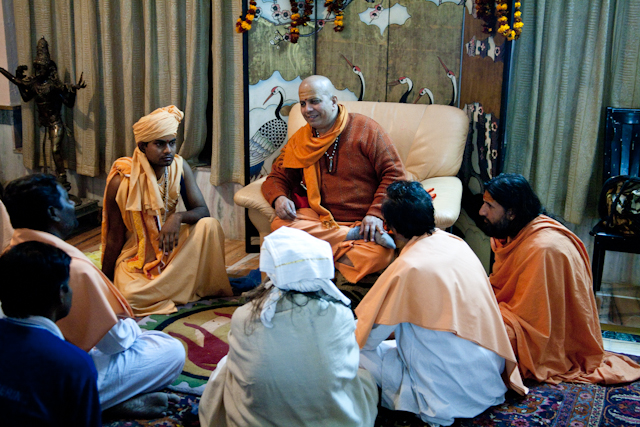 This was the ashram that I stayed in while I was there. It was built with solid Rajistani marble, opulent and beautiful. For a Hindu to make a pilgrimage to a Kumbh Mela is a big deal because these people are poor. In actuality the ones that are able to do it, do it because of ashrams. They are expected to pay what they can afford to pay when they leave, if they can afford to pay anything. The ashram provides an avenue. They can eat and they can be lodged - it's an opportunity to experience a once in a life-time pilgrimage to express their faith and cleanse their past Karma via a dip in the holy Ganges river.
The Gurus name was Guru-ji. A Guru is a teacher to the path of enlightenment. The word itself means 'the dispeller of darkness' or 'heavy with wisdom'. He was really a great guy. Everyday Guruji would give teachings to followers and he had a whole entourage where he would direct the daily activities. The most important thing about the journey is that you have to have a guru; you need someone to guide you, someone to help you attain inner-realization.
Interestingly, of these gurus, perhaps 90% are charlatans. Everybody has profited from the Kumbh Mela. When you look at some of these supposed gurus, occasionally you will find out that some of them who professed to have taken the vow of celibacy have actually fathered numerous children. This type of thing happens.
Westerners are pretty much fooled and easily taken in by these charlatans. It's very easy to do. Instead of receiving teachings, they are manipulated to give money. These charlatans go off the path, mostly because of the metastasization of western consumerism and greed.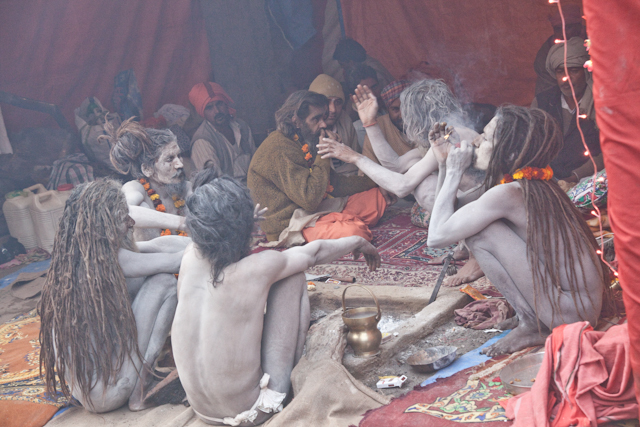 There is a propensity, particularly amongst the Naga Babas, (in antiquity the Greeks referred to them as the "Naked Philosopher's") to smoke Hashish. You can see them doing it here. Especially the Juna Akhara Nagas (the old regiment - the renouncers). In the Bhagavad Gita, there are passages of Shiva drinking Bong and smoking bong (which is ganga), so it's rooted in the mythology of the religion. It's not allowed in ashrams, they have very strict rules- not eating meat, no sexual contact, no drugs - laid out rules that you have to follow. But it is allowed amongst the Nagas. This is a manifestation of that.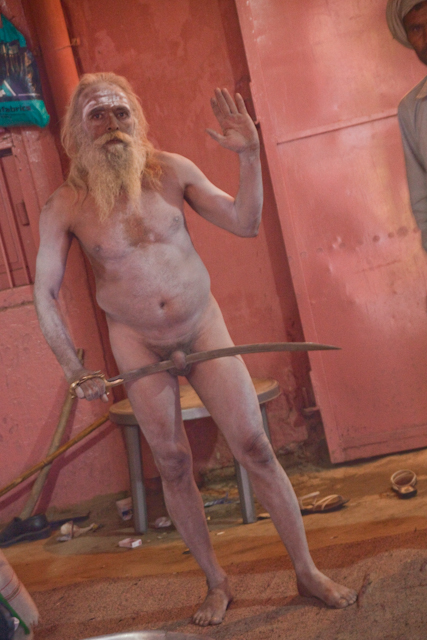 The Nagas (the renouncers) have a history of militancy. In medieval times they were the soldiers in defense of India. During this time, many of these people were yogis and ascetics - normally they were lower caste. Over the years many Muslim armies conquered and ruled India. This created a response from militant hindu ascetics in the form of a large increase in their numbers, and they organized themselves in regiments called Akharas.
You will see a semblage of that history, that militancy - you'll see lances, tridents, ancient weapons - it's an ancient mysticism and they practice all types of bizarre extreme traditions including self mortification (the concept of practicing austerities is called 'tapas') ..... such as inflicting pain to their genitals. I've never seen them mutilate their genitals, but I have seen them lift rocks, as well as pulling busses and cars with their genitals.
These austere practices stem from the fact that they believe: life is a constant cycle of suffering, death, rebirth - suffering, death, rebirth - unending, until you reach enlightenement.
So they try to put themselves on a fast track, by renouncing bodily pleasure, by renouncing bodily pain, more or less like going through purgatory to reach heaven. In this way, they feel as though they can break that cycle of rebirth in one or two lifetimes if they do extreme self-mortification practice.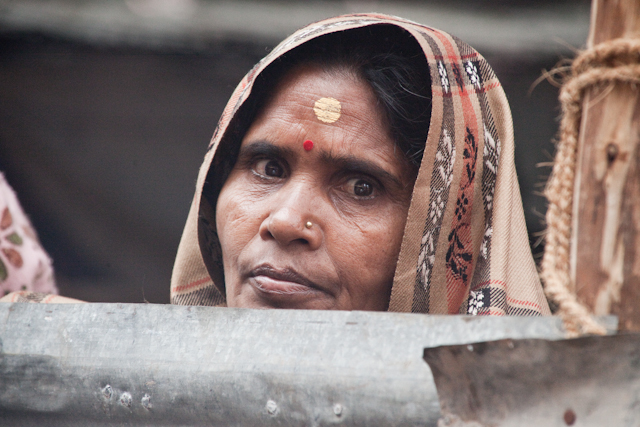 In my photography, I try to capture the beauty of the people. It's all about the people. They are surreal, and I feel my photos help to document something. The Sadhus have survived the millenium for now, but who knows when something like this will disappear. When I shoot my photos, I try to do it very spontaneously. There is very little that is posed. This is really a photo documentary.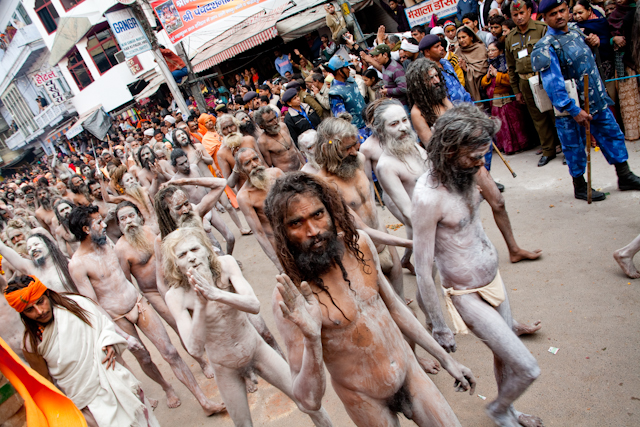 Again here are the Naga Babas. You will notice that they are covered in ash, which normally comes from funeral pyres. Additionally, much of the ash comes from their personal fire ceremonies pits.
At the Kumbh, The Nagas are the lead act. Like a "Rolling Stones" concert, you have other starter bands - but the Stones are the main act.
The dates of the Kumbh Mela are determined by the lunar cycles. This cycle is related to the movement of Jupiter through the zodiac to determine the most auspicious times.
The Nagas hold a lot of power. They are very important. They are the first in line to bathe in the Ganges during the most auspicious times. And they make the final decision on the dates of the festival.
A Kumbh Mela can go on for a month or several months. It is estimated that up to 50 million people can be in attendance during that time. That makes the Kumbh Mela the largest gathering of humanity in the world.
Each Kumbh has several auspicious dates for bathing in the Ganges. During these days a procession (parade) takes place. If you are a participant, you want to be there on one of these days because this is believed to be the best time to clean your past karma.
If you are not there during one of those days, you're going to miss most of the show. Basically it's complete and total sensory overload. Additionally it's the time that you see these mystical holy men in great numbers (cast of millions - literally).
On the non-auspicious dates the sadhus mostly hang out in camps together, drink tea , smoke, eat, meditate and talk about religious practice. It's like a convention, a good old boys club - a virtual cast of characters.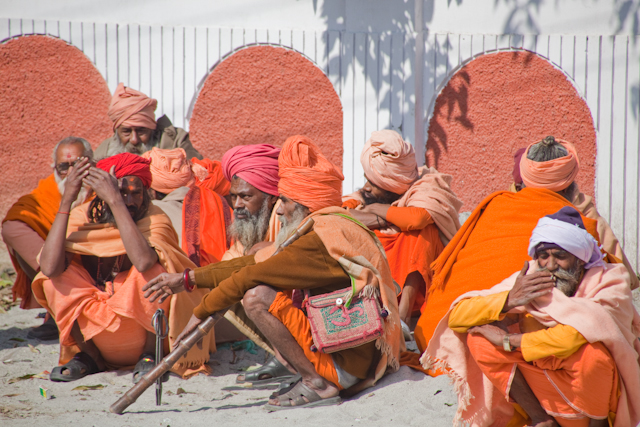 Here is a typical scene of sadhus at a particular ashram waiting to be fed. They wear their customary color - orange. People with money would sponsor feedings, as the welfare of Sadhus depends on the generosity of others.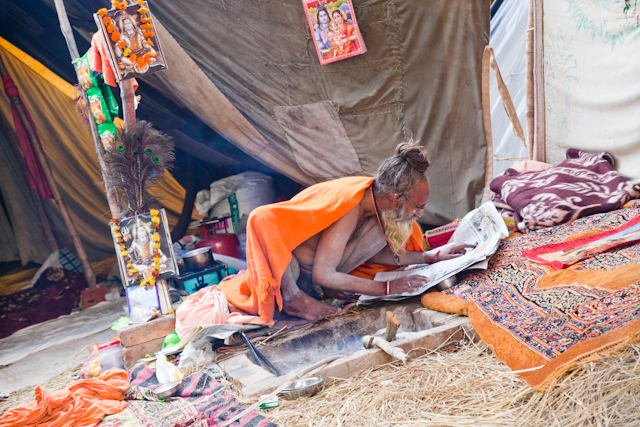 I was walking through the Juna Akhara camp (the Naga Babas), and saw this guy separate from everybody else. It's a typical scene. Their camp is surrounded by police because of past conflicts and fighting. They are militants. What is going through my mind is him reading a newspaper. This is early in the morning. They hang around. Very slow living. You can see deities, or a picture of their guru around the camps. The interesting thing is that they all have cell phones.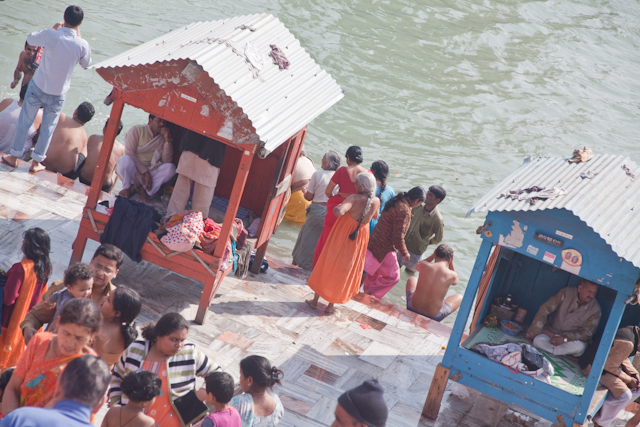 The Ganges is where they go to get rid of their past kharma. There would be no Kumbh Mela without the Ganges. If the Kumbh Mela is the greatest religious festival in the world, the Ganges is the greatest religious River in the World. The Ganges is worshipped as a mother goddess. The devout believe in the powers of this river because it is believed to have purging effects. The devotee will say that when one bathes in the waters of the Ganges it cleanses past sins.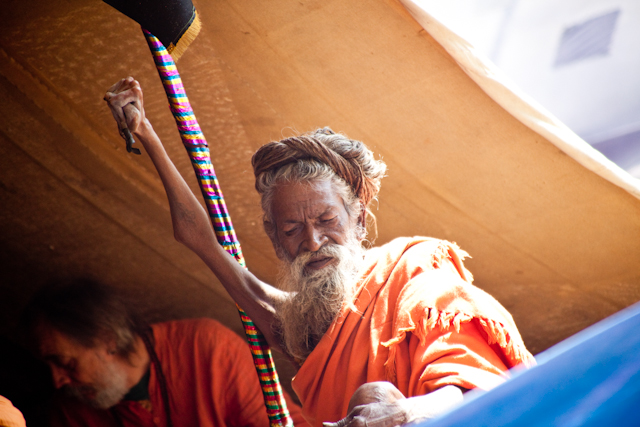 This is another renouncer. His arm has been up for 12 years. There is much symbolism in the number 12. It re-occurs and re-occurs when you are studying Hinduism.
In Hindu creation mythology, a fight between the God's and demons took place over a Kumbh (pitcher) containing the nectar of immortality. Vishnu captured the Kumbh, and took it away. During his flight, four drops spilled out. They fell in four different spots and that ended up being the locations where the festivals take place. Since his flight lasted 12 days, the result of that is that every 12 years there is a festival (Mela) in each of these places.
Anyway, so you have this guy who is holding up his arm for 12 years. Or someone leaning against a swing and standing upright for 12 years. The number 12 keeps on re-occuring - it's significant.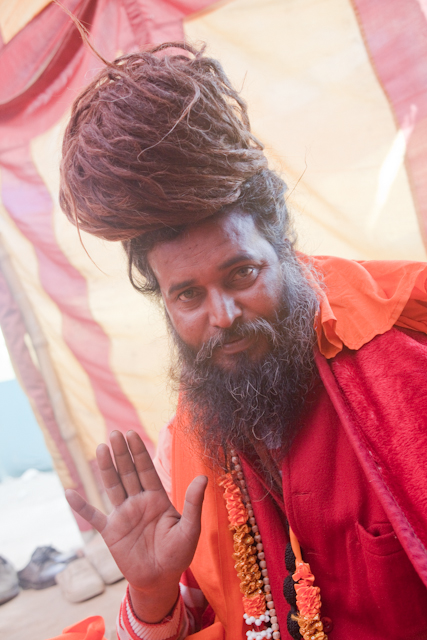 The hand gesture is a blessing and a sign of welcome. It's a common gesture and greeting.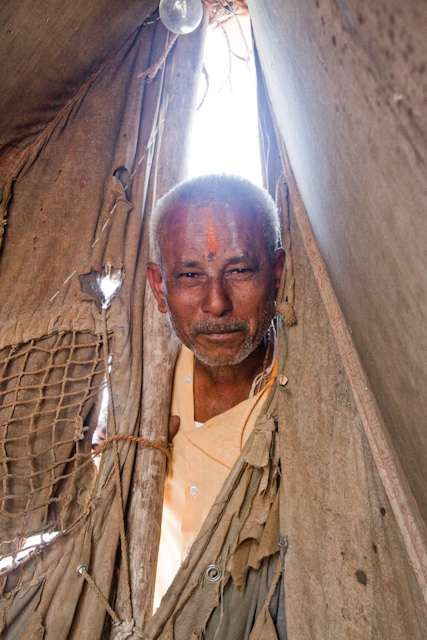 This was a tent where Babas were smoking hashish. A pilgrim peeked in the tent and then joined the group for a smoke. Again, in my photography, I often seek to capture the humanity of the individual.
---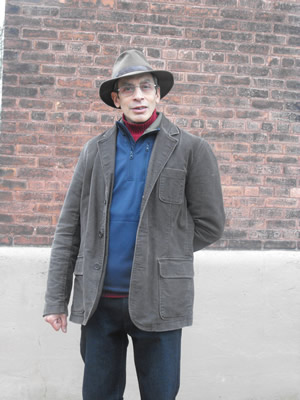 John's involvement in photography has spanned over 30 years, on both personal and commercial projects. His series of projects have taken him all over the world, enabling him to focus on his personal passion of documentary and social commentary themes.
His work is hand processed utilizing various photographic techniqes which include traditional B&W silver gelatin, alternative printing processes (cyanotype, polaroid lifts and transfers, etc.) as well as digital imaging.
His work has appeared in numerous galleries as well as being published in various news media over the past 25 years, including "Best of Photography Annual 2003" (publisher-Photographer's Forum). He has received numerous awards and recognition during this time.
He is a member of the Warwick Art League and the Ringwood Manor Art Association. Currently he resides in Warwick, NY with his wife Jacinthe who is a Lithographic printer/artist. Additionally, samples of their work can be viewed online at http://battaglinoimaging.zenfolio.com