"You have brains in your head. You have feet in your shoes. You can steer yourself any direction you choose. You're on your own. And you know what you know. And YOU are the one who'll decide where to go..." ― Dr. Seuss, Oh, the Places You'll Go!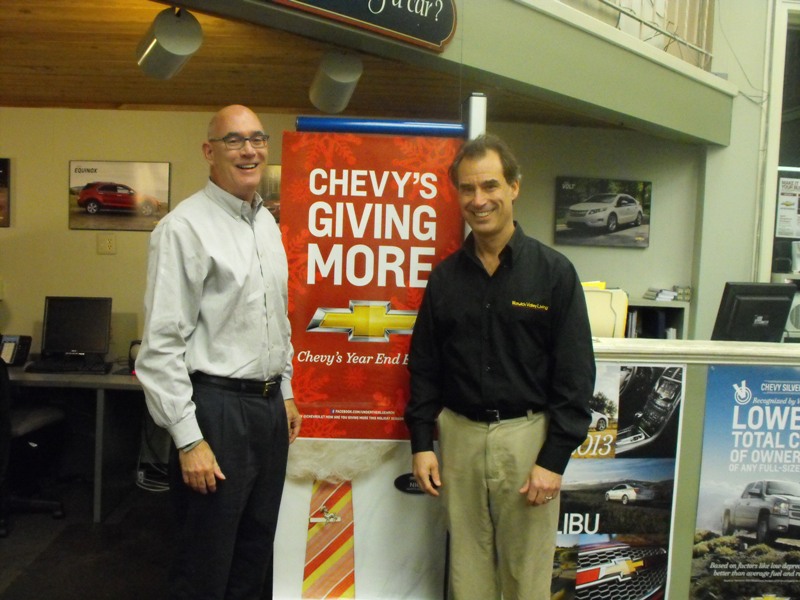 This year, Kerryl and I drove the 2013 Chevy Malibu, courtesy of Country Chevrolet in Warwick, as part of our 2nd annual Chevrolet drive. For those who remembered last year's story (and those who didn't, to read click here), we drove the The Volt, Chevy's electric vehicle with extended range capacity.
We would continue our tradition of traveling around the area visiting some of our favorite destinations. Frank Petrucci, owner of Country Chevrolet, introduced us to the Mailbu, one of Chevy's most popular and best selling vehicles. Aerodynamically designed with a slick looking and sporty exterior and cool, contemporary interior, the Malibu is just the type of car that will attract a broad audience of new car buyers.
For those of you who may be driving a vehicle from the last century, stepping into the 2013 Chevy Malibu may awaken you to a new world of auto bliss. And were not just talking about the intoxicating smell of sitting in a new car. Yes there will be familiarity: four wheels, a metal body, a cabin that sits atop those wheels, and a good old steering column, but there will be new technology such as an innovative braking system that stores energy and assists fuel efficiency, mobile apps that connect to your smart phone, a USB port to access stored music files from a loaded flash drive, a sensor that warns you when you are veering off into another lane, a rear vision camera to aid in navigating places behind you, built in bluetooth technology to make and receive hands free phone calls..... These are just a few of the new features that you can expect.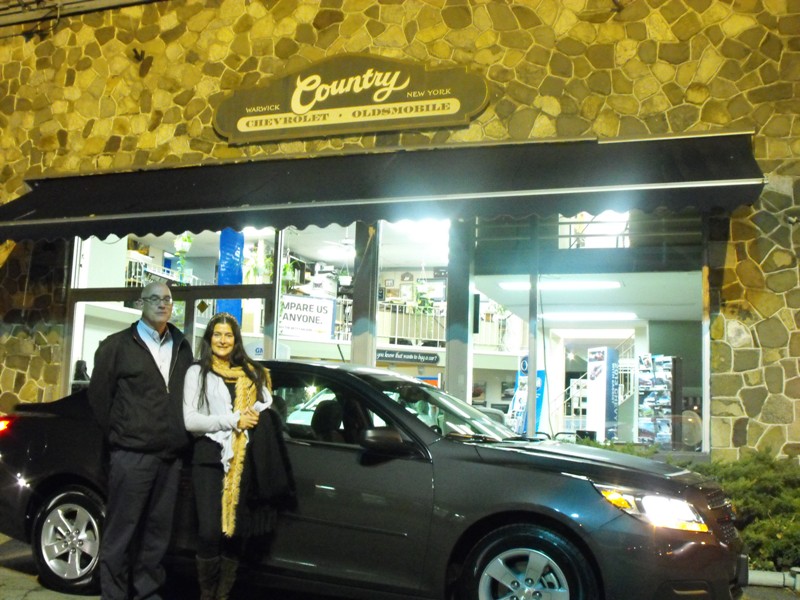 Intent to get on our way, we got comfortable in the car and drove off to our first destination – Newhard's - The Home Source, a great shopping venue all year round and especially during the holidays. Frank of Country Chevrolet happened to mention to us that his daughter Nora, who is a senior at Warwick Valley High, was working there for the holidays and so we were looking forward to meeting her, in part because she had just written an editorial for the local newspaper reassuring Tuxedo HS Students that they would be welcomed at Warwick Valley High School.
Nora proved to be most welcoming and professional as we talked about her editorial while she gave us a tour of the store, pointing out a few of her favorite things, including a beautiful, luxurious red robe and some attractive scarves.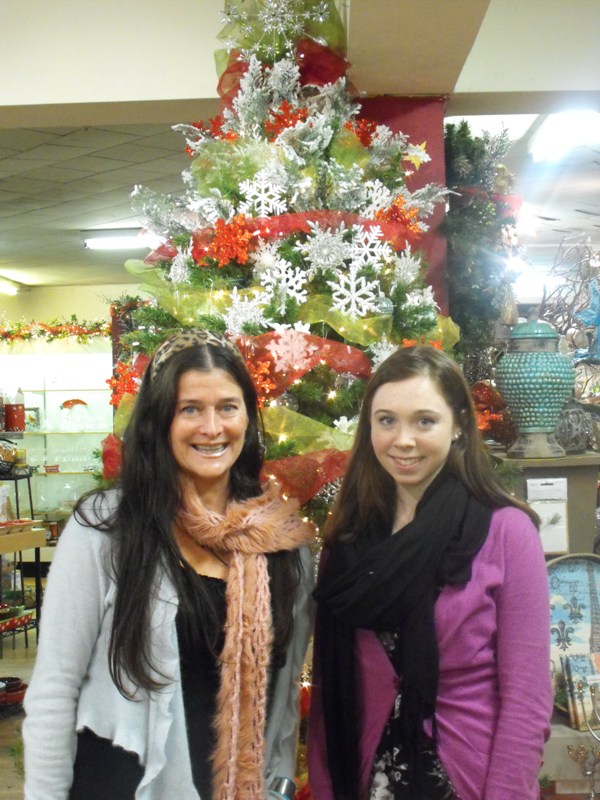 The store was aglow in holiday lights and our eyes feasted on many wonderful possibilities for gift giving: a new Cuisinart coffee maker, Le Creseut cookery, attractive writing journals, tasteful holiday cards, charming ornaments and so much more for the home, including perfume, soaps and jewelry. Kerryl was interested in a pair of earrings made by a local artist and decided to purchase them. Just at that point, owner and Warwick mayor Michael Newhard arrived and we were given another warm welcome.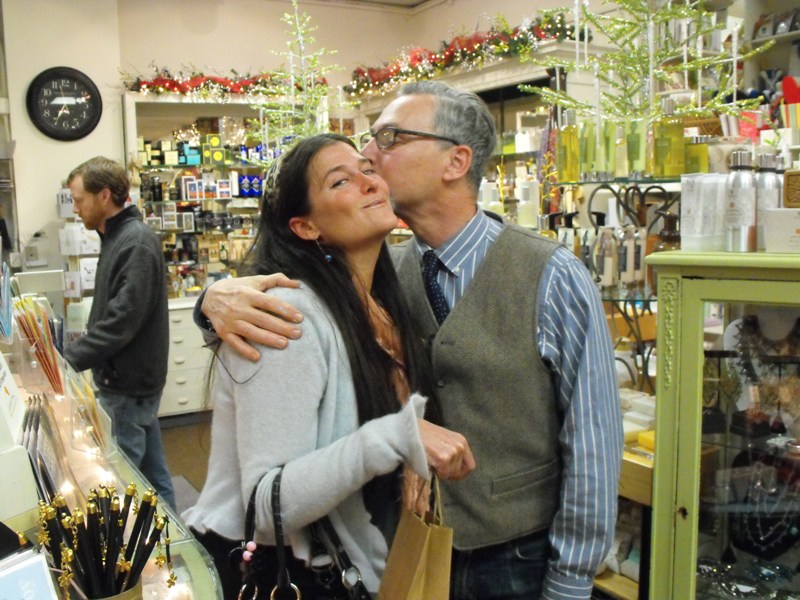 Starting to get hungry, our next destination was the historic and regal Chateau Hathorn located just on the outskirts of the village. We had been looking forward to experiencing their Wednesday night 4 course Gourmet dinner for two, which included a bottle of wine at a great price of only $85. We were not to be disappointed, from start to finish. Seated in the back dining room next to their large and captivating fireplace, we relished the ambiance - its warmth and cozy European decor and marvelously restored woodwork, crediting its proprietors Helene and Dolph Zueger for their remarkable passion and work for nearly 20 years developing the property into one of the shining gems of Warwick.
Our dinner was splendid. As an appetizer I had very tender sauteed strips of venison with a rich, creamy morel mushroom sauce and delicious spaetzle. Kerryl enjoyed a fresh avocado salad with lump crabmeat and beets served with a fine balsamic vinagrette. For the next course, I opted for their butternut squash soup while Kerryl went for the Lobster Bisque, in which she enjoyed the chunks of lobster. Course 3, I went for the seafood combination: monkfish, chilean sea bass and sea scallops while Kerryl went for the Double Cut Pork Chop, thereby nicely balancing out our meals. To top off the lovely dining experience, we had their warm, homemade apple strudel ala mode - a perfect end to a delightful meal and evening.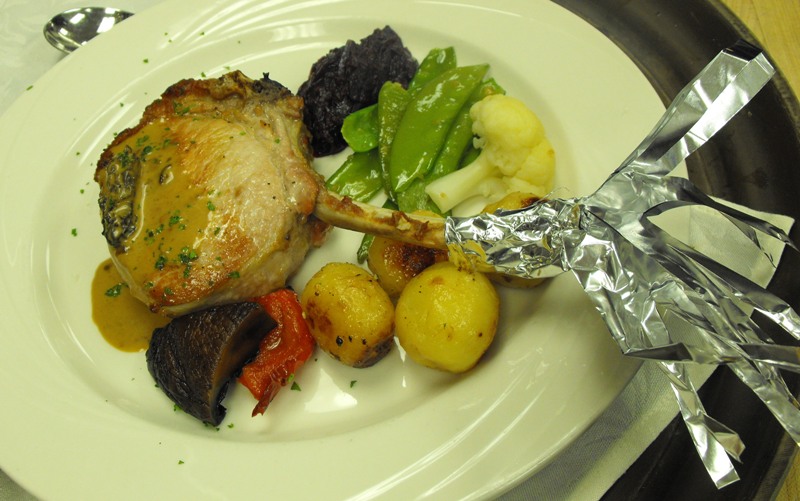 The service was noteworthy as our waiters were warm, attentive, and immensely knowledgeable about food and the restaurant business. Other highlights included Dolph escorting us into his impeccably clean and organized kitchen and one of the waiters guiding us through their tour de force wine cellar with over 12,000 bottles of wine.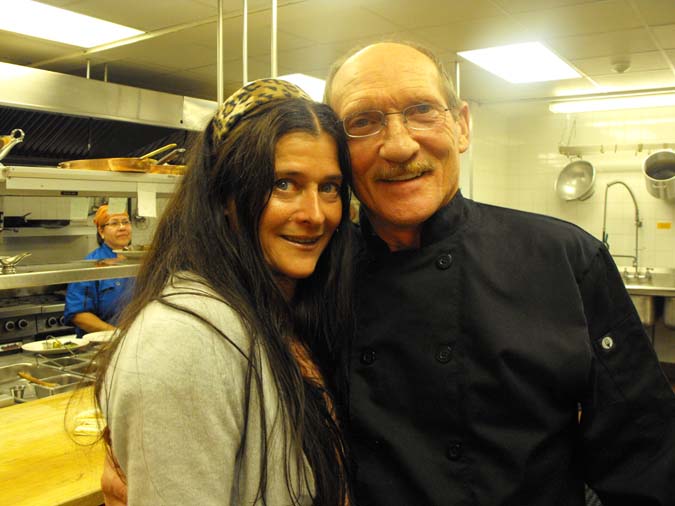 After leaving the restaurant, we headed home to Greenwood Lake, which gave us another chance to check out the smooth riding Malibu. We enjoyably listened to 60's radio on Sirius, placed the vehicle on cruise control along Rt. 17A, chatting over its easy and pleasant ride. Kerryl was particularly impressed with the ambient lighting and slanted dashboard, showcasing all of the attractive, updated digital features.
Continuing on our 2nd annual Chevy Drive the following day, I took the Malibu to Tuxedo. It was the perfect opportunity to test out the car at higher speeds and altitudes and gave me a chance to get a sense of its road handling and power. Driving over the crest of Tuxedo Ridge at an altitude of over 1500 feet, a beautiful ride when the sunrise peaks over the forested area, I enjoyed the tight feel of the car hugging and gripping the contours of the rode, winding my way up and down and around corners of the mountain. When I descended beyond Tuxedo Ridge ski slopes and the grounds of the NY Renaissance Festival, I opened the car up, accelerating easily to greater speeds to meet the highway ahead, the 4 cylinder ecotec engine allowing this to happen easily. Nor was I worried about fuel economy as the Malibu consistently gets good gas mileage, averaging between 27 to 37 miles a gallon.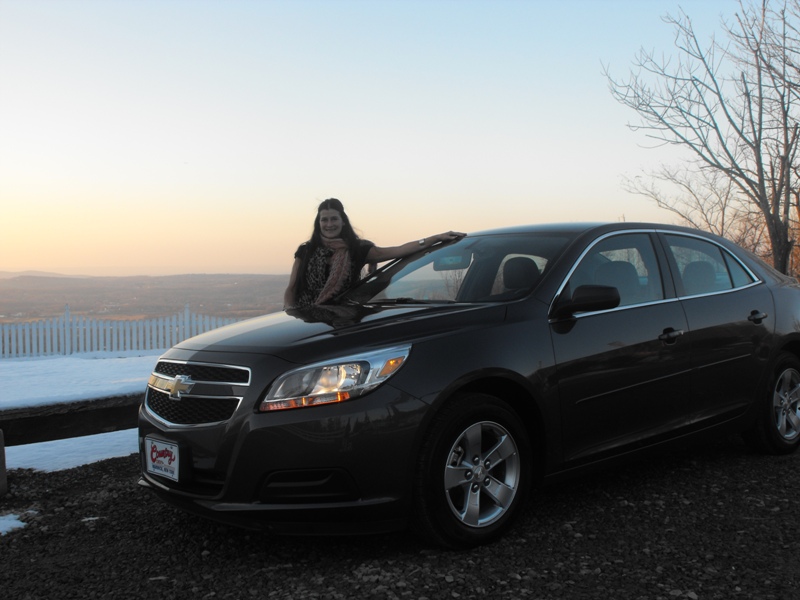 When I returned home, I picked Kerryl up and we planned to head to Warwick for a few more fun activities. On our way, we zipped up Mt. Peter, stopping at Bellvale Creamery to take a few pictures overlooking the beautiful Warwick Valley. Then we headed to the village of Warwick, where we had scheduled a reflexology session at Warwick's Foot Spa and Tea Room. There, Kerryl would receive a glorious session of foot reflexology and massage.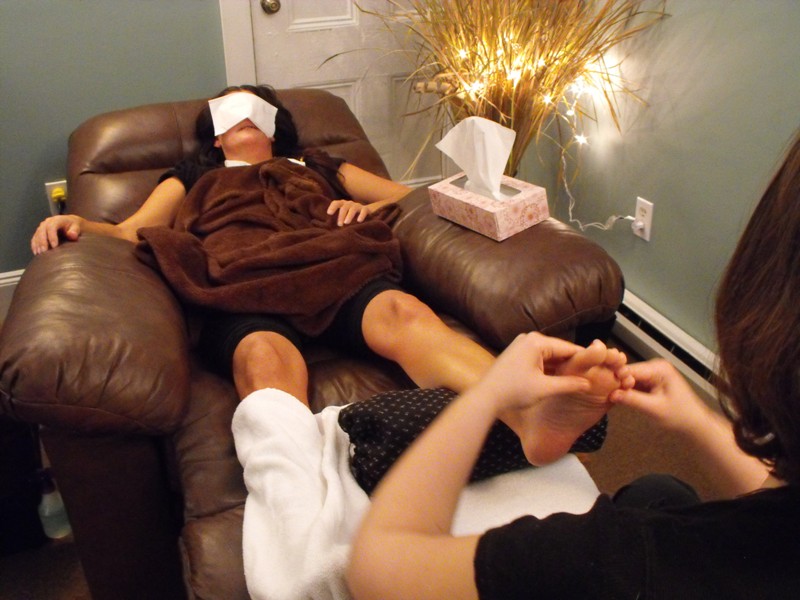 Set inside 2 rooms with calming music, trickling water fountains, comfy reclining chairs and soft, dimmed lighting, The Foot Spa and Tea Bar offers sessions that involve a warm, cleansing foot soak and gentle hand and back massage. That is followed by a warm, herbed eye compress all of which prepares you for the reflexology, which is the application of gentle pressure to specific points located in the feet. These points relate to the internal organs, glands and structures of the entire body, thereby enabling healing to occur.
Kerryl entered into a most calming and relaxing state, noting the comfort she experienced in her "very comfy" chair and the complete relaxation she experienced over the course of her session. When she was finished, she felt that it was a great place to come not only for the pampering, but for its healing properties and stimulation. Either individually, as couples, with friends or in a group or party, The Foot Spa and Tea Room is a worthwhile holistic experience and definitely a place that would make a great gift to anyone in need of healing, TLC, and something they never tried before.
On our way in our Malibu "sleigh," we went to the quaint bookstore in town, Ye Olde Warwick Bookshoppe.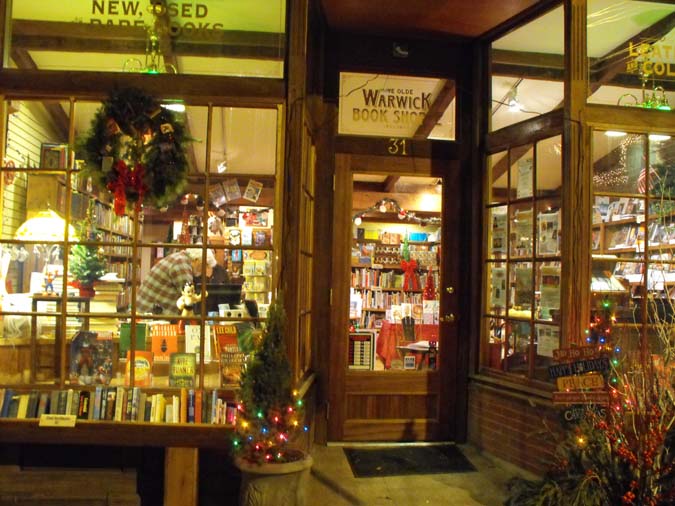 Welcomed by the gracious proprietor Thomas Roberts, we were looking for a particular book to give to Nora for her earnest endeavors. He had just the right book we were looking for: Oh, The Places You Will Go – by Dr. Seuss. Not only did he gift wrap the book for us, but when we told him we were engaged in a community project involving several local businesses, he generously donated the book to us.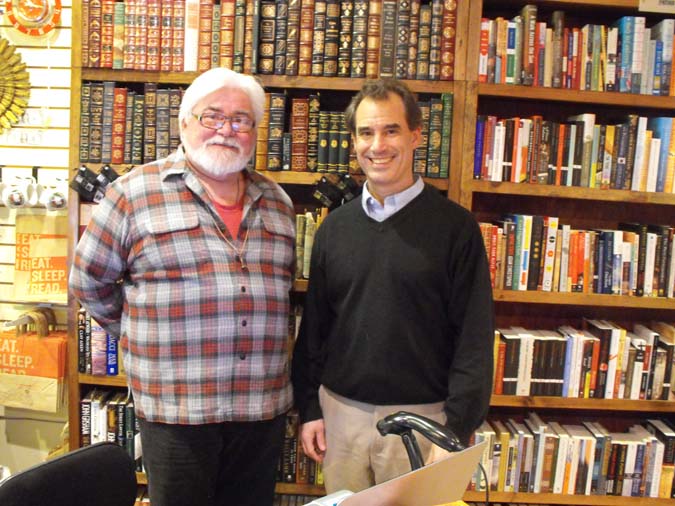 What better way to culminate our journey than to give it to the next generation of young drivers waiting to discover all the places they may go!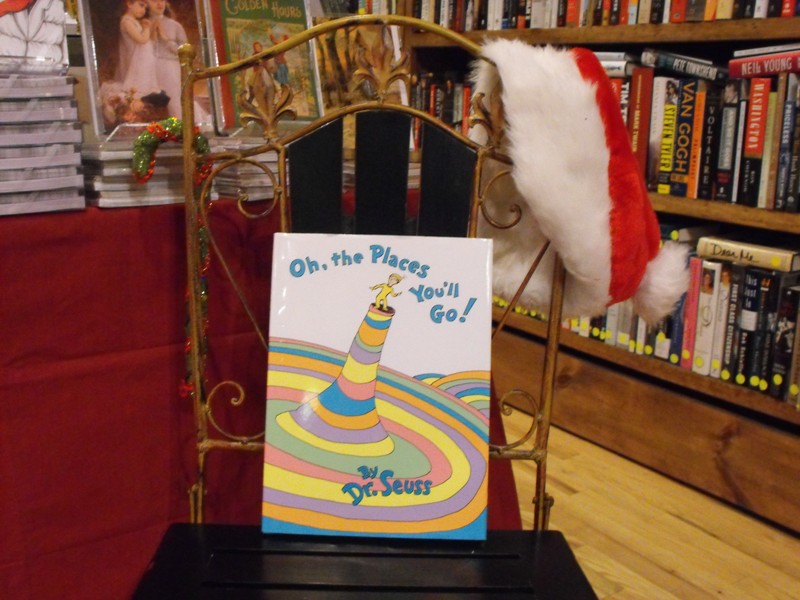 ---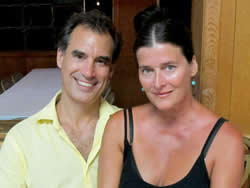 Warwick Valley Living gives special thanks to the generous support of advertisers and local business owners who helped make this adventure possible, exemplifying the strong spirit of community that resides in our special town of Warwick, NY.
Also, Kerryl and I would like to extend our warmest holiday wishes and the happiest of New Year's to all of our friends, family, advertisers and supporters who have made Warwick Valley Living what it is today. We are so grateful for the support we have received and thank you with all of our heart.
With love and appreciation,
George and Kerryl, publishers, Warwick Valley Living