Film & TV
Film and TV
Details

Published: 07 December 2013

07 December 2013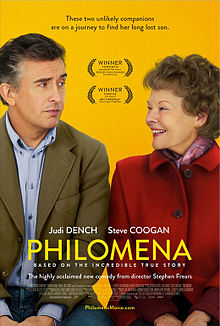 By its own definition, Philomena is a story of human interest. It is a story of man, God, the riotousness of the people who claim to represent the Lord, and the pain of a mother. It is also the story of a journalist who finds compassion where before there was mostly anger.
Based on the book The Lost Child of Philomena Lee by Martin Sixsmith, Philomena follows the true life events of a mother's fifty year long quest for her son. This British drama, salted with plenty of well-timed comical moments, is directed by Stephen Frears to a fine screenplay by Steve Coogan and Jeff Pope. It stars a phenomenal Judi Dench who will make you want to cry when she does, and laugh when she effortlessly delivers one of the film's many comic relief lines. Teamed with her is Steve Coogan as Martin Sixsmith, the atheist and quite bitter investigative reporter. Coogan nails the role with subtle timing and a character that wonderfully balances appeal with snobbishness.
Philomena is a touching story, and, unfortunately, not unique. Ms. Lee was but one of thousands of Irish women, many of them teenagers, sent to convents in the 1950s and 60s after getting pregnant out of wedlock. The Catholic church at the time deemed such women as unfit to raise their children on their own. For their sins they were made to labor for the church and give their child away. The Church then proceeded to sell the children to wealthy Americans, later on burning related documentation to cover up their actions, keeping mothers and children forever apart.
Both horrible and wonderful, Philomena is a reminder of a dark period in history and at the same time, a very fine piece of storytelling and filmmaking.
---
Ronen Divon is an entrepreneur, writer, owner of Monroe Yoga and Tai Chi, filmmaker and the film critic at www.ronenrecommends.com. To read more reviews by Ronen, click here