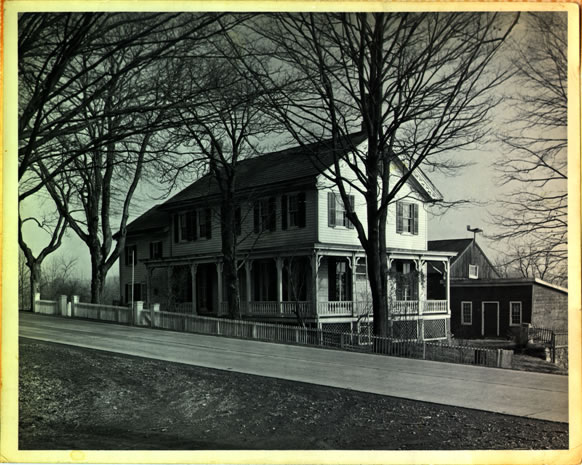 "1954: the year that was!" These were the handwritten words covering a faded Warwick Dispatch Newspaper from the same year. It was the year communist fears spread worldwide and the fall of Senator Joe McCarthy finally came about; the year that global tensions peaked and polio vaccination became available; the year the NY Giants swept the World Series and Marlon Brando appeared in "On the Waterfront" while "Fly Me to the Moon" shot to the top of the record charts. And in the same year, in the quaint, country setting of Warwick, 1954 was the year Gordon Richardson and his wife Cynthia purchased a historic farm stone house originally owned by blacksmith Conrad Sly, then known as the Sly House, giving birth to the Landmark Inn.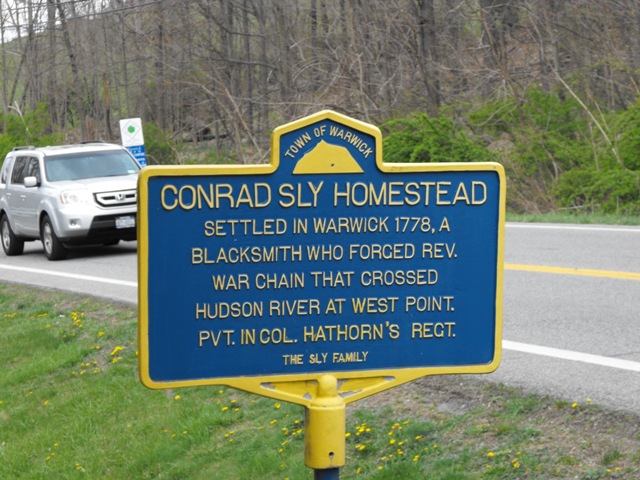 For the next twenty years, the Landmark would become a favorite neighborhood haunt, as it served up traditional American victuals like Filet Mignon, Roast Turkey, Baked Ham, Double Cut Veal Chops, Sirloin Steak, and classic seafood dishes. The menu was also accompanied by savory sauces and side dishes.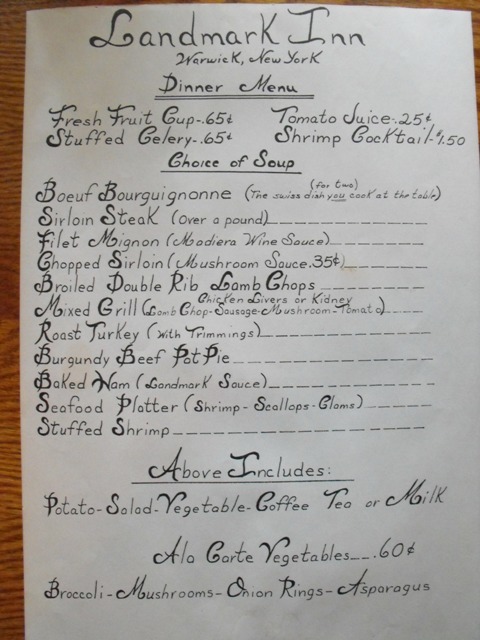 Warwick historian Dr. Richard Hull, who was a teenager at the time, remembers being amongst its very first customers. "It was a Sunday lunch after a cold morning of hard work planting apple trees on the farm. Dad treated me to a sumptuous lunch and Gordon Richardson showed me that wonderful map of Paris in the late 18th century, which is still on the Inn's Wall!"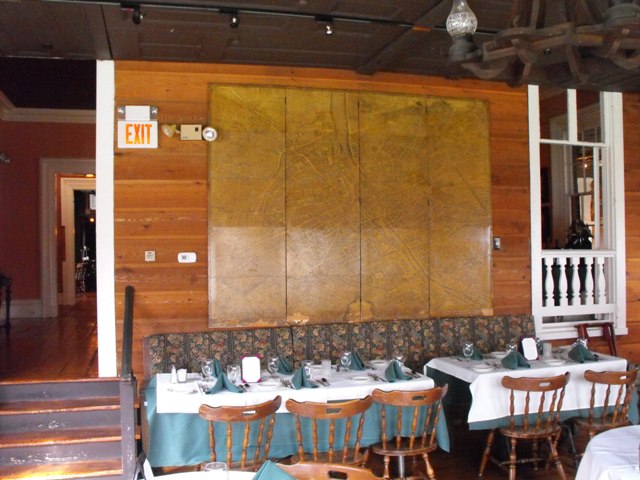 As the years passed and America entered the decade of the 60's and early 70's, the Landmark hit its stride, becoming the center of nightlife where everyone, the young and old, could meet and talk across generations. Hull, who would return time and again to the Landmark amidst a warm welcoming fondly recalls: "The Landmark was always a place where people met – Richardson was a community activist. It was more than just a tavern – it had cultural and outdoor events, such as Hawaiian luas." The Warwick Dispatch noted, "The Hawaiian Luas were vigorously opposed by some local officials because they were held on Sundays but well attended nonetheless."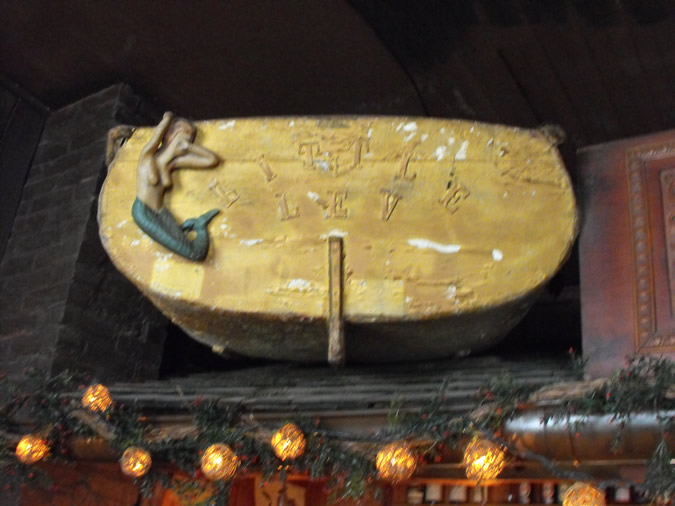 Richardson, who died in 1991, according to Hull was quite a character. "He was a great raconteur – he engaged you in conversation. He was a ship Captain on the Great lakes. He'd regal you with stories that fired your imagination. He was an accomplished watercolorist, a man of many talents while his wife Cynthia came from an old dutch family and also liked to tell stories. They complemented each other. He ran the bar while she was responsible for creating its fine dining."
In the mid 70's and 80's, after Richardson had sold it to Steve Kasmar, the Landmark shifted focus to its bar business and continued to prosper. In 1989, after a major renovation, the business was sold again but this time languished. By 1993, Michael DiMartino, a graduate of the Culinary Institute, was introduced to the property, which had been up for sale again. After working as a chef at the Clarksville Inn, a Rockland County restaurant, he bought the property. With his acquisition, the Landmark would return to another distinctive era of fine dining, characterized by contemporary American cuisine, without losing its sense of history.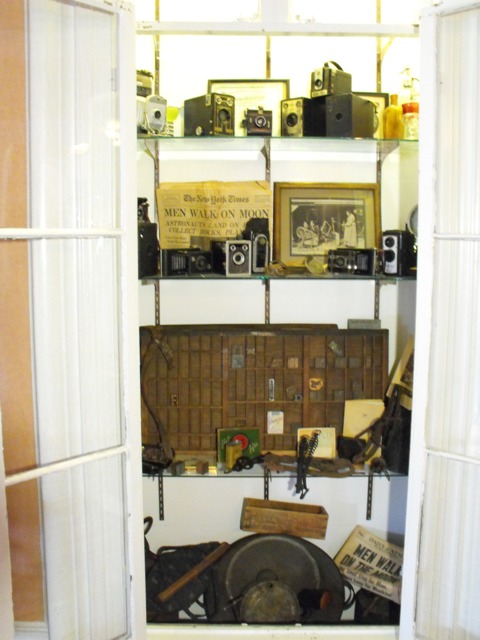 As a history buff himself, DiMartino would carry on the historical tradition, showcasing his personal collection of antique cameras, a set of printer's type belonging to his father, and an old NY Times front cover from 1969 announcing the first landing on the moon. He also made sure that its rich history stayed intact, maintaining many of the restaurant's historic attributes like the famous ceilings created from the old doors of the Red Swan Inn. Greg Masefied, a lifelong resident of Warwick and a good friend of Richardson helped put the doors up on the ceiling, noting that it was the cheapest thing we could find, necessity being the mother of invention. Other remnants of those former days include the dining tables supported by old, foot-driven sewing machines made by a Tuxedo sewing company; the old map of historic Paris; the hull of an old boat once owned by Richardson, and so much more coming from every pore of the structure. In the bar, when owned by the Richardson's, DiMartino sadly noted, "Originally the walls were covered in postcards people sent from their travels. It's too bad that we lost that piece of history after its last renovation."
19 years later, DiMartino is going strong. "I love what I do and I think that's the key to my longevity." Kerryl and I had the pleasure of dining at the Landmark in April. We could have eaten in the cozy and rustic bar area, which we have enjoyed on many occasions, where the beams and floorboard date back to the Sly Homestead and its original founding in 1778; but we chose to eat in the main dining room, which is considered the original Landmark Inn, surrounded by the beauty, craftsmanship and mastery of days past.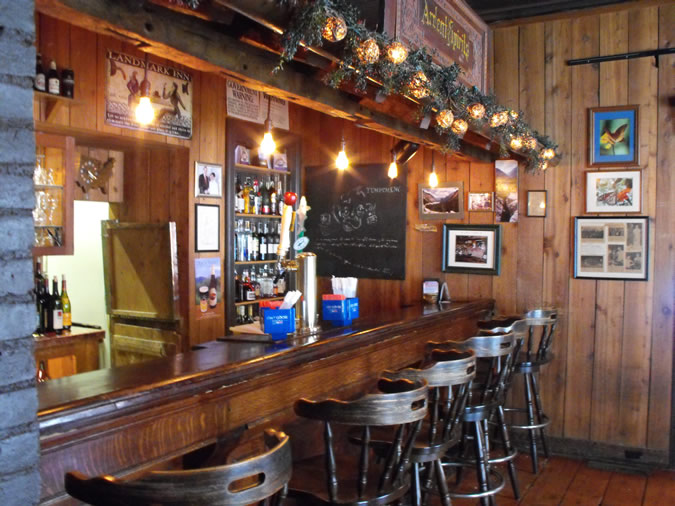 From the presentation of the bread basket to our splendid desserts, the meal could not have been better. We started the evening with the Lobster Egg Rolls, which were crispy and succulent, and three delectable Maryland Crab Cakes, which were sautéed to perfection, filled with plenty of lump crab meat and topped with roasted pepper cilantro. When we asked for a side of tartar, it was no problem, made from scratch and delivered pronto. Then we shared the Salad of Roasted Beets, which contained walnuts and generous portions of goat cheese blended with a light coat of balsamic dressing.
At this point, having been so happy with our appetizers, salad, and treats from the yummy bread basket, which consisted of homemade bread, muffins and tasty flatbread, we were truly looking forward to our main entrees. We decided to go with the grilled Filet Mignon with a pink peppercorn sauce and one of the night's specials - Lamb Shank braised in a red wine made from the Warwick Valley Winery. The filet was very tender and the lamb fall of the bone, with a demi-glace that was delicious! I substituted mashed potatoes for the polenta and Kerryl loved her hand-cut potatoes while the vegetables were cooked just right on both dishes.
To complete our tour de force dinner, we added a flourless and rich chocolate torte and several scoops of creamy vanilla ice cream with fresh pureed raspberry sauce that was heavenly and that we could not stop eating because it was so delicious. We were surprised to learn and happily so that the Landmark makes its own ice cream with only all pure natural ingredients, a testament to DiMartino that when you do a lot of little things right they add up to make a big difference. This perhaps explains why his business is doing so well and is the key to his longevity. His passion and knowledge for food (and wine) abounds as we had the privilege of discussing with him a broad range of topics related to food and wine.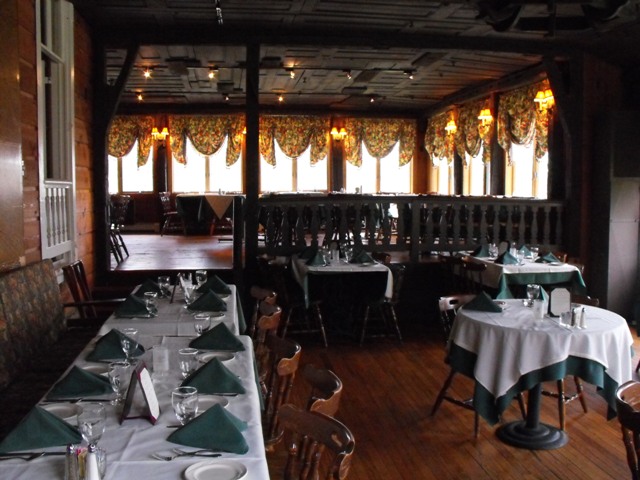 Kerryl and I tend to the finer points of dining and appreciate quality. We could not leave out our appreciation of even the exquisite menus, which are handcrafted with cherry wood and have a copper embossing of the Landmark Inn and its historic name. We are happy to report that the Landmark Inn is alive and well, producing fine food while maintaining a mix of décor that would make anyone feel at home. We are looking forward to returning for another enjoyable meal, from start to finish, and being transported back in time. See you there!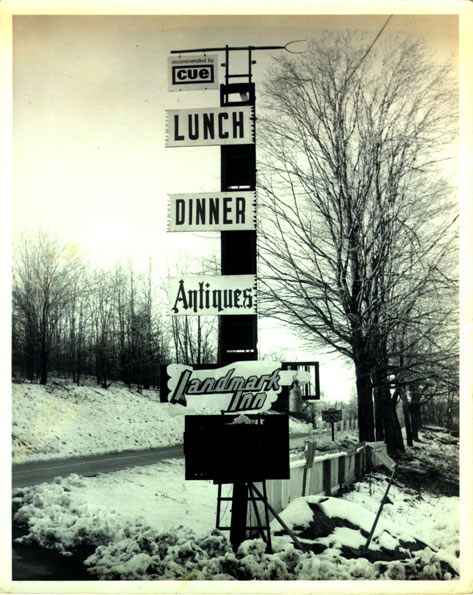 ---
Special thanks goes to the Warwick Historical Society and Warwick Archivist, Sue Gardner, for providing several articles of source material as well as Michael DiMartino, who shared his knowledge of the history and several old pictures.