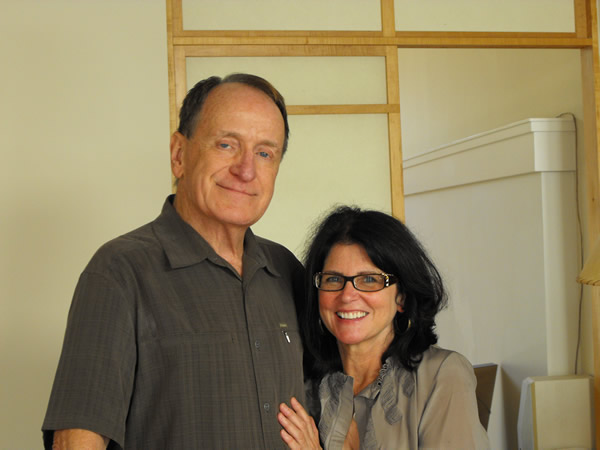 What a pleasure it was being in the lovely home of Richard and Andrea Kimball listening to Richard's fine music played on his magnificent nine foot Steinway grand on a beautiful Sunday morning - a concert which was one of several that took place over the course of a recent weekend in Warwick as part of the first annual Warwick Valley Jazz Festival.

When Richard approached me about writing a review of his solo concert, I was touched - Richard had been a friend of my late father, also a jazz pianist, and as a music student many years ago, at my father's suggestion I interviewed Richard and heard him play at the River Cafe in New York where he has had a steady solo piano gig since the 1970's. He was very kind and gracious then and remains so today.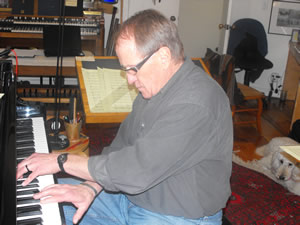 Because he has had a longstanding solo piano gig, Richard has developed a style of playing as a soloist that fills up the musical space: he has an orchestral way of playing, both hands moving freely around the entire width of the piano creating a wide range of sound. And he is a wonderful jazz pianist, versatile in the vocabulary and the many styles of jazz piano - he swings, he bops, plays the blues, plays great bass lines, he plays stride, beautifully developed solos, and uses an abundance of interesting chords and voicings. And he renders the music of the American songbook with great sensitivity and love.
Richard is also a composer and is equally well versed in the styles, vocabulary and techniques of the Western classical musical tradition. It is in his use of classical forms, the variety of textures he creates and the ways in which they shift effortlessly and seamlessly, the development of his rhythmic, melodic, and harmonic ideas, and the freedom with which he integrates all of these workings that one is aware of his strength and skill as a composer. (Richard studied composition at the Juilliard School of Music in New York City, where he earned both a bachelor's and master's in composition.)
Unique to Richard's music is the inventive use of classical forms and techniques combined with the language of jazz harmony and improvisation. An exciting fusion of the two is present. He has found a distinctive style in their confluence; and it is interesting to note that both call upon the musical imagination in similar ways - the search for the right sound to express a musical idea or feeling. And speaking of feeling, Richard's music is highly personal - one senses that he is expressing his own feelings in the music. It is filled with sensuality and tenderness, ardor and intensity, great love and beauty; it is dynamic and constantly transforming, always gracefully, artfully. He is the consummate romantic - the music expressing a kaleidoscope of emotion, tension and release.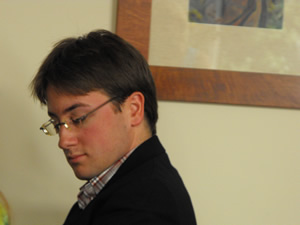 In the pieces that Richard played for us on Sunday we heard some very powerful stories: In Make Hay While the Sun Shines and Chaconne for My Sons, two pieces joined together by the perspective of a father growing older and the love he feels for his two sons, the first begins with a composed introduction using a 20th century classical idea/sound, and moves into several styles/rhythms from the jazz and Brazilian musical traditions, all of it improvised. The second is a chaconne which is a classical formal device using a repeated eight bar harmonic progression. Here Richard's choice of chords is from the jazz vocabulary and they are very tender - he weaves beautiful melodic lines over and around them with the texture changing frequently - at one point introducing a beautiful, singing bass line which is doubled in his voice, and at another point, employing a rhythmic accompaniment figure that has been used for centuries in classical music which somehow seems to express longing and nostalgia.
In Anna Maria - Piece Within a Piece, a jazz ballad by the great Wayne Shorter written about Shorter's wife who died in a tragic airplane accident, Richard creates a piece within a piece using thematic material of the original song and a smaller, more intimate treatment which represents the unborn child of Anna Maria. What a brilliant and passionate way of expressing this poignant story. In the arrangement, Richard uses the Fender Rhodes (an electric keyboard made popular during the seventies) with which he creates a variety of colors and textures. At one point a sustained tremolo is played in the right hand on the piano against a gorgeous arpeggiated bass line on the Rhodes, such a haunting sound. The piece ends with a quotation from Erik Satie's Gymnopedie #1 which also serves as transition material to the next piece.
And the concert ends with a marvelous rendition of Leonard Bernstein's Some other Time sung by the lovely, crystalline voice of Jody Weatherstone, and assisted by the esteemed bassist, John Arbo and the "classic" jazz drummer, Milt Mezzroh. Alas, much more writing is required to describe the musical tour de force that this concert truly was.