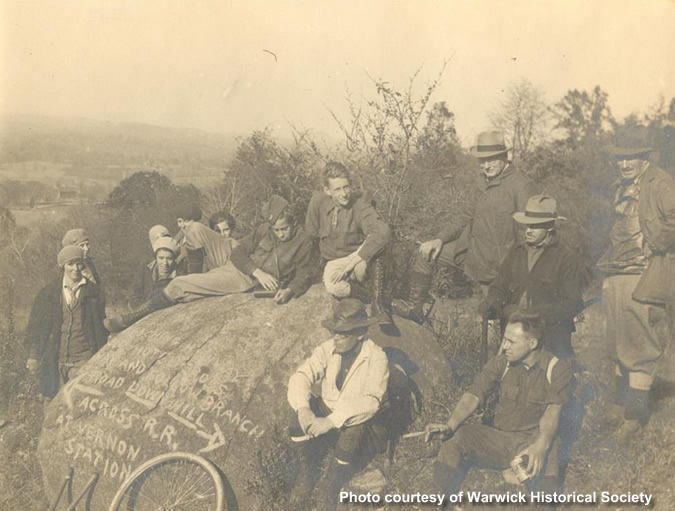 Many Lenape Indian trails crisscrossed our local valleys for centuries. Some extended for only a few miles, others for hundreds. European fur trappers and ultimately colonial farmers used them before they built roadways for their wheeled vehicles. Some colonial roads, like Kings Highway and Route 94, were constructed over these ancient paths. Many of our local town roads, like Ridge Road, evolved from these vital human corridors.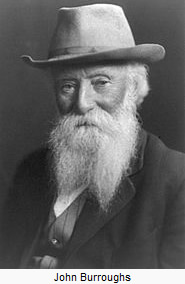 In the late 19th century, when the Conservation Movement got underway in America. Warwickians began to acquire an interest in the natural beauty of our area and nature walks became popular. Our fascination with local flora and fauna was revived. These intrepid hikers fell under the influence of the romantic landscapes of world famous Hudson River School artists, notably our local painter, Jasper Cropsey, as well as local naturalists like J.H. Crissey and Audubon Wilder. They revived old Indian trails and blazed new ones in the more remote and mostly mountainous wooded parts of our community. And they attracted nationally-known naturalists like the prolific essayist John Burroughs (1837-1921). They were also inspired by Theodore Roosevelt and our emerging national parks.
The idea of connecting these disparate trails and opening them to the wider public was promoted in the early 1920s by a prominent Connecticut Judge, Benton MacKaye. It was he who apparently conceived of the idea of an Appalachian Trail, a footpath that would extend continuously from Mount Katahdin, Maine, to Mount Oglethorpe in Georgia, some 2180 miles. In 1925 the Appalachian Trail Conservancy was created to coordinate the undertaking. To make it happen, communities along the proposed route were asked to form trail clubs and to provide the necessary volunteer workforce for their designated sections .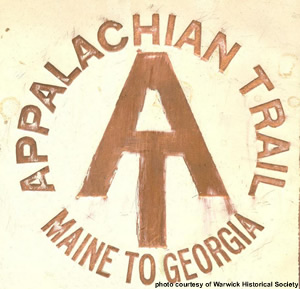 Warwickians were among the earliest and most eager proponents of the trail concept. And by 1930 the Warwick group, under the leadership of local banker Raymond Goodlatte, Advertiser publisher Hiram P. Tate , pastor Taber Knox, and naturalist George Hansen were mobilizing the Boy Scouts and other community groups to begin the arduous task of trail blazing. Most of the affected landowners were proud to have a trail of national significance traverse their properties. And over subsequent years some made land donations to the New York/New Jersey Trail Conference, a non-profit entity.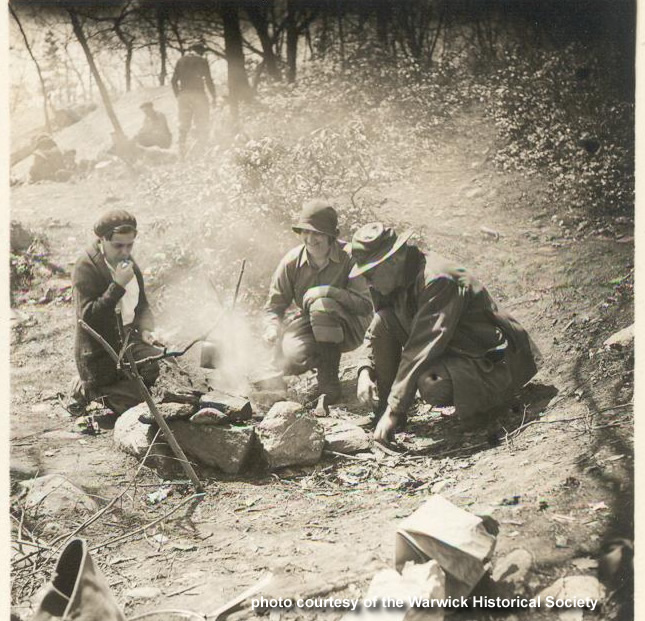 Amazingly, by June 1931, fully six years before the entire Appalachian Trail was officially dedicated, the more than ten-mile long stretch through our town was opened to hikers. Our section of the trail began near Fitzgerald Falls and Dutch Hollow in the Greenwood Lake/Monroe borderlands along County Route 5. It then climbed steeply to the summit of Bellvale Mountain and southwards along the ridgeline to Mount Peter, cutting through abandoned farms, following old timber trails and remnants of Indian paths. From Mount Peter the trail continued southward along a ledge from which one obtained a spectacular view of Greenwood Lake below. It continued past the wetlands of Furnace Brook then sharply upwards to 1350 foot Prospect Rock . Later in the 1930s the trail between the Bearfort range and the Vernon Valley was modified to cross the Longhouse Creek, then onward to an old road used by the defunct Centennial Iron Mine. From there it crossed Brady Mountain road and ultimately joined the Wawayanda Cedar Swamp road which led to Lake Wawayanda past an old iron furnace near the lake's outlet. Beyond this, one crossed a dramatic escarpment on the west side of Wawayanda Mountain. It then descended to the Wawayanda Creek, across the Pochuck Creek and then up the eastern ridge of Pochuck Mountain and beyond to Unionville and westward some eight miles to High Point. In the 1930s Warwick's Trail Group was largely responsible for the delimitation, construction , marking, and maintenance of this key section of the Appalachian Trail.
The trail wends its captivating way past rock ledges and shelters, deep ravines, ecologically-rich ponds, vital wetlands, and biological communities of rare cedars and hemlocks. Remarkably, much of this land remains in an undisturbed pristine state.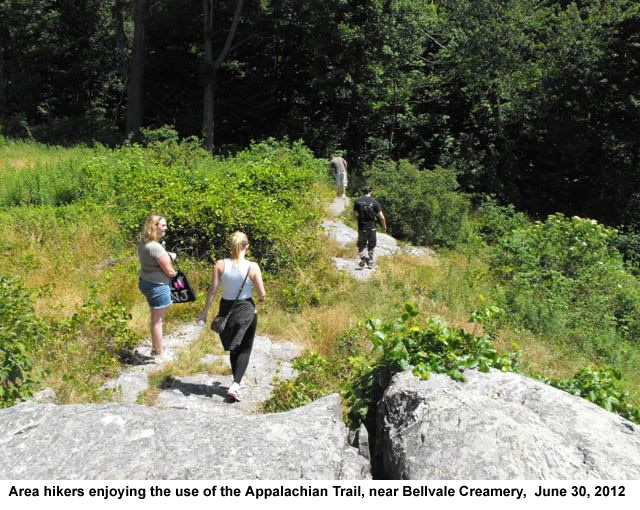 Warwick was an early leader in New York State in inserting into the 1973 revisions to its zoning code the prohibition of any construction within 200 feet on both sides of the Trail. Other communities would follow in the years ahead. Much credit for this law goes to local conservationists Pat McConnell, Tavy Umhey, and Tom Waleski. Also, since the late 1980s, even larger swaths of adjacent lands have been placed under protection by private land trusts, conservation easements, and government-owned public parklands and restrictive open-space zoning. Warwick was a regional leader in working towards open space preservation with the adoption of its innovative Master Plan and Zoning ordinance in 1987 and 1989, respectively. Since then it has been a leader in New York State in saving open space by purchasing development rights over key farms and woodlands within the vicinity of the Trail.
In light of these extraordinary achievements it is entirely fitting that on June 30th Warwick was designated as the first official 'Appalachian Trail Community' in New York State. Kudos to those visionary citizens who for more than a century have been at the forefront of conservation.