A study finds that hanging out in a village café might actually be good for your health and the health of our country.
Let me explain. It was after a morning slightly stressed from deadlines, immersed in work and the computer, when I realized I needed to breakaway. But where to go was a lingering concern. Admittedly, the computer was my addiction and there was an impulse to take it with me. I realized I hadn't been out of the house in some time and I wasn't sure how social I could be, like Rip Van Winkle waking from his twenty year snooze.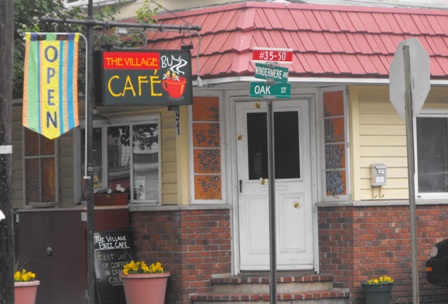 Getting out would be good for me, the stress in my shoulders more than I could bear. Plus we were all out of coffee at home and I needed my java kick. I got in my car and headed to main street, in downtown Greenwood Lake, wondering where I'd go, when I had an epiphany. Why not go to The Village Buzz Café, where I can get a cup of organic brew, a down home breakfast, some much needed socialization, and the exhilaration of doing something different.
The proprietor of The Village Buzz Café, Jamie Heller, greeted me kindly when I arrived. She may have thought I was in a hurry, for on many days, when I entered her quaint coffee shop, I grabbed my coffee on the run, always eager to get myself to the next destination. I revealed that I was in no rush today. I just wanted to hang out. "Please make me a couple of eggs, bacon, toast and home fries at your leisure. I'm going to grab a cup of coffee."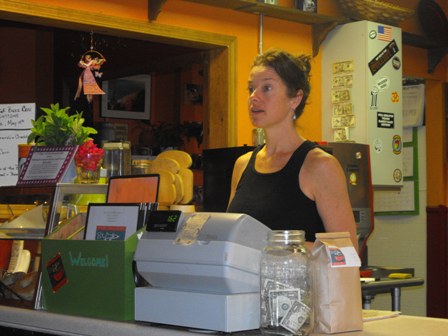 As I was looking for the paper cups, Jamie instructed me that she was encouraging people to drink from a mug. "Take a mug if you'd like. It's better for the environment. I've cut down the paper waste in the store by half." I grabbed a small mug with roses, preferring my coffee in a petite sized cup.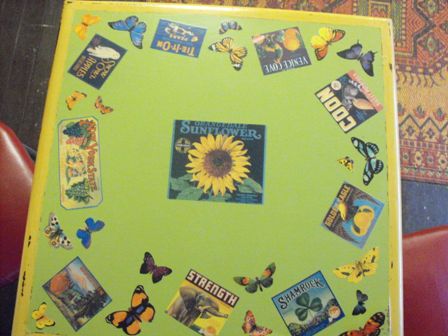 Maybe it was spring blossoming within me, maybe it was just the way I liked to take my coffee. It tasted better in the cup.
"It's a beautiful day," I said, holding the cup up, taking that first morning sip, talking to no one in particular and being heard by everyone. A guy at check out said, "that's if you're a duck." It was drizzling outside. "Oh yeah, it's raining," I said. "I guess I must be a duck."
The fun ensued, as I quacked my way around the store, with the gift of language my tool, the basis for which humans were uniquely constructed, the ability to communicate and express, an important means to commune – as natural as the duck takes to water.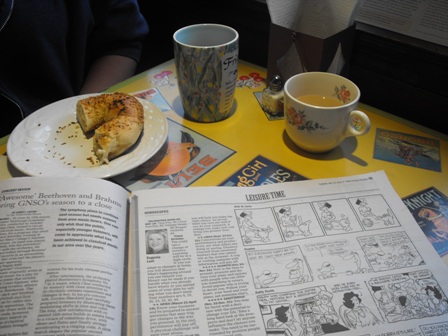 The hour unfolded rapidly and then the next. I read the newspaper, I looked around at the different tables, listened carefully to some offbeat blues, talked to Jamie about life on main street, the economy, her Yoga classes that she teaches on the side, before I ran into a friend, speculated about a hidden treasure in Greenwood Lake, and laughed at our trivial chit-chat.
Funny that I should come across an article about the Actual Café in Oakland, California. They decided to turn off their wireless on weekends because it was interfering with the dynamic that makes a cafe a lively place, perhaps a dynamic built on conversation, meaningful or not, that ensues as a result of dialogue between human beings.
When I got home, I sat down to pen my little story, a parable of sorts, feeling that I had performed a very important study.
After many years of being away from my nuclear family, I returned home, because at the core of things, I came to understand that there was no replacing relationships that gathered in real, rather than virtual time. The phone couldn't do it for me. Nor could any digital device. The hand gestures and voice inflections, the spontaneous give and take, the uncertainty and lack of control you may have over your environment, the hug and tender kiss of another human being, they all play a part in healing self and others. And sometimes even a good cry is the best medicine for an aching soul.
Maybe that's why I find a coffee shop a good hang and place of well being. If the eggs don't get you, a life of solitude just might.
---
The Village Buzz Cafe prides itself on its real, wholesome food. They only sell Fair Trade Organic Coffees by the cup or bag and draw on fresh produce and eggs that are supplied by local farmers. Catering is available. Their daily specials can be found by clicking here.
Hours: Mon - Friday 7 - 3 pm; Sat., 8 - 4 pm; Sunday, 8-2 pm
845 477 2145
Proprietors: Jamie Heller, Mary Comerford, Jean Zimmer