Peter Melnick and I sat down in his showroom and discussed his flooring and carpet business, located on 81 Windermere Ave in Greenwood Lake, NY on Feb. 28th.
Melnick specializes in the sales and installation of quality carpet, laminate, pre-finished wood, vinyl and specialty flooring, such as cork and bamboo in addition to complete bathroom renovation and back splashes. He deals with many reputable manufacturers including Mannington, Mohawk, Shaw and others.
How long have you been in business?
For over 40 years. My father started the business in Rockland County in 1971. I learned the trade early working for my father while going to Don Bosco High School until graduating from Pace University. I took over the business with his passing in 1996, and moved the business to Greenwood Lake.
What did you learn from your father?
Honesty and Integrity are very important in running a business. Whatever you say to a customer, you stick by your word. We've stayed in business for a long period of time for that reason.
What are your favorite aspects of the business?
Getting out into the field and doing the actual installations of the products I sell along with Dave , my foreman. Customer satisfaction is critical. The key thing I try to do is find the need of the customer and puts those ideas into action.
What are some of your recent projects?
Basement carpet in Monroe
Installing luxury vinyl tile in West Milford
Complete bathroom renovation in West Milford
Prefinished wood flooring in Greenwood Lake
Do you feel that you have to compete with Home Depot and Lowes?
No – we offer personalized service right from the sale to the installation of the products, which you are not going to get at the box stores. Their salesperson may have limited knowledge, they send an independent measuring person and then the work is subcontracted? Who do you call if you have a problem? Do you honestly believe that you are going to pay $99 for your whole house installation or be given two additional rooms of flooring for the price of 1 like Empire promises? In most cases I can meet or beat the total job cost of these stores.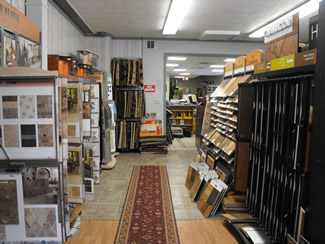 Where can we learn more about your business?
My website is filled with a wealth of information (http://www.pmelnickflooring.com), including tips on selecting and caring for tile and managing wood floors, pictures of our showroom and a range of jobs that we have done. Mention that you checked out my website you will receive a 10% discount on any carpeting order.
Peter Melnick Flooring is open Tuesday through Friday, 10 – 5 p.m., Saturday from 10-3 p.m. and Thursday from 10 – 7 p.m., anytime by appointment, shop at home service also available. Just call 477-0520