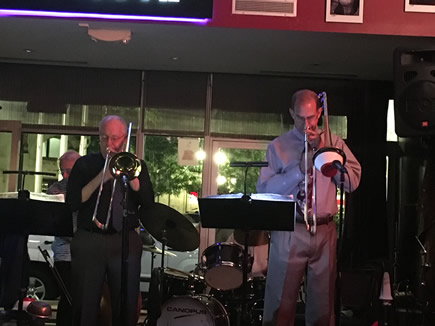 Slide Attack is a seasoned collection of five fantastic musicians fluent in the language of swing, blues, modern jazz and a wide spectrum of genres. Boldly led by two lead trombonists, Alan Goidel and Howard Levy, the band fills the room with the brassy harmonies of well-chosen jazz arrangements, both old and new. At the 9th Note Jazz Supper Club in Stamford, Connecticut on August 3, 2016, this group gave the audience a sufficient helping of each instrument that also included Paul Mariconda - piano, Chuck Zeuren - drums, and Dr. Lyn Christe - bass.
Once the band started playing, the rhythm section was tight and the trombone harmonies bonded. Goidel and Levy, with their eclectic improvisation, displayed a wealth of technical experience in every solo while the entire ensemble presented their unique musical ideas, giving the band a very rounded sound.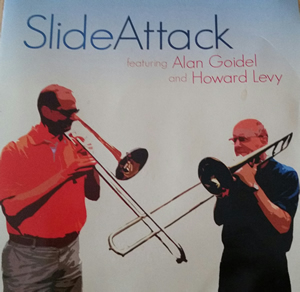 Many of the arrangements came off the album Slide Attack Featuring Alan Goidel and Howard Levy (also includes Hiroshi Yamazaki, piano; Chuck Zeuren, drums and Michael Goetz, bass).
"Sweetness," written by Curtis Fuller, featured the two lead trombones both with mutes that dispersed their tones and blended their harmonies into a warm series of melodies. The improvising by the two trombonists showed range and intricate lines that complemented the surrounding chords of the ensemble. There must be credit given to Mariconda for his elegantly fluttering piano solo as the rhythm section took him for a walk on "Morning Star" written by Rodgers Grant.
Slide Attack will be a highlight of the 2016 Hudson Valley Jazz Festival (August 11-14), where they will perform at the BeanRunner Cafe in Peekskll, NY on August 12, 8 p.m. For the complete Festival Schedule, visit hudsonvalleyjazz.org.