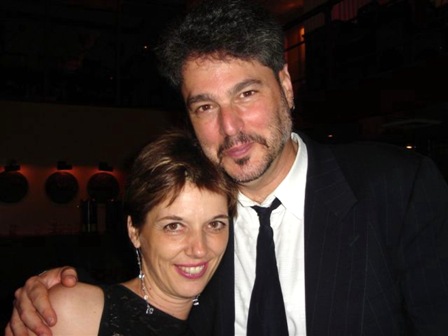 SR: Gabriele, why don't you give us a little background on yourself as a singer.
Gabriele: I came to NY in 1988. I had a degree in education and a classical singing background. When I moved to NY, I started to get more involved in jazz. I worked as a jazz singer and while doing that, I was always interested in jazz and world music, I developed a large repertoire of Brazilian music and over the years I have developed that further. With our new CD, A Song of Love's Color, we have a complete world approach.
SR: So singing foreign languages is not unique to you?
Gabriele: I speak German, English and some French. I do not speak Portuguese and Spanish but I have always done a repertoire that is in other languages.
SR: What made you decide this was the way you would shape this CD?
Gabriele: I enjoy singing standards but with this CD I wanted to feature Joe's music and I also wanted to go in a different direction, feeling inspired by world music. I think it's more me and feel I've come into my own as a person.
SR: I see that you are on the cover of Jazz Inside NY magazine, which is a popular jazz magazine in NYC. Would you consider your CD a jazz CD?
Gabriele: It's a crossover CD. Everybody in the band performs jazz in its various forms. Improvisation is a major part of the CD, but it has an ethnic background. It's world jazz and it's vocal oriented.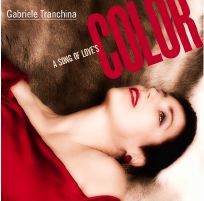 SR: Joe you are the piano player and composer of many of the tunes here. Would you consider this a collaborative effort even though the CD is under Gabriele's name?
Joe: Yeah, we consider it a collaborative effort. I am the main composer on the CD – I wrote the music and the lyrics and I did a couple of settings and then I collaborated with Gabriele on writing additional music and lyrics for the Spanish lullaby "Duermete Niño Bonito," and I collaborated with Bobby Sanabria and Renato Thoms on "Solamente Pasión." But even having written and arranged all of that music, when presenting it to great musicians, especially in the jazz and latin world, the background that we all have, it becomes a collaborative sharing of ideas on how to play the music and expand it and take it in new directions. This band is not just a band that got together to record a CD, but one that has done a whole bunch of gigs together playing in Manhattan – so we were familiar with each other's styles of playing.
SR: Tell us a little bit about your background as a musician?
Joe: My main instrument is acoustic piano, I also play electric keyboards and I have done gigs on Hammond B-3 organ as well.
SR: Who are some of the jazz people you've worked with?
Joe: It's a long list, but for the sake of brevity, a few of the vocal highlights include Mark Murphy, Sheila Jordan, and Dakota Staton. Recently I've had the good fortune to twice play the Cape May Jazz Festival in New Jersey with Barbara King. I've also enjoyed playing with some great instrumentalists, including James Spaulding, Jimmy Heath, David "Fathead" Newman, Fred Wesley, and Dave Valentin. Accompanying the poetry of Abiodun Oyewole, one of the founding members of "The Last Poets," and Golda Solomon, "The Medicine Woman of Jazz" was also quite enjoyable and inspiring. I also write poetry.
SR: When you heard the compositions in your mind, did you hear them as a world cross over thing or did you hear them as jazz tunes?
Joe: I compose in a lot of different styles. Thinking in terms of putting labels on music is something that is difficult for me, because when I'm writing, I'm basically writing music, and if it has a Brazilian influence or Salsa influence or Classical influence, it's all music – it's all a process of organizing sound.
SR: Gabriele, although this CD itself is inside the jazz world, it's a world music type of CD. I use that definition because quite often people like to have an idea of what something is before they buy it. What are the challenges for jazz and is there a place to move forward with this?
Gabriele: I had stepped out of the jazz field because I don't want to be put only in that category and I wanted to reach out to a wider audience. It's important to me that I do good music instead of a specific genre. With my music, I like to reach out to a lot of different people and I like to deliver a positive message. I like my music to be uplifting.
SR: What do you think of the growing music scene in the area?
Gabriele: I'm very happy things are expanding. When we moved here, a bit over 8 years ago, I didn't think of the scene in terms of being limited or needing growth. I only thought of this area as a scene that we wanted to be a part of. I immediately looked at the venues that were in this area and I went and approached the restaurant owners and club owne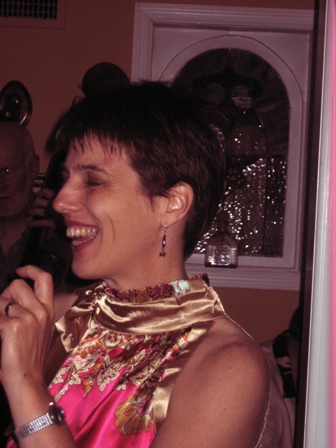 rs. I think that people in general were open and welcoming. For example, a few years ago we participated, both times that it ran, in the Brotherhood Wine and Jazz Fest, held at the Brotherhood Winery located in Washingtonville. It was a well-organized jazz festival with bigger headline names like Spyro Gyra and Gato Barbieri.
SR: It's seems to be a nicely growing scene now. We have the Dautaj in Warwick, thanks to Ray Townly, whose been organizing weekly jazz at their venue. It's becoming a place to play and hang for local musicians. Joe, you've performed with different people at various venues in this area as well. We have a growing circle of friends and musicians up here– Mark Egan, Adam Nussbaum, Freddie Jacobs, Jeff Ciampa, Rick Savage, and Richard Kimball, to name a few. This coming late summer/early fall there will even be a Warwick Jazz Festival You might be performing there as well.
SR: Is there any additional information regarding the CD or anything else that you want to speak to?
Joe: One of the main things about this CD is its presentation of a variety of languages and music from a variety of cultures. I have hopes that music such as this CD and world music in general will help bring people from all cultures together and unify people so that we can start celebrating all the things we have in common.
Gabriele: Along that line, our band consists of people from different places in the world and we work very well together. Where we come from, forms whom we are and that all comes together in our music - in a wonderful way. Personally I hope that we will be able to take the band on the road to tour. Jim Eigo, Jazz Promo Services, right here, handles our press promotion in Warwick, and Max Horowitz, Crossover Media, is handling our radio promotion.
SR: Gabriele, is there anything else that you would like to add?
Gabriele: In terms of advice, I would like to encourage musicians to go in the direction of their heart. Also, I have been inspired both by listening to and studying with others. For example, going to the Omega Institute and studying with Bobby McFerrin, helped me to expand my thoughts on how I do my songs. Discussing this with Joe expanded his ideas as well. Finally I'd like to add that if Jazz is to be a growing and developing art form, I think people need to start branching out into other areas and incorporating those ideas, rather than repeating the same music over and over.
SR: I think your CD has accomplished that.