Arts & Entertainment
Details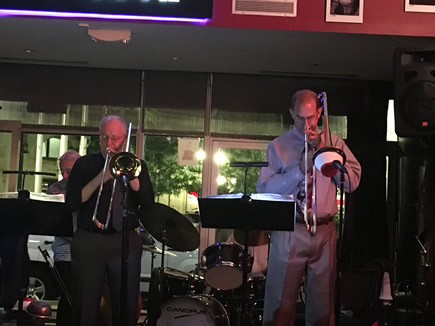 Slide Attack is a seasoned collection of five fantastic musicians fluent in the language of swing, blues, modern jazz and a wide spectrum of genres. Boldly led by two lead trombonists, Alan Goidel and Howard Levy, the band fills the room with the brassy harmonies of well-chosen jazz arrangements, both old and new. At the 9th Note Jazz Supper Club in Stamford, Connecticut on August 3, 2016, this group gave the audience a sufficient helping of each instrument that also included Paul Mariconda - piano, Chuck Zeuren - drums, and Dr. Lyn Christe - bass.
Details
On Sunday, July 17th at 5 pm, a musical tour of baroque Germany and Italy--and of cellos at Pacem in Terris. Jennifer Morsches (playing both a four-string and five-string piccolo cello!!) and harpsichordist Gregory Hayes. Our guides will be Johann Sebastian Bach (movements from the D major cello suite and the English Suite in G minor for harpsichord), his son Carl Philipp Emanuel (a sonata in C major), and Italian composers Bernardo Storace, Antonio Vivaldi, and Alessandro Scarlatti.
Read more: Baroque Music of Germany and Italy at Pacem in Terris
Details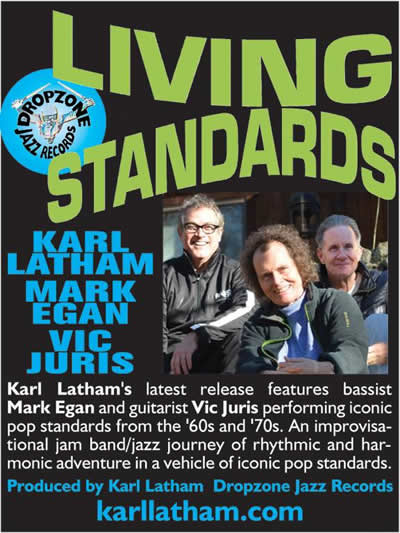 Warwick resident Karl Latham's latest release, Living Standards features bassist Mark Egan and guitarist Vic Juris performing iconic pop standards from the '60s and '70s. The trio, led by world renown drummer Latham, takes you on an adventurous jam band/jazz journey, exploring smash pop, rock and soul hits that have become modern standards, overlaping generations of listeners.
Read more: Warwick resident Karl Latham "Living Standards" with Mark Egan and Vic Juris