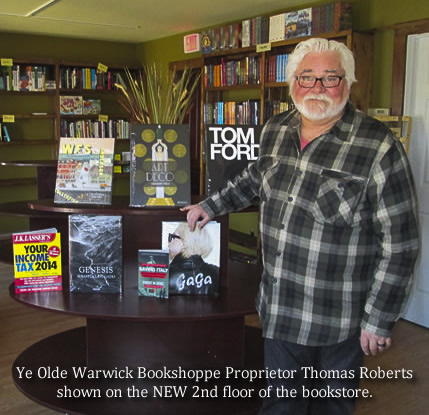 What's not to love about a bookstore in any community, but we are more partial to Warwick's very own Ye Olde Warwick Bookshoppe. Proprietor Thomas Roberts is a Ye Young Jolly Good Fellow, sharing his perpetual optimism and generosity with the community at large.
While independent bookstores are shrinking from the face of the planet, Roberts is expanding his operation, adding a second floor along with a new children's section. Building a new staircase and adding more book shelving has alleviated some of the pressure from the overflow of books breaking out from their main floor. Like Manhattan, there is nowhere to go but up.
At this quaint shoppe, it's a pleasure, on a regular basis, to discover new books and great displays. Go in around any holiday or special weekend and you will see what we mean. A center table of books, pertinent to the season or holiday, always awaits you. Then there is the bookstore's ongoing support of local authors whose books are clearly visible, authors whose talent and voices are waiting to be shared with you! Get involved with their monthly book club or just come for a good browse. There is room for all.
On April 19th and 20th, all day long, Roberts invites you to come out and celebrate the bookstore's second anniversary for their "2 Years, 2 Floors, 2 Day Anniversary Sale" with 25% off of anything in the store. Don't miss out and say hello!