Arts & Entertainment
Details

The Warwick Valley Chorale will perform three concerts for the 2016 holiday season. The concerts, directed by Stanley Curtis and accompanied by Gail Johnson, will present a full range of holiday choral music that includes joyful Baroque selections and everyone's holiday favorites, such as Winter Wonderland and It's the Most Wonderful Time of the Year. Curtis will lead the 100-plus member group in a selection of brilliant, uplifting and inspiring holiday music ranging from Vivaldi, Bach and Handel to John Rutter and Irving Berlin.
The three concerts will be presented at three different venues: Grace Episcopal Church in Middletown, NY on Friday, December 2, 2016 at 7 pm; Friday, December 9 at 7pm at the Goshen United Methodist Church in Goshen, NY; and Sunday, December 11 at 4pm at St. Stephen's Roman Catholic Church in Warwick, NY. Admission is free, although donations will be gratefully accepted. For further information, visit www.WarwickValleyChorale.org and the Warwick Valley Chorale Facebook page.
Details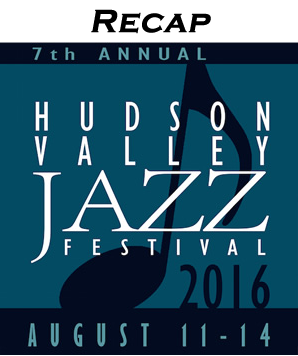 August 11-14, 2016 was the 7th year of The Hudson Valley Jazz Festival. Having grown from it's original Warwick Valley Jazz Festival, the HVJF has shown two principal growth factors: 1.) The number of participating musicians and venues 2.) In 2014, it moved from being singularly represented by Orange County as towns in Ulster and Dutchess took part.
The central theme has been to feature local talent on the same schedule as a few top names in jazz. 2016 was a celebration of the return to local. 15 shows in four days, 12 of them in Warwick. The singular marque name was replaced by highlighting the regions deep resource of local jazz talent, and mixing in some new folks on the outer Valley edges.
Details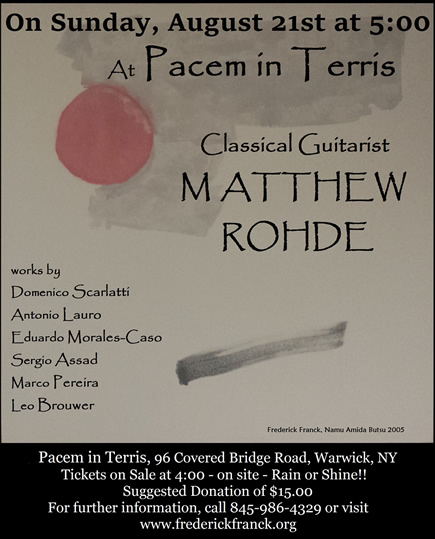 Sunday, August 21st at 5:00 pm will mark the return of the wonderful Matthew Rohde, the classical guitarist who has graced our season for the last several years. The program this year will include two Domenico Scarlatti Sonatas as well as newer music from Venezuela, Brazil and Cuba by Antonio Lauro, Sergio Assad, Marco Pereira, Leo Brouwer and Eduardo Morales-Caso!
Read more: Classical Guitar with Matthew Rohde at Pacem in Terris, 8/21