Arts & Entertainment
Details
Entering its fifth season, The Hudson Valley Jazz Festival, www.hudsonvalleyjazzfest.org rolls into several towns August 14-17. This year The Vanguard Jazz Orchestra of NYC's famed landmark jazz club, The Village Vanguard, will be the feature show, Saturday Aug. 16 at The Sugar Loaf Performing Arts Center.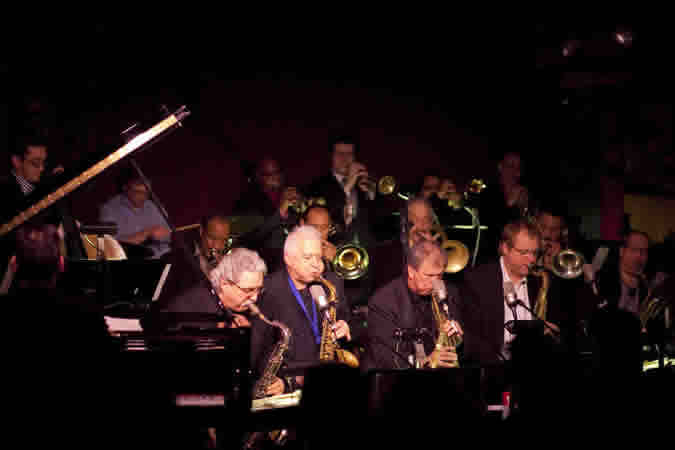 The Festival stays true to its goal of highlighting local talent as this year's line-up has the greatest number of new and returning Hudson Valley area jazz musicians.
Locally, the Warwick area is well represented with events at Pennings, The Dautaj, Warwick Grove, The Landmark Inn, Love Life Tattoo & Art Studio, Tuscan Cafe, Noble Pies, The Village of Warwick Concert Series, a home concert by Richard Kimball, The Seligmann Center, Orange County Land Trust at The Warwick Winery and Village Billiards, in addition to The Sugar Loaf Performing Arts Center.
Local jazz guitarist Mike Jackson will be the recipient of this year's Lifetime Achievement Award, following Hal Gaylor and Richard Kimball. The presentation will take place prior to the Saturday night show at Sugar Loaf Performing Arts Center.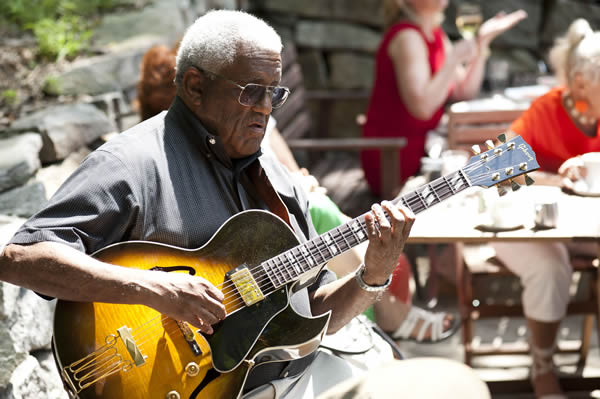 20 events in four days include a theater, a jazz talk, two outdoor shows, a park, a billiard hall, cafes, restaurants and music clubs. It's close proximity to great restaurants, shops, B&B's and the beautiful Hudson Valley country setting make it a sure bet for all music lovers.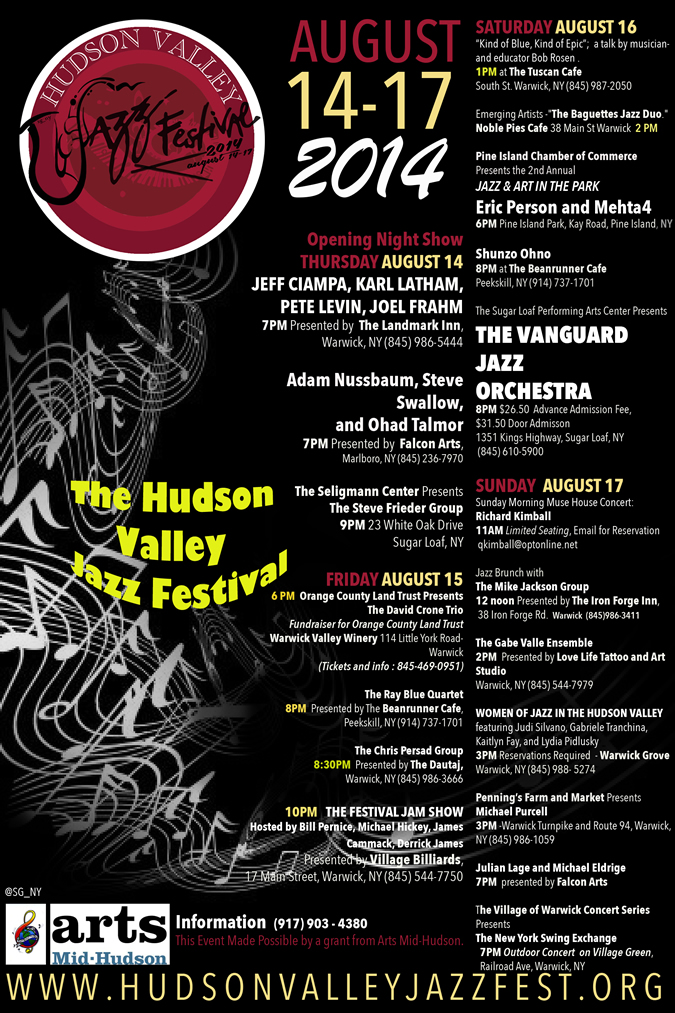 This promises to be a great year for this relatively new but growing series.
For additional information contact This email address is being protected from spambots. You need JavaScript enabled to view it.
Details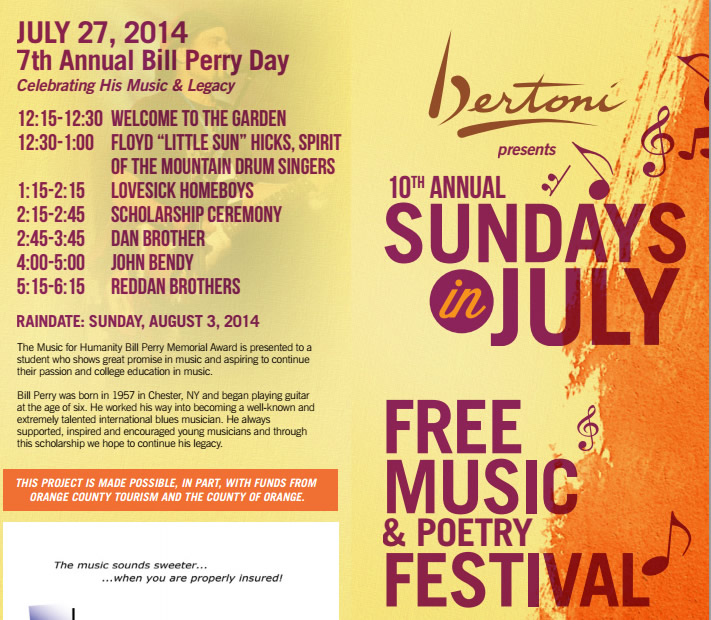 Bertoni Gallery is hosting its 10th Annual Sundays in July Free Music & Poetry Festival. It is held every Sunday in July at the Bertoni Gallery Sculpture Garden located at 1392 Kings Highway in Sugar Loaf from 1-5 pm. Local and regional musicians and poets will be performing at this years' event. On the schedule this year will be Weird Apples, Kevin Kenny (Poet), Bill Davis, Gayle Donnelly & the Mystery Box, Jim Kenny (Poet), Ariel Feierman Quinn (Singer, Songwriter), The Black Dirt Band (Blues Rock), Ada Hunter (Poet), Tony Rivera (Flamenco Blues).
On July 13th at 4:00pm there will be an (Open to the public) Drum Circle hosted by Renee Connelly of Subtle Energies. You are encouraged to bring your drums and join in the fun and explore your creative side!
This is a FREE event that is family-oriented and open to the entire community. This project is made possible, in part, with funds from Orange County Tourism and the County of Orange. Our Gold sponsors this year are Bliss Coop in Sugar Loaf and Jack Maniscalco & Sons Insurance from Rock Tavern. Bring your dancing feet, a chair, a blanket and a plan for having a good time every Sunday in July outside in the garden!
July 27th will be the 7th Annual Bill Perry Day. The day will be filled with drumming, blues, and rock music in honor of Bill Perry. The Floyd Hicks "Little Sun" Spirit of the Mountain Drum Singers will be the opening act. There will be a host of local blues musicians that will b e playing in Bills Honor, including Lovesick Homeboys, Dan Brother, John Bendy and the Reddan Brothers. Many of these musicians had played and toured with Bill Perry. Bill Perry was an internationally acclaimed blues-rock guitarist who lived in the Chester, NY area most of his life, until his passing in 2007.
Bertoni Gallery and Barry Adelman from Music For Humanity have joined forces to present the 7th Music For Humanity Bill Perry Scholarship Award. The scholarship is awarded to a local music student who has shown excellence in the field of music, and to encourage the recipients' ongoing pursuit of music. The recipients will be the guests of honor on this day, and will be presented the award during the ceremony in the sculpture garden. This scholarship ceremony will be at 2:15pm.
To see the full schedule of performances and times, please visit the upcoming events section on www.bertonigallery.com or the Bertoni Gallery Sculpture Garden Facebook page.
For more information, to volunteer during Bill Perry Day, or to make a tax-deductible donation to the Music For Humanity Bill Perry Scholarship Fund, please contact Bertoni Gallery, 845-469-0993.
_______________________________________________________________________
Details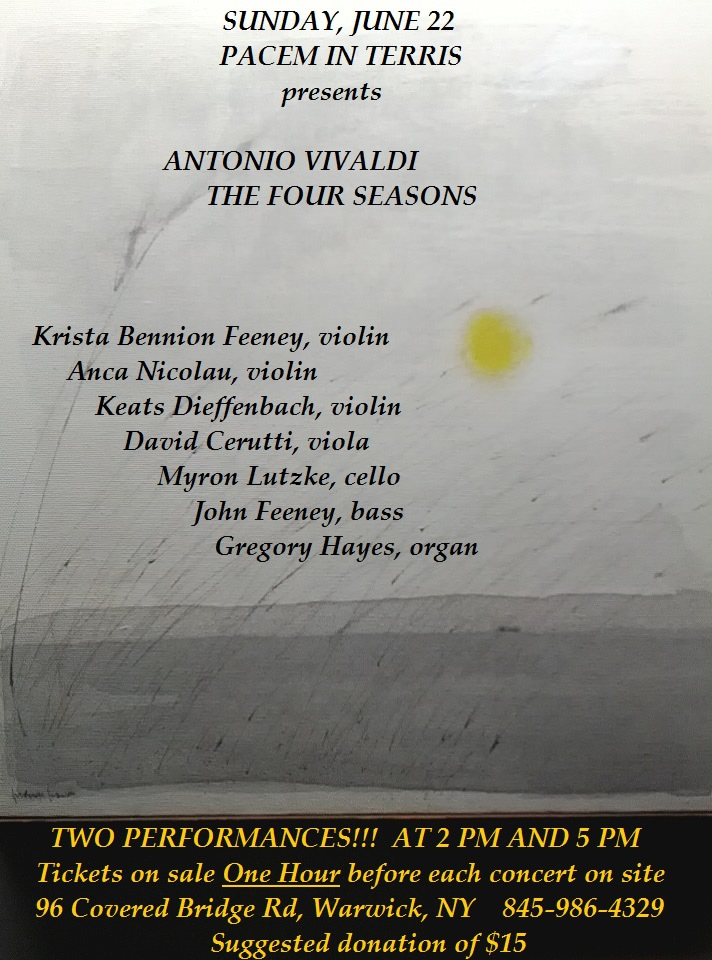 On Sunday, June 22nd at 2 PM and again at 5 PM, "The Four Seasons, a set of four violin concertos composed by Antonio Vivaldi in 1723, will be performed by an extraordinary group of musicians; Krista Bennion Feeney (violin), Anca Nicolau and Keats Dieffenbach (tutti violins), David Cerutti (viola), Myron Lutzke (cello), John Feeney (bass), Gregory Hayes (organ). Join us at 96 Covered Bridge Road for a summer solstice celebration, rain or shine, for this 'not to be missed' baroque event. Come early, limited seating. Tickets go on sale one hour before each concert, on site. For further information, please call
845-986-4329 or visit www.frederickfranck.org. Suggested donation - $15.00.