Arts & Entertainment
Details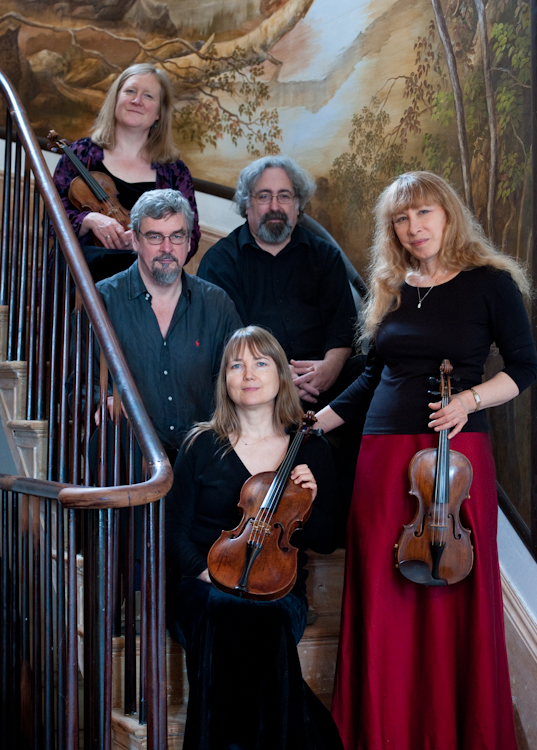 On Sunday, July 28th at 5 pm, the concert series will continue at Pacem in Terris with the DNA Quintet that includes the Loma Mar Quartet and John Feeney on bass, with special guest Owen Dalby on violin returning to perform works by Joseph Haydn, George Onslow and Johann Sebastian Bach.
The Loma Mar Quartet – Krista Bennion Feeney and Anca Nicolau, violins, Joanna Hood, viola and Myron Lutzke, cello – was formed in 1997 after being invited to perform Haydn String quartets at Bard College in New York State. Equally at home in many musical genres, they have established a reputation for the broad stylistic range of their programs, from medieval to contemporary. They worked with Paul McCartney in a recording for EMI entitled Working Classical, that includes nine of his songs arranged for string quartet, and two original compositions by Sir Paul written for the Loma Mar Quartet; Haymakers and Midwife.
Shortly after the release of Working Classical, then at the top of the classical charts, the Loma Mar Quartet appeared with the London Symphony Orchestra in a live concert from Liverpool which has been broadcast worldwide. Continuing their eclectic career, in 2002 the Loma Mar Quartet recorded The Rhythm of Life with jazz singer Claudia Acuna, bassist Dave Holland and pianist/arranger Billy Childs. In 2008 the quartet with bassist John Feeney, began the DNA project or Dragonetti's New Academy, and have since released two award winning cds of world premiere recordings of the chamber music of Domenico Dragonetti.
In April 2013 the Loma Mar Quartet were featured soloists for a two week run with The San Francisco Ballet Company in the ballets Criss-Cross and Ibsen's House. Ibsen's House was danced to Dvorak's beloved Quintet for Piano and Strings and Criss-Cross was danced to Arnold Schoenberg's rarely heard Concerto for String Quartet and Orchestra. They are all either members and/or principal players of the Orchestra of St. Luke's, and internationally recognized soloists and chamber musicians.
Praised as "dazzling" (New York Times) and "a fearless and inquisitive violinist" (San Francisco Classical Voice), Owen Dalby is hailed for his gripping interpretations of music from across the stylistic spectrum. He is a co-founder of Decoda, New York City's trailblazing society of virtuoso chamber musicians, arts advocates, and educators.
Owen made his solo debut at Lincoln Center in 2010. His varied career involves frequent appearances as a member of the Orchestra of St. Luke's, Princeton Symphony, Ensemble ACJW, and the Metropolis Ensemble. He is the concertmaster of NOVUS NY, the contemporary music orchestra of Trinity Wall Street church. He can also be heard on baroque violin with Four Nations Ensemble, Clarion Music Society, and the Trinity Baroque Orchestra and Choir. Owen completed a three-year tenure in The Academy, a fellowship of Carnegie Hall and the Juilliard School that seeks to link a performer's life with advanced training in education and community engagement.
Owen is regularly invited to perform chamber music at international festivals from Hamburg to Honolulu, and from Iceland to Mumbai. His chamber collaborators have included Daniel Hope, Dawn Upshaw, the Persian kamancheh virtuoso Kayhan Kalhor, and Simon Rattle. He is a native of Berkeley, California and received bachelor's and master's degrees from Yale, where he studied with Syoko Aki.
Pacem in Terris is a not-for-profit organization under the Education Laws of the State of New York, located at 96 Covered Bridge Road, Warwick, NY. No Reservations possible. Tickets go on sale at 4 pm. Suggested donation - $15.00. For further information: (845) 986-4329 - www.frederickfranck.org
Details
"Music is a higher revelation than all wisdom and philosophy. " Ludwig Van Beethoven
Beethoven may have been right on target when he discerned the power of music to connect to something deeper within each of us, taking us beyond the realms of wisdom and philosophy. Judging by the large turnout at Warwick's recent music events on Railroad Avenue, if people have not gotten their fill of higher revelation, they surely have gotten a good old time listening to some music. And maybe more than just that.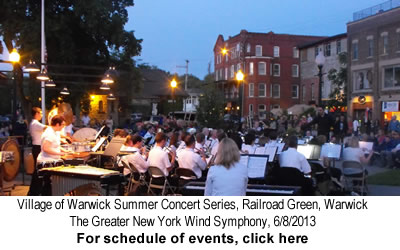 One series that is most popular is the Village of Warwick's Summer Concert Series, held on Railroad Green, where many visitors come with anticipation to experience outdoor free live music at its best. Organized by Bill Iurato, owner of Peck's Wines and Spirits and former village trustee who still leads the series, it thus far has brought together two great performances, one by the NY Wind Symphony, where we saw a 50 piece band play under the stars on a beautiful moonlit evening, and Uncle Shoehorn, who infuses their performances with a "deep and abiding love for American roots music," particularly the sounds of the Grateful Dead. This wonderful series of music events will also include evenings of Latin, Irish, Bluegrass, Jazz, Big Band and Oldies.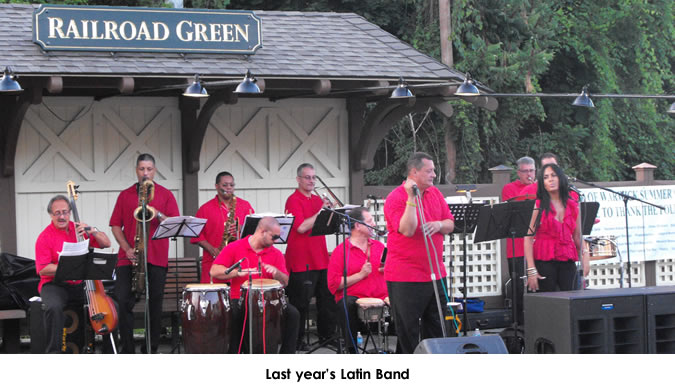 The Summer Village Concert Series is far reaching in terms of its eclectic palette, due in part to Iurato's passion for all kinds of music. The well rounded program provides a summer in which there is at least something for everyone. On July 3rd, the Free Shrimp Band will be playing a wide variety of 60's and 70's music and then on July 6, Stone Flower will give tribute to the music of Santana. Take a look at what's upcoming by clicking here. The series is delectable. Last year I even took a bus from Greenwood Lake to catch a concert, where I was dropped off across the street and later returned home on the same bus.
George Laurence of the Eclectic Eye, along with Tony Sylaj of Grappa Restaurant are also big proponents of helping to promote live music on Railroad Avenue in a series called Music in the Courtyard. Centered around the courtyard's piazza like look and feel, this romantic and enticing setting is the perfect destination for outdoor dining in spring, summer and early fall, with great music as its backdrop - as inviting as any Italian getaway. The series as well is as rich in diversity, ideal for more intimate and unique listening such as the New York Mandolin Ensemble and bringing in a variety of jazz, folk and other small and interesting ensembles including sought after musician John Ellis, who will be performing August 8th, and the Metropolitan Hot Club, which will be perform on August 22nd. The series is held every Thursday from 7:30 – 10:00 p.m. and on every Sunday from 4 – 6 p.m. For more information, click on the dates.
Part of the rationale of having music, besides providing soul to life, is that it brings people out to participate in our local economy. Why not? After all, these businesses are hiring musicians so that people come out to enjoy food, entertainment and to browse around in many of the quaint shops that Warwick is noted for, helping to sustain a stronger economy and sense of community.
Beethoven could probably play a few notes to that as well. Be sure to include some of these fun and special outdoor concerts in your future plans. For more happenings in Warwick and the surrounding area, visit our events calendar http://www.warwickvalleyliving.com/events/eventsbycategory/-
Details

Every Sunday in July Bertoni Gallery will host its 9th Annual Free Music Festival in the Bertoni Gallery Outdoor Sculpture Garden located at 1392 Kings Highway in Sugar Loaf. Come out and support the local musical talent, and enjoy a relaxing afternoon in the peaceful garden.
Open to the entire community, this is a family event. This will take place every Sunday in July between 12:30 and 6 p.m. Call (845) 469-0993 for more details or visit www.bertonigallery.com. (This event is sponsored byJack J Maniscalco & Son Ltd Insurance located in Rock Tavern, NY).
Scheduled line-up BELOW:
Sundays in July Music Schedule:
7/7/13
12:30-1:30 Gayle Donnelly
1:45-3:15 Ariel
3:30-5:00 Brian Rowe
7/14/13
12:30-1:30 Darrell Hankins
1:45-3:15 Black Dirt Band
3:30-5:00 Sarah Morr
7/21/13
12:30-2:00 Elissa Jones
2:15-3:45 Larrama
4:00-5:30 Drummers
7/28/13 "6th Annual Bill Perry Day" (Celebrating his music and legacy)
12:15 Welcome to the Garden Party
12:30-1:00 Floyd "Little Sun" Hicks, Spirit of the Mountain Drum Singers
1:15-2:30 Lovesick Homeboys
2:30-3:00 Scholarship Award Ceremony
3:00-4:15 John Bendy
4:15-4:40 Raffle
4:40-6:00 Lords of the Parish