Arts & Entertainment
Details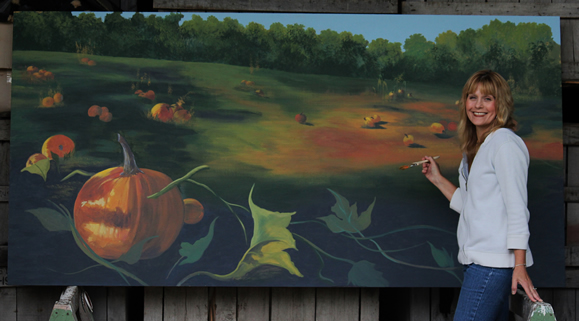 George: I really like this photo of you standing in front of your mural with the pumpkins. How did it come about?
Nancy: I painted the mural at Soons Orchards last fall as part of the "Farm Art Trail" with the Wallkill River School. One artist painted on each farm where people could watch and also learn more about the farm and the Wallkill River School and their mission. I painted three large panels, each depicting a different part of the farm.
The first was Soons apple orchards where I also included one of the family dogs. The second was of the Pumpkin Patch and the third of the actual farm stand building. While we were painting the mural groups of people took tours of the farm and watched the painting being done.
I love the fact that something that I created will be part of Soons Orchards for years to come.
George: How do you feel about painting around this time of year?

Nancy: The autumn season is my favorite time of year. I think of it as "Gods Art Show" and it is like no other. We artists pale in comparison to the magnificent array of colors that he can produce as our creator.
I especially love painting en plein air in the fall when everything surrounding us has a warm glow about it. I feel it is produced by a magical force right before the landscape goes to sleep for the winter.
George: Tell us about your recent Pumpkin Painting that sold?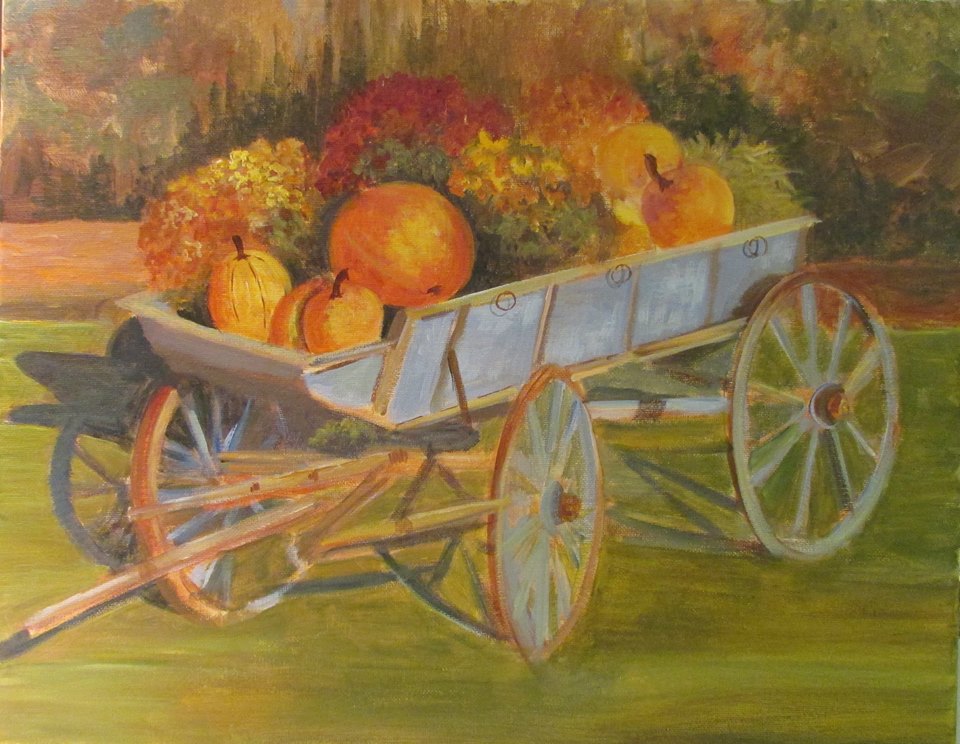 Nancy: This painting is titled "The Harvest." I included two of my autumn favorites in this painting. One is my love of mums because they show the true colors of autumn. The other is pumpkins.They remind me of the beautiful region we live in and of happy memories as a child picking pumpkins in the pumpkin patch.The person who purchased my painting has stated that it will hang in her dining room for the fall and holiday season.
George: You also teach. What's it like teaching your classes?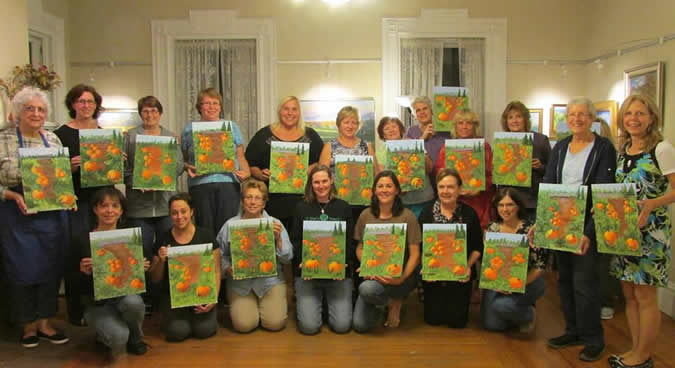 Nancy: Even with my great love of painting, I must say I really enjoy the teaching aspect of it as well. I teach beginner "Arty Parties" every Thursday evening at the Wallkill School Of Art. Students are encouraged to bring their favorite wine, snacks and paint in a party atmosphere. Even if a student has never painted before, they leave my class knowing that everyone has the ability to create art. I work with each person at the level they are at and encourage them to be creative in their own right, while creating a safe and non judgmental environment for them. I really enjoy having these very large classes because even though everyone is painting the same scene, they somehow all turn out just a little different. I love seeing the faces of the students who never knew they could paint. I feel very blessed to have the ability to unleash in my students their artistic abilities that were unknown to them.
---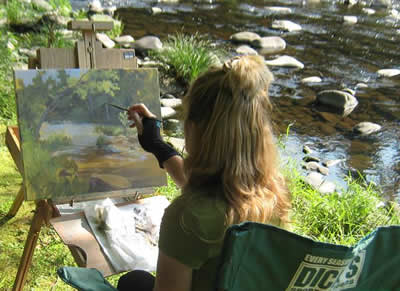 Bio: Nancy Reed Jones came to the Hudson Valley from Long Island in 2004, where she owned her own mural business for several years. While living on Long Island, Nancy painted murals for cancer patients at a hospital there. Her murals were used for "guided imagery" to help alleviate the patients pain. Nancy also taught "Art For Relaxation" classes to the nurses and doctors at the hospital.
In 2008 Nancy joined the Wallkill River School of Art in Montgomery where she is now an instructor and on the Board Of Directors.
In 2013 she was awarded the "Champion Of The Arts In Healthcare" award by the Orange County Arts Council and in 2010 was voted #1 acrylic artist in the region.
Details
Warwick, NY - Open weekends in November from noon to 4pm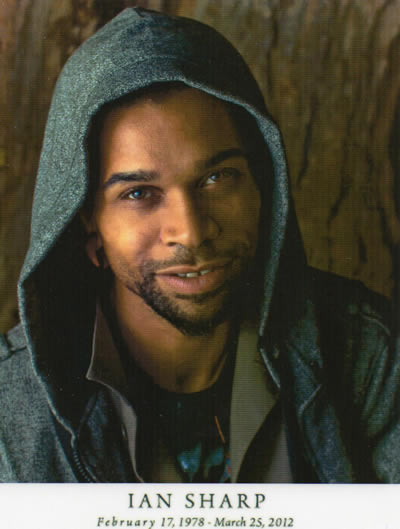 Ian Sharp (2/17/78 – 3/25/2012) was a local artist, musician, poet and skateboarder. His work and the works of some of the many friends he greatly influenced will be exhibited at The Amity Gallery for five consecutive November weekends beginning 11/1/14 from noon until 4pm. Opening reception will be Saturday, 11/8/14 from 5:30 pm. until 8:30 pm. Amity Gallery is located at 110 Newport Bridge Road, Warwick.
Ian Sharp's work exemplified his unique sense of freedom, play, meaning and purpose as well as his connection with his community. Mediums and vehicles for his pieces varied, serving not only as reflection and interpretation of the world around him but also the practical applications of art. Paintings on canvas or found wood, icons on t-shirts and skateboards, Ian believed the experience of art was not to be limited, but to be felt, worn and shared. His work is playful as well as thoughtful, meaningful and provocative as well as joyful. He spoke of art as personal empowerment, in his own words:
"Art and music have always helped me get through difficult times in my life. I believe that discovering your personal artistic style can be an empowering experience, as I have learned firsthand discovering my own style. Working with diverse groups of people helped me realize that everyone has a gift in art – whether it's drawing, painting, sculpture, dance, martial arts, or singing. Many people, especially youth, just need someone to help them discover their gift. Putting your art out there can make one feel vulnerable, but with the right guidance, you can take that vulnerability and use it to empower yourself." - Ian Sharp
Ian's family and friends come together in this exhibit to share gratitude and love for Ian and how much he inspired those around him to keep creating and to keep interpreting, translating these impressions through the vehicle of the arts.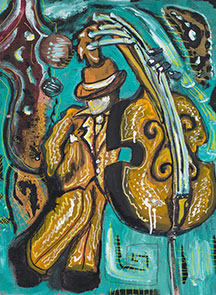 This is the fourth show of the new Amity Gallery, which is sponsored by the The Chardavogne Group. The Group, called the Institute for Religious Development, has been in the area since the late 1960's. It follows the teachings of Willem Nyland, who was a student of G. I. Gurdjieff. Open meetings are held periodically when the public is invited to learn more about the teachings and practices.
To reach The Amity Gallery from County Rte. 1 – take Amity Rd. and bear right onto Newport Bridge Rd. Gallery is just ahead on the right.
For more information contact Donna Kaminski at Project Knomad here: This email address is being protected from spambots. You need JavaScript enabled to view it.
To view some examples of Ian Sharp's work and impact -
https://www.flickr.com/photos/theartofis/
Details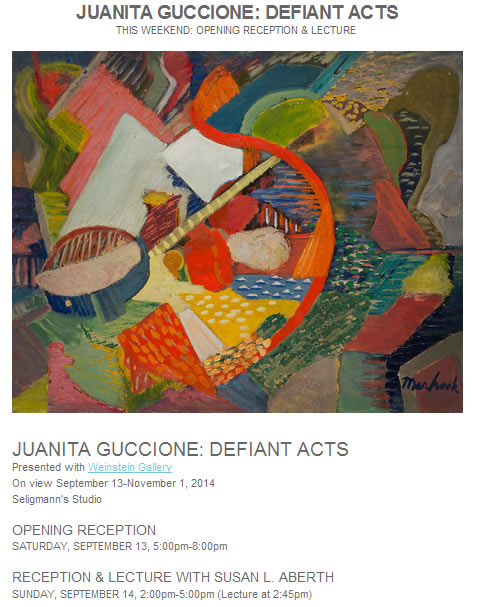 Through Nov. 1, the art work of Juanita Guccione (1904 – 1999), whose work mirrored the radically creative and philosophical underpinnings of Surrealism, will be on display at the Seligmann Estate at the Citizens Foundation, located in Sugar Loaf, NY. The exhibition is entitled Juanita Guccione: Defiant Acts.
To kick off this exhibition, on Saturday, September 13, 5 – 8 p.m., there will be a champagne reception open to the public. This is a special opportunity to view her work, mingle with the community and check out the scenic grounds of the Seligmann Estate. On, Sunday, 9/14, from 2 – 5 p.m., Susan L. Aberth, renowned author and art historian, will give a lecture on "Women in Surrealism." Aberth is recognized for her research in the fields of women artists and the Surrealist movement as well as all Latin American Art.
To help illuminate Guccione's work, we published Aberth's Under the Sol Niger: The Paintings of Juanita Guccione. Read More.
In addition, Guccione was the mother of writer and poet Djelloul Marbrook. His poem "Exile," written about her death just before Christmas in 1999, was published in Far from Algiers (2008, Kent State University Press, winner of the 2007 Wick Poetry Prize and the 2010 International Book Award in Poetry).
(Juanita Guccione, 1904-1999)
Even toasters defeated her,
but you couldn't imagine my mother
holding a brush or palette knife
uncertainly or in repose.
She painted as if she knew the number
of each brush's hairs, number, wont, complaint-
intimacies that seduced her
from glamors of society and success.
Headiness of varnishes and turps,
unctuousness of cadmium,
the asperity of her own gaze
made her expatriate in her skin.
Her world was nothing but her studio
and one of her materials eternity.