Arts & Entertainment
Details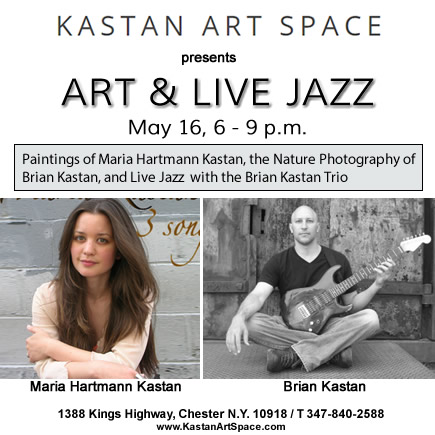 Kastan Art Space, located at 1388 Kings Highway, Chester, NY, is pleased to announce the Paintings of Maria Hartmann Kastan, the Nature Photography of Brian Kastan, and Live Jazz with the Brian Kastan Trio on May 16, 6 to 9 p.m.
Read more: Kastan Art Space Featuring Art and Live Jazz, 5/16, 6 - 9 p.m
Details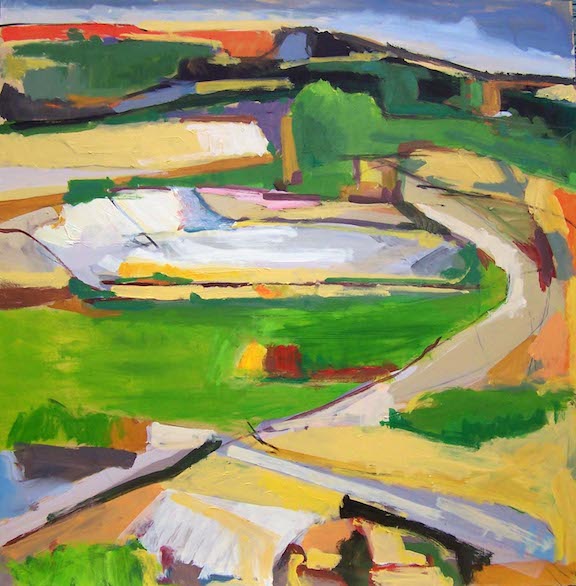 Last summer I created a collection of work during a plein air painting holiday in County Meath, Ireland. This Fall I was reminded of the lush green landscape of Ireland and decided to paint our beautiful Warwick Landscape. This series of paintings "Fall into Winter" was created on location inspired by Upper and Lower Wisner Road, Ochs Orchard, and Applewood Orchards.
My paintings are inspired by life and movement - movement of the horse, the figure, the landscape.
The foundation of my work is laid out in lines and marks. I often begin a painting by attaching charcoal and brushes to lengths of reed to enhance the gestural qualities of a piece. I then move closer, working in an additive and subtractive process, manipulating the surface until I've captured the essence of the form. The relationship between the abstract and the figurative is an essential element of my art.
---
To view more of the artwork of Heidi Lanino Bilezikian.
Details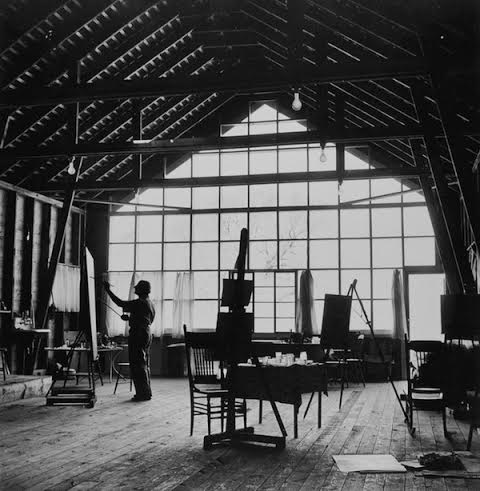 Sugar Loaf, N.Y. Three paintings by Kurt Seligmann, all lost for decades, have been returned to Seligmann's property in Sugar Loaf, now home of the Orange County Citizens Foundation. The paintings, all dating from the 1930s, will be formally presented to the public on Friday, Nov. 7 at 7 p.m.
"Learning that these paintings were on their way to the Seligmann Center at the Citizens Foundation was beyond amazing," said Nancy Proyect, president of the Orange County Citizens Foundation. "It's such a pleasure to welcome them to Kurt and Arlette Seligmann's bucolic property."
Stephen Robeson Miller, an author, art curator, scholar, and long-time friend of Arlette Seligmann's, will present a gallery talk on the three painting and their place in history. Miller has written about Kurt Seligmann's life and career as one of the world's foremost Surrealist artists. He is also co-author of "Double Solitaire: The Surreal Worlds of Kay Sage & Yves Tanguy," where he examined the intersection of Sage's and Tanguy's biographies and their work.
The paintings were passed on to the Citizens Foundation by Stanley Cohen, who served as Kurt Seligmann's attorney and lived in the Seligmanns' apartment in Paris for some time. Cohen is also one of the founders of the Alexander Calder Foundation. There is no admission charge and all are welcome at the event, but please RSVP for the event by calling 845.469.9459.
About the Orange County Citizens Foundation: The Orange County Citizens Foundation is a membership-based non-governmental organization that improves quality of life for Orange County residents through public policy and advocacy in land use and transportation planning, water conservation, waste management, cultural affairs, education, agriculture, recreation, and healthcare. The Citizens Foundation is housed on 50 acres of bucolic farmland, formally the home of Surrealist artist Kurt Seligmann. The Seligmann Center at the Citizens Foundation offers rotating exhibitions, workshops, and performances that interpret surrealism, trace its origins and explore its contemporary resonance. The center honors the Seligmanns' legacy and welcomes the new, presenting contemporary work that enriches, challenges, and connects. For more information, visit occitizensfoundation.org or contact Nancy Proyect at 845.469.9459 or nancy@occitizensfoundation.org.