Winding Through Warwick, a holiday home tour, will be held December 5 and 6 with six exceptional homes decked in all their holiday splendor.
Presented by the Warwick Health Foundation, each home on this self-guided tour will showcase its holiday collections and décor reflecting the homeowner's individual taste and traditions. Live music in each home will be performed by Warwick Valley High School student musicians.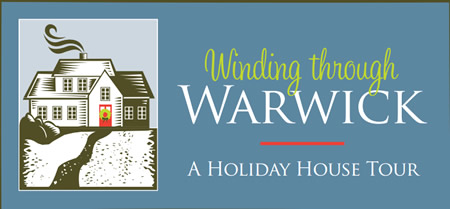 A silent auction of holiday wreaths, decorated and donated by local businesses and individuals, is also planned, as is a raffle of unique gift baskets valued at $300 each.
All proceeds will benefit the Make This House a Home initiative for improvements to Mount Alverno Center, an assisted living facility, part of the Bon Secours Warwick Healthcare Campus.
Tickets are $85 for the Friday evening Twilight Tour from 4-7 pm, followed by a cocktail reception at Chateau Hathorn from 7-9 pm; and $40 for the Saturday daytime tour from 10 am – 4 pm with an included continental breakfast.
Winding Through Warwick is sponsored by St. Anthony Community Hospital Medical Staff, Dr. and Mrs. John Juliano, Green Team Home Selling System and The Berina Family. Breakfast sponsors are Dunkin Donuts of Warwick and Florida, Jean Claude's Bakery and Dessert Café, Morrison Healthcare Food Service and Shop Rite Supermarkets of Warwick.
For more information and ticket purchases call (845) 986-4141 or www.windingthroughwarwick.com