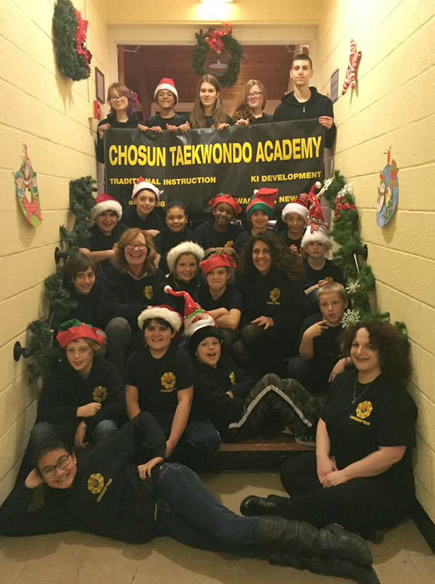 WARWICK – The Chosun Taekwondo Academy through its Leadership Team, along with directors Cheryl Crouchen, Pam Pyke and Bryce Parkinson, doubled their efforts to support the community this holiday season by collaborating on humanitarian projects with The Warwick Community Kitchen and the Warwick Lions Club and the Warwick Rotary Club.
Members of the team helped to prepare and serve Thanksgiving meals to over 200 area residents at the former Pine Island Elementary School. The dinner was made possible through food donations from members of the Chosun Taekwondo Academy and funds raised by the Chosun Leadership Team. Preparations had been underway since September for the Annual Warwick Lions Club and Warwick Valley Rotary Club Heartwarming Holiday Experience for Local Children in Need. Funds raised by the Chosun Leadership Team were used to purchase dozens of toys and clothing items which were then gift-wrapped by team members and distributed to local-area, underprivileged children and their families during the annual Holiday Party held on December 12th at the Warwick Reformed Church.
The Chosun Leadership Team, along with Lions Club coordinator Claire Gabelmann, Lions Club members. Rotary Club members and volunteers decorated the facility in preparation for the festivities. Gabelmann, chairperson of the holiday project stated, "The Chosun Team and their directors were nothing short of amazing. They were well organized in their fundraising efforts and while shopping for children in need. We were thoroughly impressed by their abilities and enthusiasm. Without a doubt, the project could not have been a success without the help of the Chosun Leadership Team."
Master Doug Cook, owner and head instructor of the Chosun Taekwondo Academy, described the volunteer program as "a vehicle within the framework of our school where young martial artists cultivate leadership skills while providing humanitarian services to our community at large. Time and time again these young people have demonstrated their maturity and compassion in successfully meeting these goals".
Earlier events sponsored by the Chosun Leadership Team have included refurbishing plantings in the Warwick Town Park, village beautification, and assistance with tree planting, generating funds for the Brian Ahearn Children's Fund, the Warwick Historical Society, the Warwick Humane Society and the Warwick Ambulance Corp.
For information about classes in taekwondo and hatha yoga offered by the Chosun Taekwondo Academy located at 62 Main Street in Warwick, call 845-986-2288, or visit their web site at www.chosuntkd.com.