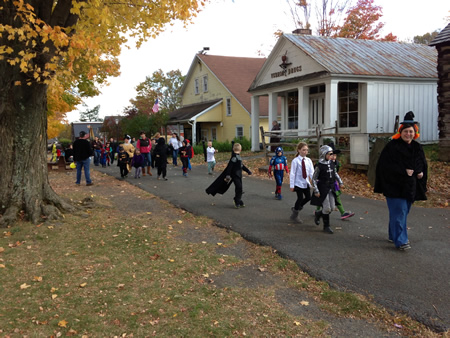 Monroe, NY – Join the costume parade around the green as Museum Village presents a No Scare Halloween Weekend. No Goblins or ghouls or witches or monsters. Only fun and smiling faces! Princesses and kings! Superheroes and fairies!
Once again Museum Village is hosting a No Scare Weekend for everyone to enjoy! On Saturday, October 24 and Sunday, October 25 from 11:00AM – 4:00PM have a fun filled Halloween party on the green at Museum Village. Everyone will be able to participate in a Scavenger Hunt and show off in a Costume Parade.
The museum offers a very safe environment where the children can enjoy the festivities and the parents can relax and feel at ease just watching. There will be games, crafts, pretzel decorating and each child will be getting a little goodie bag from the Good Witch. The Snack Bar will be open as well as the Gift Shop.
Dates: Saturday & Sunday, October 24 & 25, 2015 Hours: 11:00AM – 4:00PM Adults: $12.00 Seniors (65+): $10.00 Children (4 – 12): $8.00 Children (under 4):
Free Museum Village is a living history museum preserving a vast collection of eclectic, 19th century artifacts for educational purposes. Using these artifacts and reproductions, we provide hands-on experiences and exhibits illustrating the transition from a rural to an industrial culture and economy in America, provoking thought and discussion about history. www.museumvillage.org Museum Village is a 501(c)(3) Non-Profit Educational Institution.