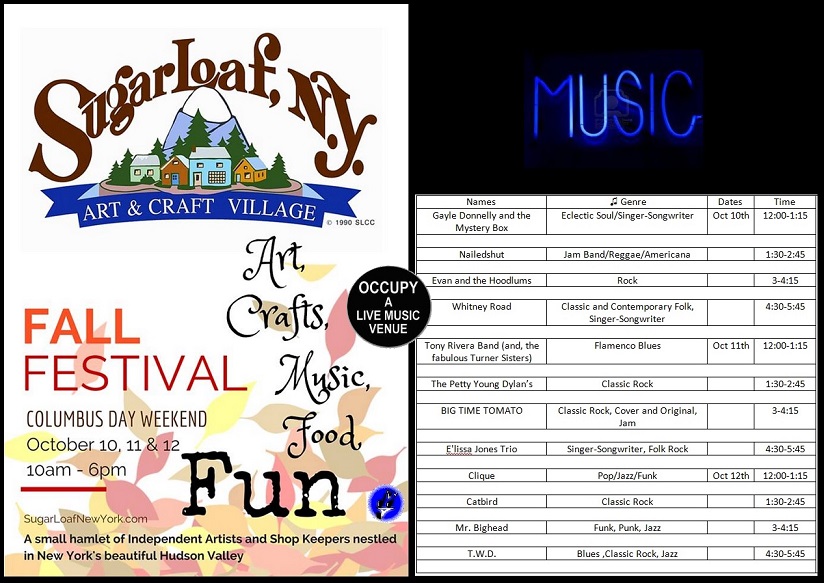 The Sugar Loaf Fall Festival is about to celebrate its 43th year. It will be held on October 10, 11, and 12 from 10-6. It is the perfect place to spend the weekend watching the leaves turn colors, getting a breath of fresh cool air, and enjoying the festival filled with dozens of visiting crafters from the tri state region.
There will be whole line up of live music in the garden. The Entertainment schedule will include a range of styles such as blues, classic rock, folk and more. Many bands are local and write their own songs. This years' line up will include Gayle Donnelly and the Mystery Box, Nalled Shut, Evan and the Hoodlums, Whitney Road, Tony Rivera and the Turner Sisters, The Petty Young Dylans, Big Time Tomato, E'lissa Jones Trio, Clique, Catbird, Mr. Bighead, T.W.D. all playing in the beautiful Sculpture Garden. You will have a taste of some of the best local musical talent in the Hudson Valley.
The hamlet of Sugar Loaf is a community of creative craftspeople, artists and specialty shops nestled under Sugar Loaf Mountain in picturesque Warwick Valley, Orange County, New York. Surrounded by apple orchards and horse farms, it has had a distinguished reputation as a crafts community for over 250 years. Today, Sugar Loaf remains true to its heritage as the year round home of many independent business men and women. Many of these artisans live and work in the original barns and buildings that date back as early as the 1700's.
Sugar Loaf has an outstanding selection of handmade art, crafts and gifts. There are many unique shops offering you a broad range of goods from paintings, photography, stained glass, handmade soaps, pottery, jewelry, woodworks, leather, candles, crystals, gemstones, herbs and teas; even a little practical magic if you dare. In Sugar Loaf, you'll find craftsmanship, uniqueness, and variety that cannot be found elsewhere. In some of the shops you will see the artisans at work. The visiting crafters will have a variety of creations including handmade candles, jewelry, woodwork and more. Come join us for the day or the weekend!
You'll find everything within easy walking distance. Spend the day strolling through our wonderful collection of shops and vendors while enjoying all the festivities. When your hunger beckons stop at the award winning Cancun Inn Mexican Restaurant or Marie's Deli that offers you delicious sandwiches and a variety of things from the grill. You can also visit one of the food vendors for a rejuvenating quick meal or a refreshing drink.
Our visiting food vendors will have treats like kettle corn, sausage and pepper, roast beef sandwiches, local honey and much, much more. There will be fun for the kids with a kid zone as well. For more information go to www.SugarLoafNewYork.com or call 845-978-3918. Travel from NYC is about one hour from the GW Bridge. Come visit Orange County's oldest crafts hamlet. This is a family friendly FREE event open to all.