Orange County's adaptive sports organization, Beautiful People, will host a full day of family fun as they celebrate their new home base and Orange County's first accessible ball park to be located at the new Warwick Valley Office and Technology Park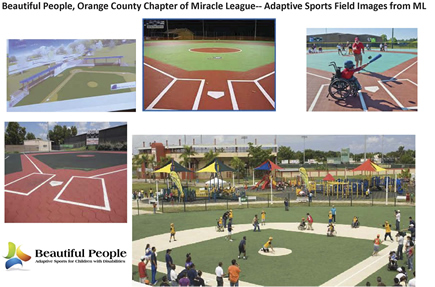 The public is invited to attend a full day, community festival on May 31st from 10-5, to accompany the groundbreaking ceremony and celebration of the new accessible ballpark to be built at the Warwick Valley Office and Technology Park on State School Road. Thanks to the Town of Warwick, the adaptive sports organization, Beautiful People, has found the perfect new spot to call home and anticipate that the rubberized ball field and tee-ball field will be completed this year so that Orange County kids with special needs can all play ball safely with the launch of the spring 2016 season.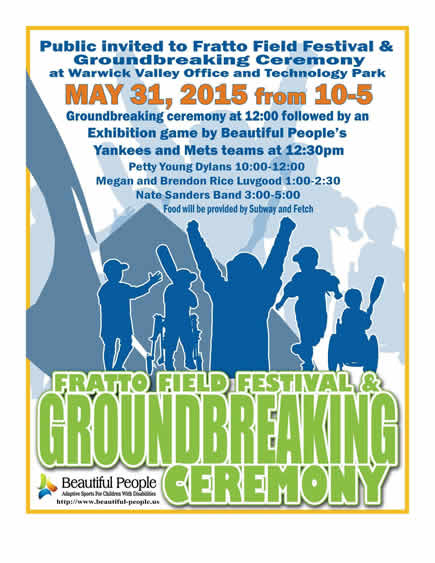 The official ground-breaking and dedication of the field as The Daniel Fratto Memorial Field will take place at noon followed by an exhibition game by Beautiful People's very own Yankees and Mets teams. But the games, baseball skill drills, raffles, face painting, bouncy house, Macaroni the Clown and local live music all begin at 10 am, starting with The Petty Young Dylans (with BP founder Peter Ladka sitting in on drums), followed by afternoon performances by local young talent, Luvgood (from 1-2:30 pm) and Nate Sander's Band (from 3-5pm). Food and concession will be provided by Subway and Fetch. The Major League Baseball Player Alumni Association is working to secure special guests to participate in the event as well.
"All-star" monogrammed bricks to pave the walkway around the future Fratto Field can be ordered that day for $50 - $200 so that families can personally contribute to the build-out of Orange County's very first, fully accessible safe surface ball field ever built. Warwick High School softball and baseball teams will be out in full force as Festival volunteers. News of this special ballpark has already sparked attention beyond Warwick; a donation of six light poles from the USTA Arthur Ashe Tennis Center have been delivered and will shine on the future Fratto Field. Other opportunities to contribute will be provided both at the Festival and on the BP website, www.beautiful-people.us.
Now nine years in operation, Beautiful People Adaptive Sports has grown to serve 200 families with a child or young adult with special needs who simply wishes to play baseball, soccer, and/or basketball. Beautiful People is the Orange County NY Chapter of Miracle League. There are currently 220 chapters throughout the country, and 180 of them have completed a field development capital project. This will be the first such project in Orange County and will enable Beautiful People a confident outreach to more children and young adults with mobility challenges using wheel chairs and walkers.
The Daniel Fratto Memorial Field will be dedicated so in memory of BP baseball announcer Daniel who succumbed at age 19 to complications of severe immune deficiency syndrome. He made history when he was honored at HOPE week by the NY Yankees and was allowed to announce Derek Jeter to the plate during a July, 2010 game.