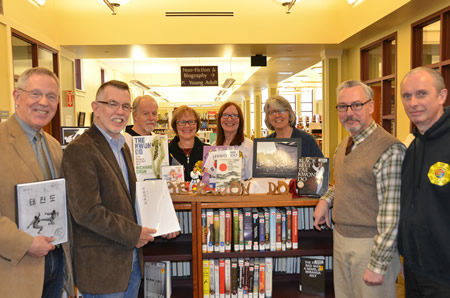 WARWICK – The Chosun Taekwondo Academy, currently located at 62 Main Street in Warwick, has instituted a martial arts book donation program to benefit the Albert Wisner Public Library and the local community at large. In an effort to fill the void on materials relating to the Korean martial art of taekwondo, school-owner and Warwick resident Master Doug Cook, his wife Patty Cook and the students of Chosun Taekwondo, donated a wide selection of martial arts books for circulation, written by authors the world over, focusing on the history, philosophy and culture of taekwondo. The program was introduced with a standing-room-only lecture and demonstration, aptly titled Talking Taekwondo, held on Sunday, March 22nd at the Albert Wisner Public Library in Warwick.
Master Cook, himself an award winning author with four best-selling books relating to taekwondo, stated, "Taekwondo is the most popular martial art in the world today with over 90,000,000 practitioners around the globe. Most people equate taekwondo exclusively with Olympic competition. Yet, there are rich philosophical, spiritual and defensive components to the discipline based on authentic Asian martial arts doctrine that are often overlooked. A further misconception is that taekwondo practice is exclusively for children. During the lecture, we discussed these aspects and presented a demonstration covering the practical applications of self-defense unique to taekwondo."
For further information regarding the book donation program or the institute in general, contact the Chosun Taekwondo Academy at (845) 986-2288 or visit their web site at www.chosuntkd.com.
Pictured from left to right are: Warwick Valley Chamber of Commerce Director, Michael Johndrow, Warwick Supervisor, Michael Sweeton, Chosun Taekwondo Academy instructor, Jake Garrett, Chosun Taekwondo Academy Yoga Director, Patty Cook, Chosun Taekwondo Academy instructor, Pamela Pyke, Albert Wisner Library Director, Rosemary Cooper, Warwick Mayor, Michael Newhard and Chosun Taekwondo Academy owner, Master Doug Cook