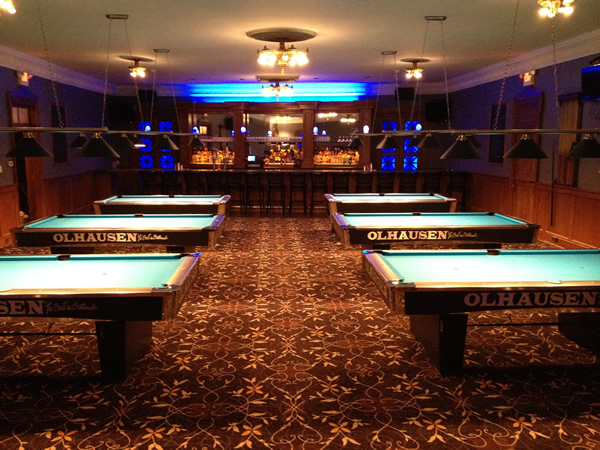 Village Billiards opened in downtown Warwick on November 25 to a great turnout. New owner Adam Powers, who also owns Fetch Bar and Grill in both Warwick and NYC, said, "It's been an incredible week. For those who have been coming out to support us, thank you so much." You can find this hotspot on the 3rd floor of what was once the Masonic Temple.
The beautiful and spacious hall features 8 new sharp looking Olhausen Champion pool tables of various sizes made by fine American pool table manufacturer Olhausen. The tables were purchased locally at Hudson Valley Game Room in Middletown and are considered to be the "Best in Billiards."
Adding to the new tables will include a state-of-the art non-flourescent lighting system, ideal lighting for playing pool and enjoying the atmosphere, and a sound system with six JBL 1500 Watt speakers, helping to provide an all around great ambiance.
In addition to daily tournaments and APA League play beginning in January (sign up now), two professional dart boards will also be open for use. A private party room that accommodates 10 to 40 people with a 9 foot tournament size table is also available for rent.
Village Billiards promises to be a great destination to have fun and meet friends, old and new, whether you want to play pool or just want to enjoy a night out. They have a full service bar with the finest in all liquors, six beers on draft from microbreweries across the country, and an ample and special selection of bottled beers. If you are hungry, you will also have the convenient service to order from local restaurants and have food brought in.
Village Billiards is open daily beginning at 12 p.m. They have 2 coin operated tables at $1.25 and another five tables that can be rented by the hour. Prices for hourly rental are $10 for 1 person, $12 for two, $14 for 3 and $16 for four.
If you have played pool, you will look forward to picking up a quality pool stick and having the time of your life. If you have never dabbled in the sport, it's a great opportunity to start a new adventure. Or just come and have fun!
For more information, visit their facebook page at https://www.facebook.com/villagebilliards?fref=ts and their website at http://villagebilliards.com or call Village Billiards at 845-544-7750.