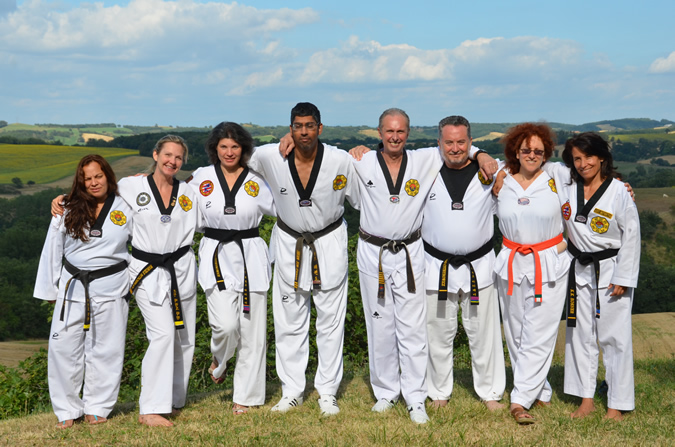 Sharing a common ambition to penetrate the often self-imposed limits of physical endurance and concentration, eight martial pilgrims from the Chosun Taekwondo Academy led by Master Doug Cook, 6th degree black belt converged on the tiny village of Puylaurens, located in the South of France. There, for one full week in August, surrounded by the beauty and tranquility of Chateau Borio Blancobuiltin 1630,the students explored the principles, practices and philosophy of taekwondo - the traditional martial art of Korea - in fine detail, unencumbered by outside distractions and workaday demands.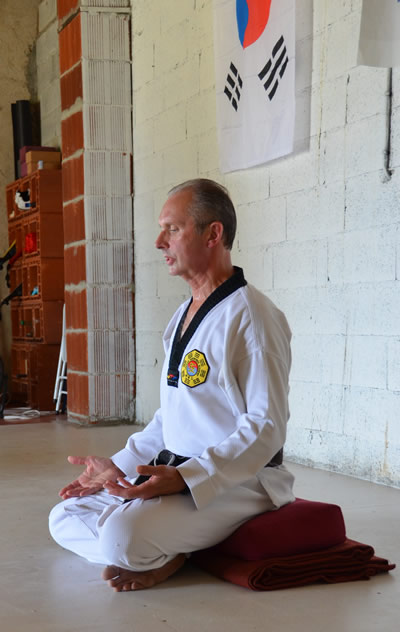 "In pursuing my profession" Cook stated, "I have always felt obligated to teach the most authentic, effective martial arts principles and techniques possible. And there are many; so many that they indisputably require a lifetime to master. So, in class after class, we fortify our basics, perfect our formal exercises, attempt to unravel the secrets of defensive tactics and then skim the surface of the more esoteric principles associated with taekwondo. There, in the solitude of the French countryside, we were afforded the opportunity to view our martial skill through the lens of undivided time.
Each day began early with a breakfast consisting of freshly-baked croissants, strong coffee with milk still warm from the cow, and yogurt complimented by a variety of cheeses, butter and jams. Following the first meal of the day, the students, all from Warwick, made their way up a steep flight of steps to the loft of a rustic barn constructed during World War II. Renovated by owners Yaron and Kiki Rosner of Sugarloaf, for the purpose of formalized retreats, the environment lent itself perfectly to mindful practice. With clocklike precision, each session smoothly progressed from a series of warm up and flexibility exercises, to internal energy, or ki development drills, basic skills and a full roster of self-defensive tactics. Afternoons, after an equally satisfying lunch, were filled with forms, or poomsae practice, the central pillar of any classical martial art. At day's end, each participant was flush with awareness and reinvigorated with wonder at the majesty of traditional taekwondo. Dinners, featuring classic local dishes such a cassoult, were fortified by rich red wines, crispy breads, leafy salads and an assortment of fine cheeses.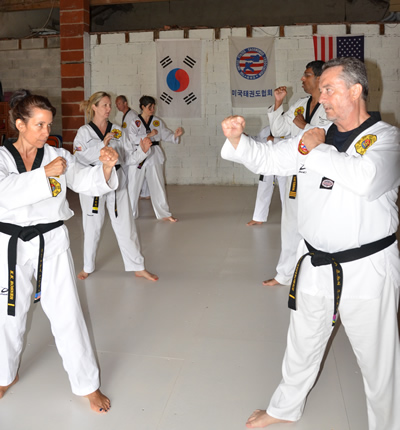 In the end, after five days of close, intense training in the physical and academic components of traditional taekwondo, students Olga Pico, Marcele Mitschelich, Ignacio Cytrynowicz, Arun Salgunan, Kiki Rosner, Christina Cytrynowicz and Deborah Szajngarten, realized a unity of spirit amplified by a sense of unparalleled accomplishment not often found the hectic pursuit of daily life.
Each year, members of the Chosun Taekwondo Academy located at 62 Main Street in the village of Warwick, set out on a pilgrimage, separate from each, intended to bolster martial arts skill, cultural exchange and an expanded worldview. In July of 2014, Master Cook will lead his students, as well as those participating from schools throughout the country, on their seventh journey to Korea, the homeland of taekwondo, where they will visit and train on Jeju Island, at Golgusa Temple in Kyongju, the Kukkiwon in Seoul, center of taekwondo operations worldwide, the World Taekwondo Instructor Academy under the direction of Grandmaster Kyu Hyun Lee and the Kumgang Taekwondo Center with Master Byeong Cheol An.
For information regarding these journeys open to non-martial artists and martial artists regardless of style, or the wide variety of programs offered by the Chosun Taekwondo Academy, visit their web site at www.chosuntkd.com, or call (845) 986-2288.