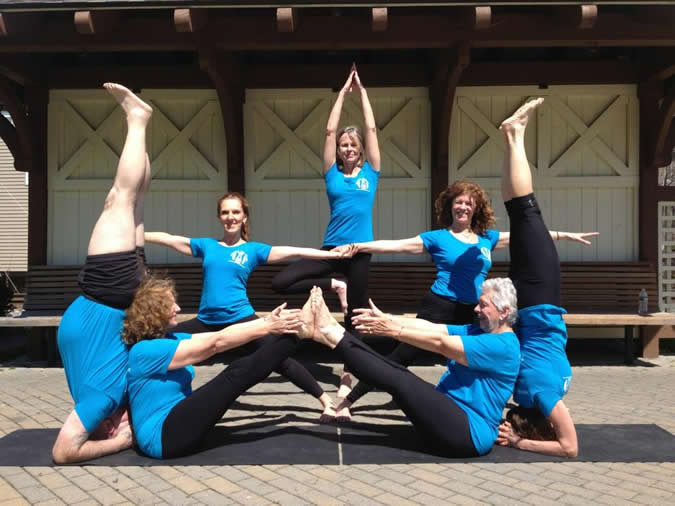 The Warwick Yoga Center, under the direction of Rosé Dwyer and Lisbeth Ryan, is proud to announce their grand opening and the introduction of "Club Mani Yoga" on May 18th, from 8 – 4 p.m. There will be FREE classes all weekend: Iyengar, mixed level, partner yoga, chair yoga and Vinyasa . Enjoy yoga to LIVE music, save on class cards, participate in a raffle and indulge in complimentary healthy food.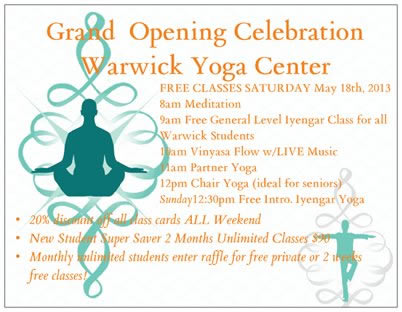 The Center, which is located on 54 Main St. is a welcoming yoga community where newcomers, beginners and experienced yogis feel comfortable, safe and at home. Its highly trained teaching staff of 30 plus years offers a range of styles including Iyengar, Vinyasa Flow, Power Yoga and Gentle Yoga, giving attention to each of their clients specific needs. Its weekly schedule includes classes for all levels.
Classes target specific physical needs: Yoga for the back, hip, neck and shoulders; a senior yoga class offering a gentle option with props and detailed instruction; a chair yoga class for those who still want to be healthy but with restricted physical movement, such as arthritis. For those who want to be challenged there are levels 1, 2 and 3 taught by instructors with over 12 years of experience. Yoga for the Little People is a fun yoga class for kids. Private sessions are also available for yoga training, Thai massage and teacher training. With a certified nurse on staff the center offers nutritional and weight loss counseling and healthy cooking classes.
The studio's goal is to guide clients through a healthy way of living one step at a time, one person at a time. Its mission is offer a serene place where experienced yoga instructors can help YOU heal mind, body and soul.... safely."
Warwick Yoga Center is open 7 days a week offering morning and evening classes. For more information about the grand opening, class schedule and teacher bios, visit, www.warwickyoga.com or contact Lisbeth at This email address is being protected from spambots. You need JavaScript enabled to view it..