Food & Wine
Food & Wine
Details

Published: 28 February 2014

28 February 2014
Last weekend, I had my photo taken with quiche in hand at Jean-Claude's Bakery, becoming a new member of a fraternity of men who have received similar laurels. For those unaware, there has been a campaign over the last year at Jean-Claude's to use locally recognizable "real men," who love Jean-Claude's quiche, to bring more awareness to this delicious open ended French pastry with its filling of egg, cheese, meat, or vegetables.
The concept of the campaign was conceived and designed by Creative Vision, a local boutique marketing agency owned by Inez Freund and Eileen Patterson. They said, "While customers were very familiar with Jean-Claude's desserts, they were less familiar with his savory offerings; in particular, his fabulous quiche, which is why we decided to launch this campaign."
Amongst the honoree's are Warwick Mayor Michael Newhard, Town Supervisor Michael Sweeton, Peck's Wines and Spirits proprietor William Iurato, Frazzleberrie's Jerry Schlicting, Chosun Taekwondo's Master Doug Cook, Hudson Valley Jazz Festival producer and founder Steve Rubin, Seely & Durland owner Garrett Durland, the Style Counsel's Bob Maxwell and Tim Mullally, and many others.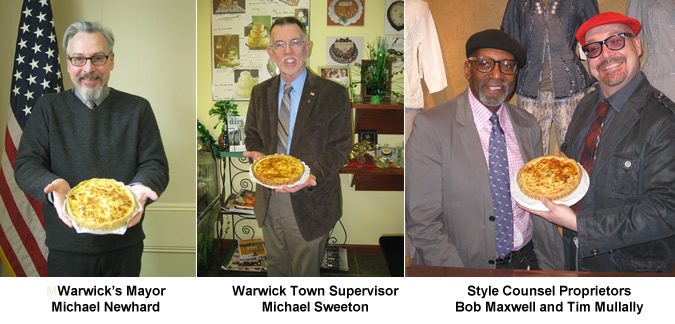 I had met with Annette Sanchez, wife of Jean-Claude and owner of the establishment, to discuss other matters when the subject of the quiche came up. "Eileen invited me to have my picture taken some time back with one of your quiches" I said sheepishly, "but we missed each other. Would it still be possible to have my picture taken?" I said. Annette was amenable to the idea, but a date was never set.
After our meeting, I went to Radio Shack, a couple of doors down from Jean-Claude's, to buy batteries for my camera. Over the last year, I had dumped what seemed hundreds of dollars to purchase double AA's and as I plopped down 11 dollars to buy 4 more packages, it suddenly seemed a waste of money. From a nearby shelf, I grabbed a hand sized camera, a small Canon Powershot that fit easily into my pocket and came with a battery charger. I said to the manager, "May I take a few pictures first before I make a decision. I need to make sure this camera takes good pictures."
Before long, I made my way to Jean-Claude's with the borrowed camera, looking for pastries and cakes to photograph, when Annette surprised me and handed me a quiche. "Let me take your picture," she said, reaching out for the camera. "Stand in front of that display just left of the Eiffel tower." The display also contained many photos of Jean-Claude's beautiful cakes, packages of daintily wrapped sugared cookies and the framed pictures of esteemed Warwick men each holding a quiche.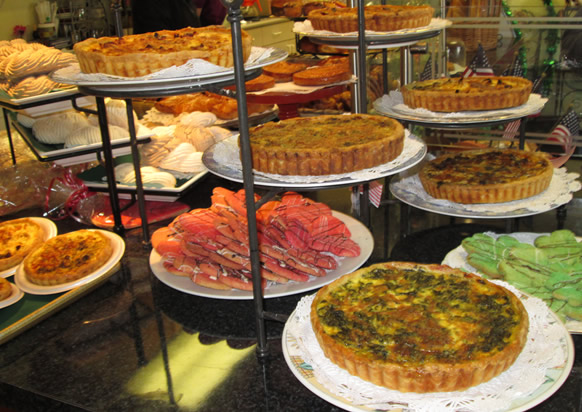 "Smile," she said, pointing the camera in my direction.
Mustering a large expression, I held the quiche tight, and the flash went off.
"Perfect," she said.
Thus, I was formally quiched.
Epilogue:
The Quiche Campaign has been hugely successful with Annette commenting that they "can't keep enough quiche in the shop; it sells out so quickly!"
And now it's not just Warwick Valley men who are getting in on the fun – women love Jean-Claude's quiche, too! So we can expect to see quiche lovers of both genders singing the praises of Jean-Claude's quiche!