Warwick, NY, July 25, 2016 – Celebrating the 10th anniversary of the Clam N' Jam FREE Concert Series, Pennings Farm Market reveals a banner line up of fish and seafood specials and live music every Friday in August from 6:00-9:00pm in the Pennings Beer Garden. Guests can seat their families at a picnic table or bring a lawn chair or blanket and enjoy a family-friendly night out of live music AND a special seafood dinner menu*.
Raw Bar | Fresh Clams, Oysters & Shrimp Cocktail;
Steamers | Served with drawn butter
Oscar's Crazy Corn on the Cob | Sweet Corn with Spicy Aioli & Asiago Cheese;
Biscuits | Savory Cheddar & Herb.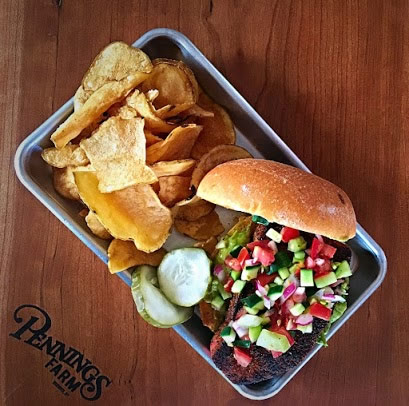 *Pennings summer dinner menu, featuring NEW items including the Blackened Tuna Sandwich, the Salmon Burger and Crab Cake Mac & Cheese, also available for inside counter service.
The Beer Garden offers a full selections of craft beers and hard ciders on tap and by the bottle or can at the outdoor bar which sits adjacent to the ice cream stand and the goat and chicken corral where kiddos can enjoy summers favorite frozen treats and feed the animals.
Clam N' Jam Free August Concert Series Schedule:
August 5 kicks off the series with Dug the Band, a popular four-piece band hailing from Northern NJ delivering pure Rock N' Roll.
August 12 brings back Nailed Shutt Electric, known for their jams, grooves, assorted rhythms and good old Grateful Dead! Hear familiar hits from The Allman Brothers, The Stones, Bob arlMey, Old Crow, The Band and more!
August 19 features Sean O'Flynn bringing a mix of Country, Classic Rock, Southern Rock and Traditional Irish music to the Beer Garden;
August 26 features The Channel Drifters, tri-state area favorites, offering a taste of Pop & Rock with some Folk thrown in!
In case of rain or inclement weather, concerts will move indoors to the Pennings Pub & Grill, also located at 161 St. Route 94, Warwick, NY 10990. Check Pennings Farm Market facebook page for updates at https://www.facebook.com/PenningsFarmMarket/. Over 21 only on Friday and Saturday nights after 9pm
........
Pennings Farm boasts more than 5,000 square feet of a unique mix of traditional and contemporary agriculturally influenced products and services including the farm market, pub & grill, garden center and ice cream stand, all situated on 100 acres of farmland complete with a beer garden, a hop yard and, coming soon, a cidery. As the premier music venue in Orange County, regular live performances of the Hudson Valley's top musical performers are scheduled year-round, in addition to beer dinners, jazz brunches, brew fests and other seasonal events. Pennings is located at 161 South Route 94, Warwick NY 10990.
For more information and updates:
http://www.penningsfarmmarket.com | https://www.facebook.com/PenningsFarmMarket/ | This email address is being protected from spambots. You need JavaScript enabled to view it.