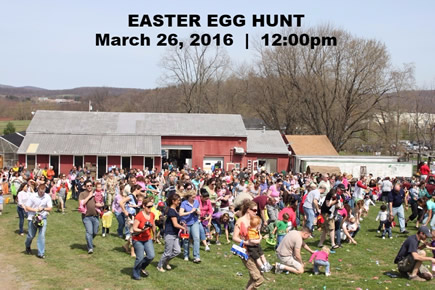 Warwick, NY – March 2, 2016 - Get hopping this spring at the annual Easter Egg Hunt at Pennings Farm on Saturday, March 26 at 12pm co-sponsored by the Warwick Lions Club and Pennings Farm. Everyone's favorite cottontail will be here posing for photos.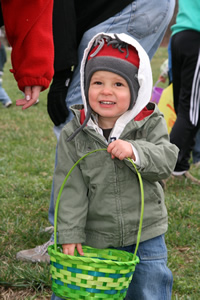 Children will be lined up in three age groups: ages three and under; ages four to six; and ages seven and older. The hunt will be announced promptly at 12 noon and the quest will be on. Moms and dads are welcome to assist their toddlers.
The Easter Bunny spends the early morning hours covering the fields leading up to the apple orchard behind the market with the holiday's special candy treats and prize-filled eggs. Children who discover a plastic egg or a "golden" egg will take home one of the many extra special prizes from an ice cream treat to an Easter goodie basket. Visits with farm animals and hayrides across the farm round out the fun-filled day.
There's nothing like a visit to Pennings Garden Center in the springtime to find out what's blooming in your region. You're sure to find old favorites including daffodils, hyacinths and tulips and perhaps a few unique types of flowers not often found in mainstream garden centers. A variety of the season's favorite flowers will be available to transform your garden beds or containers with much needed vibrant color.
Pennings Farm boasts more than 5,000 square feet of a unique mix of traditional and contemporary agriculturally influenced products and services including the farm market, pub & grill, garden center and ice cream stand, all situated on 100 acres of farmland complete with a beer garden, a hop yard and, coming soon, a cidery. As the premier music venue in Orange County, regular live performances of the Hudson Valley's top musical performers are scheduled year-round, in addition to beer dinners, jazz brunches, brew fests and other seasonal events. Pennings is located at 161 South Route 94, Warwick NY 10990.
For more information and updates:
http://www.penningsfarmmarket.com | https://www.facebook.com/PenningsFarmMarket/ | This email address is being protected from spambots. You need JavaScript enabled to view it.