Warwick, NY – January 14, 2016 - Pennings Farm and Rushing Duck Brewing Company reveal that the art of accessorizing is no longer for fashionistas only, but for foodies too. The experience of thoughtful food and craft beer pairings will be offered on February 3, 2016 at 7:00pm at the Rushing Duck Beer Dinner in the Grill & Pub at Pennings Farm in Warwick, NY.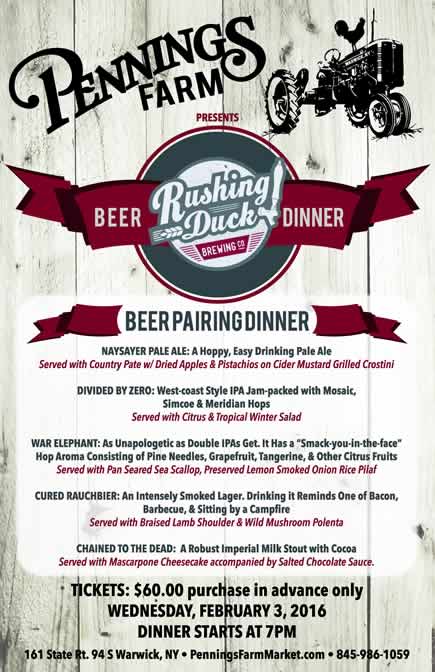 Pennings Executive Chef, Heather Kurosz, has an artistic talent for pairing her signature farm-to-table dishes with craft beers. The notion of pairing foods with wine alone has shifted - the flavor-varieties of beer actually make beer the more food-friendly choice, whether the chef takes a complementary or contrasting approach. Kurosz creates an ambitious and delicious presentation with her menus, evoking the idea that both the beer and the cuisine should complement one another.
"The point of pairing beer and food is not to offer an eccentric beer that tastes like a current compote or other culinary delight," says Kurosz, who admittedly likes a fruit-forward beer, "but to allow for the menu to complement the flavors of the beer and vice-versa, whether they be sweet, sour or bitter."
The $60 five-course dinner will include:
War Elephant: As unapologetic as Double IPAs get. It has a "smack-you-in-the-face" hop aroma consisting of pine needles, grapefruit, tangerine, and other citrus fruits served with Pan Seared Sea Scallop Preserved Lemon Smoked Onion Rice Pilaf.

Cured Rauchbier: An intensely smoked lager. Drinking it reminds one of bacon, barbecue, and sitting by a campfire served with Braised Lamb Shoulder, Wild Mushroom Polenta.

Chained to the Dead: A robust Imperial Milk Stout with Cocoa served with Mascarpone Cheesecake accompanied by Drunken Apples.
Purchase in advance only.
Josh Kane, Brand and Tasting Room Manager at Rushing Duck Brewing Co. will be in attendance, offering the story behind each of the five featured craft brews along with the history of Rushing Duck and its forecast of where the industry is heading.
Pennings Farm boasts more than 5,000 square feet of a unique mix of traditional and contemporary agriculturally influenced products and services including the farm market, pub & grill, garden center and ice cream stand, all situated on 100 acres of farmland complete with a beer garden, a hop yard and, coming soon, a cidery. As the premier music venue in Orange County, regular live performances of the Hudson Valley's top musical performers are scheduled year-round, in addition to beer dinners, jazz brunches, brew fests and other seasonal events. Pennings is located at 161 South Route 94, Warwick NY 10990.
Rushing Duck Brewing Company is a small, family owned and operated brewery located in the Historic District of Chester, NY that began selling beer on draught in August of 2012. Based in Orange County, our beer is distributed throughout the Hudson Valley and New York City by Remarkable Liquids. We produce a wide variety of tasty beers. Hoppy, malty, American-styled, Belgian influenced, barrel aged, sours, you name it. First and foremost we will be brewing beer that we like to drink. We hope you do too.
For more information and reservations:
Visit: http://www.penningsfarmmarket.com
Email: This email address is being protected from spambots. You need JavaScript enabled to view it.