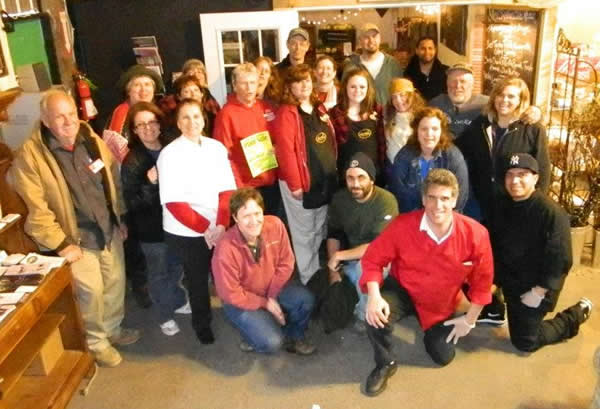 The Pine Island Farmers Market is pleased to announce the official opening of its fourth season on Saturday December 28th.  The market will take place every other Saturday, from 10am-2pm, inside the main barn at the W. Rogowski Farm at 329 Glenwood Road, in Pine Island NY.  Shop for locally produced goods and be sure to leave time for a hot and hearty, made to order breakfast in the barn kitchen. 
The Pine Island Farmer's Market features some of the area's best local producers … Acorn Hill Farm (Goat Cheese and Soaps), Black Dirt Gourmet (Prepared Foods and Baked Goods), Bobolink Dairy and Bakehouse (Artisan Cheese and Breads), Catskill Mountain Herbs (Herbal Teas and Remedies), Healthway Farms (Apples, Cider), Lowland Farm (Grass Fed Beef and Pastured Pork),  Fontanarosa (Gourmet Pasta and Specialty Foods), Picklelicious (Pickled Vegetables and Appetizers), Pazdar's Winery (Specialized Wines), Snoep Winkle Farm (Grass Fed Chicken, Lamb, Pork, Sausage and Eggs), Sweet Things Wild Thyme Honey (Honey and Candles), W. Rogowski Farm (Certified Naturally Grown Produce). 
The remaining market dates are January 11 and 25, February 8 and 22, and March 8 and 22.   The snow date for each market will be the following day on Sunday.  This season's market is sponsored by Green Mountain Energy and the W. Rogowski Farm.  Please visit our website for schedules, directions and updates www.PineIslandFarmersMarket.com.
About The Market:  The Pine Island Farmers Market is held in the main barn of the W.Rogowski Farm, in the black dirt region of Pine Island in the Town of Warwick in Orange County, NY.  Careful consideration is given to the types of vendors as the market provides a unique venue for area producers to sell crops, baked goods and other products. The market provides the community with a central source for high quality, local products and has been endorsed by the Department of Agriculture & Markets.  The market venue is provided by Cheryl Rogowski of the W Rogowski Farm.  For information visit www.PineIslandFarmersMarket.com.