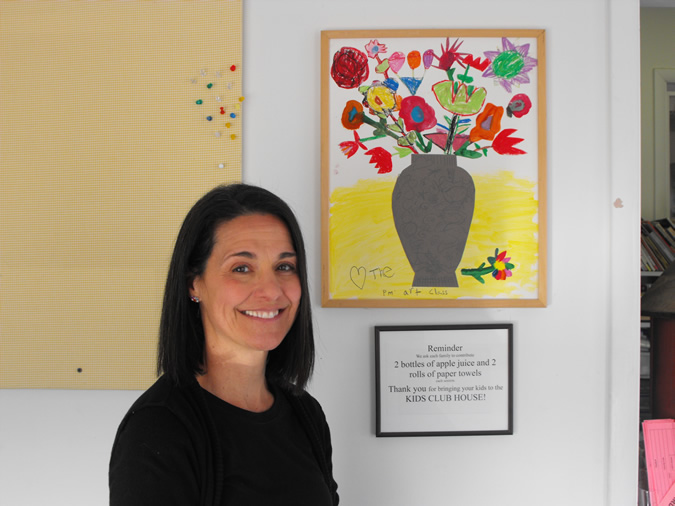 Where did you grow up?
I grew up in Hackensack, NJ and moved to Oradell when I was eight yrs old.
What brought you to Orange County?
My husband and I were living in Manhattan and I had family in Bergen County and he had family in Albany and we used to take drives on the weekends and literally just get off Rt. 87 and roam around and we loved the countryside, we loved the openness of Orange County in comparison to Bergen County and we decided to buy a weekend home. After enjoying our place as a weekend home, we gave up our place in the city and moved here full time to raise our kids.
What made you decide to open a pre-school, The Kid's Clubhouse?
I studied early and special education in college. I did teach for two years but had way too much energy. I didn't need the summers off and I didn't need to be home by three o'clock. I was young and went to Manhattan in hopes of getting into children's book publishing. I answered an ad at an employment agency for a position in children's book publishing on the busiest day of the year for them. After an hour of waiting for an interview, the manager asked me if I would stay and help answer phones and I literally went from the interviewing chair to the desk next to me and within two years was running one of the departments. It was a very fast growing company and I stayed there for ten years and eventually became the vice president of their permanent placement division, which most people know as headhunters. I found I was successful in the business because what the company lacked, being a fast growing company, is that they didn't educate their employees. They would take people on and they would sink or swim. What I did was develop training programs. A lot of them were great, but they just didn't know how to do it, so I trained them how to do it. So there was less turnover and it helped us become more successful as a company.
You went for the job interview planning to get into children's book publishing, but things didn't work out that way,
I went with that in mind. I think this happens to a lot of people. You think you want to do one thing and then you're pulled into a different direction. My skills as a teacher fell into this career. After ten years I left to have my children, Harris and Caroline. While I was in California, I went to every single program. In Los Angeles, you can take art for a six month old, no exaggeration. (Laughter) I have a painting Harris did in the class! As a result, I got a really good understanding of what could be offered to a pre-schooler. It was very lonely to go from a high powered action packed job to be at home with two little kids. I went to all these programs but I felt very isolated. So when I knew I was moving back to New York I also knew I wanted to start a business. My idea was that other
mothers were
feeling the same way I did so I came up with programs that mothers and kids could learn together. So there might be for example, a mommy and me Spanish class, a mommy andme exercise class, cooking class. So that's the birth of the
Kids Club House.
Can I back up a minute? You were in Manhattan many years then you moved to L.A. with your children and husband.
That was because of my husband Gary's career as an actor. When we planned on returning to New York I wanted to
start a
business and that's how I came up with the idea. The combination of running a business for ten years and loving that and missing being with children. I wanted to go back to teaching, and I thought there would be a need for new moms to get together in a more organized way - not just to hang out, but to get something out of the class. Though there was an interest, I found to grow the business I would need to allow the moms to step out. I felt the mother's wanted to know their kids were learning but they needed time to do what they needed to do. I think when you start a business you have an idea, but then you have to listen to what your clients want.
Why did you pick Warwick to open the business?
This was twenty years ago. I loved Warwick. My husband and I already owned two properties in Warwick and my intention was to move there. We were in Blooming Grove; that's where our weekend home was that became our full time home. I'm glad I never moved to Wa
rwick because I feel like I can go home and not be at work and be a mom in my community rather than the Kids Club House lady. So I'm kind of glad it didn't work out that I didn't move to Warwick.
As a former KCH mom, I remember that your first location was right on Main St., on the second floor of a walk-up, with
no parking, no outdoor space. It
seemed a bit fool hearty to pick that location. What's your response?
It wasn't well thought out (laughter)! I would throw my kids on my back and take them up three flights if it was a fun place. Once you got into the space - the space was just huge!
Part of moving back to New York was a little scary because my kids were on the beach, they were in gardens, at the zoo, they were outdoors every single day. When I got back to New York I got a little nervous because there weren't a lot of outdoor open spaces for us to enjoy so when I went into that space, there weren't a lot of spaces like that in Warwick. It was a big open room and I pictured tree-houses, little roads for them to drive cars, I pictured a lot of gross motor opportunities.
What a testament to you! All those young moms looking for parking spots day after day, and then schlepping one or more kids up and down those stairs.
I had quadruplets that came. They were two years old and the mother would bring them to the program. They came until they were five years old.
If you had to guess, h
ow many children and families were enrolled over the past twenty years?
If you include birthday parties, it's like thousands and thousands and thousands of kids, I can't even begin.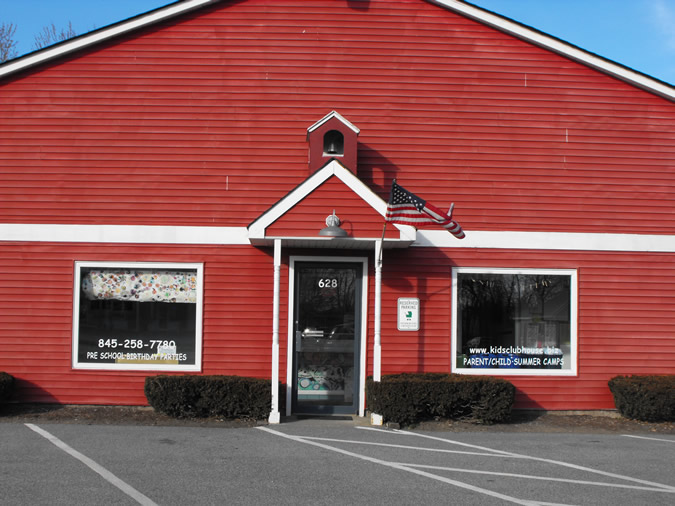 You have relocated in Pine Island. Tell me about the transition.
They often say you should take time to look back on your life on saying thank you to people who had an impact on your life in a certain way. My moving to Pine Island has to do with two landlords. One landlord was such an amazing landlord, in fact I wouldn't be in business today if it wasn't for him; his name is John Coppola. He allowed me to struggle and when I was having trouble meeting the rent he actually let me go sometimes not paying the rent. Because of his generosity I would do things for him like trying to fix up the place. It was such a good partnership; I was able to struggle and grow. He eventually sold the building to a second landlord. I have gratitude toward him although he was very different. He wanted to double my rent and he changed the heating system that made it very difficult to heat the space and the combination of problems I just realized we had to move and my husband being able to renovate and have the skills to do that, we decided to buy our own building and it was very scary and my husband kept saying, "Are you sure you're going to fill these rooms?" and I said "Yes", but in my heart I had no clue and six seven miles to travel outside of Warwick can be a lot for a mother's busy day. So I really did not know how we were going to do it.
Your husband handled the construction end of the deal and he is your business partner

.

(

The Kids Club House was formally NAPA Automobile Parts)
Yes and the room that the kids now play in we had brand new mufflers hanging from the ceiling. One of the skills my husband has is that he has the ability to foresee what something could look like. I remember him pulling up to a house that he was all excited about that he was going to renovate and my daughter said "This is what he is excited about?" My daughter was about five years old. But he's able to see what something could become.

What's the best part of your day?
Two things come to mind. To greet the families of the kids in the morning and I always love that and one on one time with a child where they say something funny. Like just today, a mom is holding her daughter's hand and says, "I just love this hand!". And the little girl goes, "What about this other hand?".Those kind of things happen all the time. Also, to bring a child from being fearful and uncertain as to what their experience is going to offer them, to be understanding, how fun and exciting school can be. So when you see that moment and say "well is that everyday?" - well, practically.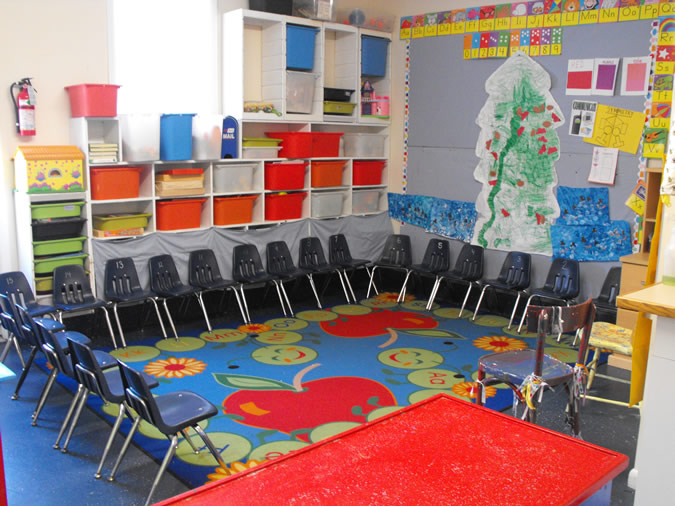 What is the biggest change you've seen in parenting over the years?
I don't know if I can respond to that in my position, but I can respond to that from my personal life. When I was growing up it was very clear that there were the children and there were the adults. You know, it was "Mrs. Hunter," not Chick, which was her first name. Growing up she was my best friend's mother. When my parents had parties, the kids stayed in their rooms. Today, the party is around the kids. You know, or the parents are called by their first name. I think it creates a little bit of a problem, certainly for the teachers in school today, that the kids are a little more relaxed, there's not a clear cut understanding who the adults are.I would drop this and just sum up with:
We try to help as parents more then we should .It's OK if your kid is a little bit sad, it's OK if your kids struggle, it's good to struggle, to know you have love and support. You know, some parents don't want to see their kid cry, they're doing everything they can not to see their kid cry. The kid never learns from the struggles in life. They should learn they can get through it, they can make it and you're standing on the sidelines cheering them on.
That was my next question, what is the single biggest mistake parents make?
It is an addictive high to see your kids happy. Unfortunately, sometimes we do more then we should to help them. If we don't let them struggle and find their way, we risk the chance of making them ineffectual. We need to stand by and an cheer them on but not rescue them.
The parents keep bailing them out. I believe the message you are telling your kid is "you're incapable" and the pare
nts get a high out of "saving"
their kids.
It's selfish in some ways. I have watched kids cry and parents want to pull them out of class because they are crying but they haven't had the school experience to know it is ok. I also feel if you rescue your child when they don't need to be rescued, they will think they need to be rescued and it makes them feel less about their abilities.
What makes your pre-school different from other pre-schools?
I think that we understand completely how much they can learn at such an early age and I feel we found a way to really give them a reach, like them go beyond what most people might think a pre-schooler could learn but we know how to keep it fun. We're putting costumes on, skits and plays . . . imaginary play is the heart of the classroom. When we're doing our lessons that play is brought into it, but we are teaching them things that most people would say, "that's a pre-school lesson?" It's so beyond what they think they can learn, but it's so fun. Those that are capable of learning get it, and those who aren't there yet are still having a great time. I think we are very academic but with respect to their still being children.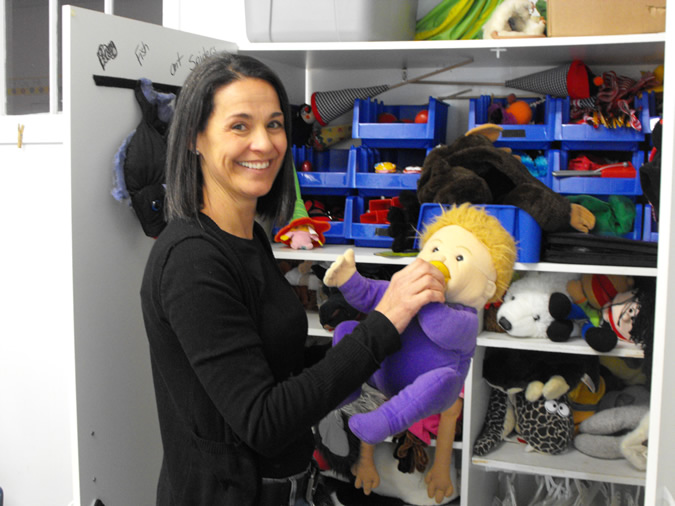 What do you look for when you are hiring a teacher or an aide?
Every teacher that I've ever hired except for one, has been my parent first. I have a friendship with them first. I know how they interact with the other parents. I see them with their children, their children's friends; but what's really important to me besides the obvious, is their training in regards to going to school and having the experience of being the teacher before, because I want to make sure they like the experience of being a teacher. Besides being educated to be a teacher, humor is a quality I look for.
What about the teacher who wasn't a parent?
She's the best! If you own a restaurant people aren't going to come to you and say other restaurants are great. They might tell you the restaurants that aren't great. You see what I'm saying? I never heard great things about other pre-schools because people don't want to tell me great things about other pre-schools. This one pre-school, everyone always said nice things about and everyone always mentioned this one teacher who was so wonderful and that was Ms Tami. When I heard the Village Pre-School was closing I didn't even have an opening I just called Ms. Tami and said, "I'll hire you." I can't tell you how well it worked out. She's been here probably eight years. She makes the difference in so many children's life.
Do you screen children before they can attend? Is there an interview process?
Tell me about your own children
Harris and Caroline are fifteen months apart, they are 21 and 22. I loved having them so close because I am a working person and I was able to have that little bit of childhood with them both together. I was sitting on the floor playing with them at the same age; it"s not like I had a ten year old and a one year old, plus they're very close. Often times when I had to leave them with babysitters they were able to be together. They are living independently in Albany finishing up their education. One is studying psychology and one is studying anthropology.
Why did you want to become a teacher?
I became a teacher because of an internship offered at my high school where I worked with special needs children in the local elementary school and the teacher in charge became my mentor. I went to the college she graduated from, didn't even apply to any others. I wanted to be her.
When you're not working what do you do for relaxation?
I love to care for my home, garden, do yoga, I run . . . I do that as part of my social life; I have running partners. I love having dinner with my friends on weekends. I love spending time with my family; my parents are elderly and I try to help them as much as I can. I'm still close with my siblings so I spend time with them. Work is fun for me; I'd rather build a stone wall than sit on a beach.
What do you want people to know about you they might not know?
I don't make a million dollars running this place! People see so many cars in and out of here; it's expensive to run a business like this.
You make it look easy too.
It's hard and it's a lot of responsibility. Parents know that I really care about the safety of the kids, but it does something that weighs very heavy on me. It's a lot of responsibility and I wish there was somehow to get rid of it (that heavy feeling); a lot responsibility comes with the territory.
You're working with Assemblywoman Annie Rabbit on making changes in the childcare business.
One of the things that's really baffling to me is there is so much hubbub about how bad our system is in regards to education and there is so much literature and evidence and in my life experience I know this down to the bottom of my toes that you get kids early enough and get them confident and excited about learning and set a really good foundation, and there is a study recently done that if a child goes to pre-school they are more likely to hold onto their job as an adult, and yet, there is not a lot of legislation that takes a look at improving our pre-school education. Right now there is a three hour limit on the length of time a pre-school can stay. We have the support of Annie Rabbit in putting together a bill to try to get the state of New York to increase that time, to extend the day.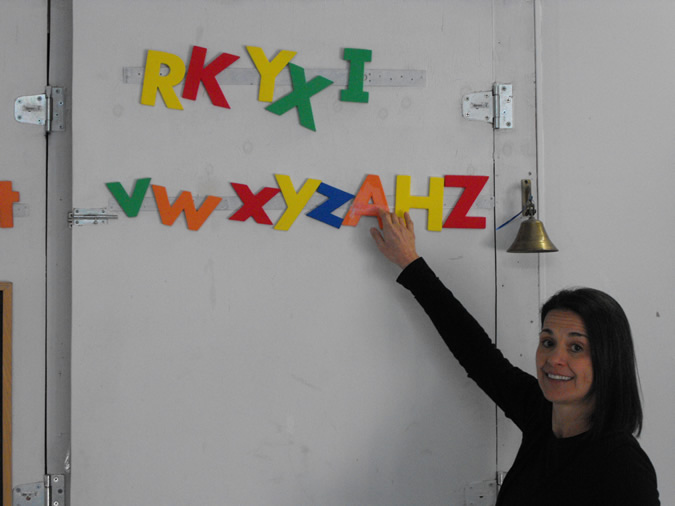 The Kid's Clubhouse is probably one of the first "lines of defense" for kids with special needs.
We welcome special needs kids to our program; they come with an early intervention specialist.
That's a hard part of out job, it's very hard to make a parent aware that their child might have special needs. We always do what's best for the child to try and get them the help that they need.
Do you want to talk about your health "hiccup"?
A lot of people feel like when they have breast cancer they feel like they're part of a club or a group; I don't feel like it defines me in any way and don't feel like I need outside support because it was a part of my life. I felt like I fell down and scraped my knee and the scab healed and now I'm back. It was more like a burp - a hiccup is too pleasant!
To be honest, it never changed my attitude because I know that life is too short and precious; I didn't need that to remind me.