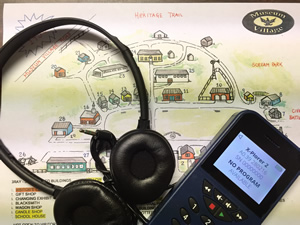 Monroe, NY – Museum Village, in a partnership agreement with Antenna International, will be introducing Audio Tours. Effective Saturday, April 23, visitors will have an option and opportunity to enjoy an audio tour of several of the buildings.
"We are trying to give our patrons another option to enjoy the museum," states Executive Director Michael Sosler. "This new experience is meant to enhance the visit by giving the people another choice in how they enjoy the buildings and the exhibits. This is a work-in-progress that will grow with more choices. In the future we plan to offer different languages, longer versions and other interesting bits of information one may not normally get through the signage. The visitor will now have access to three separate "views" of the museum - Interpreter, self-guided signage and self-guided audio tour."
The audio tours will be self-guided and the visitor may select which available buildings they want to visit in the order they prefer. "This audio tour is intended to further pique the interest of the visitor to maybe ask even more questions", adds Sosler. "With the visitor feedback we plan to update, enhance and offer additional audio options".
Please check the Museum Village website for hours and Special Events.
Museum Village is a living history museum preserving a vast collection of eclectic, 19th century artifacts for educational purposes. Using these artifacts and reproductions, we provide hands-on experiences and exhibits illustrating the transition from a rural to an industrial culture and economy in America, provoking thought and discussion about history. www.museumvillage.org
Museum Village is a 501(c)(3) Non-Profit Educational Institution.