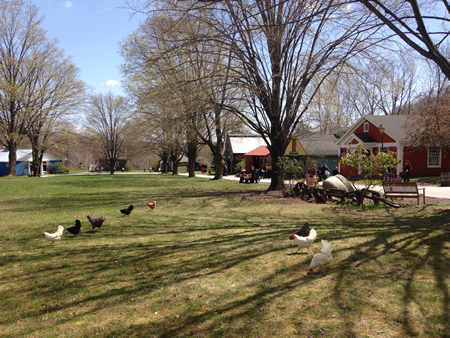 Monroe, NY – Museum Village will be opening this year on Saturday, April 11, 2015. The year marks both the 65th Anniversary of Museum Village as well as the 40th Anniversary of our Labor Day Civil War Reenactment.
"2015 is going to be a very exciting year at the museum," states Michael Sosler, Executive Director. "With both the 65th and 40th anniversaries this year, we have a lot planned. For opening day all of the buildings will be open and the staff is looking forward to making your visit truly memorable. Many of our exhibits and displays have been updated so be sure to be the first to enjoy!"
The Snack Bar will be open for light snacks and refreshments and the Gift Shop will be open as well.
Opening Day Hours: 11:00AM - 4:00PM
Adults: $10.00; Seniors and Children 4 - 12: $8.00; Children under 4: Free
Hours during the season
Apr 11, 2015 – Jun 28, 2015
Open Sat & Sun 11:00AM – 4:00PM
Jun 30, 2015 – Sept 3, 2015
Open Tues – Sun 11:00AM – 4:00PM
Sept 12, 2015 – Nov 8, 2015
Open Sat & Sun 11:00AM – 4:00PM

School and Group tours by special appointment.
Special Events Hours and Ticket Prices may vary. Please check our website for more information.
Museum Village is a living history museum preserving a vast collection of eclectic, 19th century artifacts for educational purposes. Using these artifacts and reproductions, we provide hands-on experiences and exhibits illustrating the transition from a rural to an industrial culture and economy in America, provoking thought and discussion about history. www.museumvillage.org
Museum Village is a 501(c)(3) Non-Profit Educational Institution.