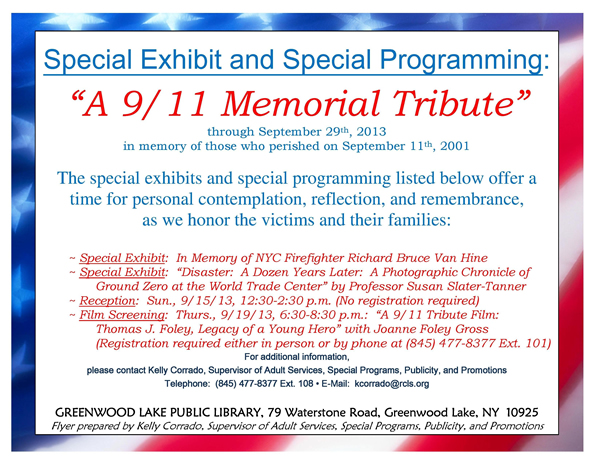 Throughout the month of September, the Greenwood Lake Public Library's annual special exhibit, "A 9/11 Memorial Tribute," will be displayed, an artist reception will be held, and a film screening will be presented in memory of those who perished on September 11th, 2001.
These special exhibits and special programming will offer a time for personal contemplation, reflection, and remembrance, as we honor the victims and their families.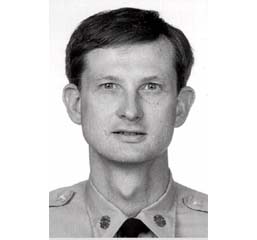 One of these special exhibits will feature items by Ann Van Hine, a resident of Greenwood Lake, in memory of her late husband, NYC Firefighter Richard Bruce Van Hine, who made the supreme sacrifice while responding to the attacks at the World Trade Center.
Another special exhibit, "Disaster:  A Dozen Years Later:  A Photographic Chronicle of Ground Zero at the World Trade Center," by Associate Professor Susan Slater-Tanner, will also be on display.  Professer Slater-Tanner's mission has been to chronicle the tragedy and the healing through photography.  For the past twelve years, she has traveled to Ground Zero, bringing back to Orange County images from the site for those who cannot physically or emotionally make the journey to Ground Zero.  She will continue to honor that commitment until the re-opening of the World Trade Center at Ground Zero.
A Reception for this photographic exhibit will be held on Sunday, September 15th, 2013, from 12:30-2:30 p.m. in the Program Room at the Library.  The public is invited to attend to honor the lives lost on the tragic and dark day of September 11th, 2001.
The Library will also present a film screening of "A 9/11 Tribute Film:  Thomas J. Foley, Legacy of a Young Hero" with Joanne Foley Gross on Thursday, September 19th, 2013, from 6:30-8:30 p.m.   The film documents the life of NYC Firefighter Tommy Foley, a decorated, eleven-year FDNY veteran, who lived his life with brilliant energy and compassion.  The film chronicles his adventurous, unique life and his many accomplishments.  A Meet & Greet follows the screening.  DVDs will be available for sale.  Proceeds benefit the FF Thomas J. Foley Foundation, a component fund of the Community Foundation of Orange and Sullivan.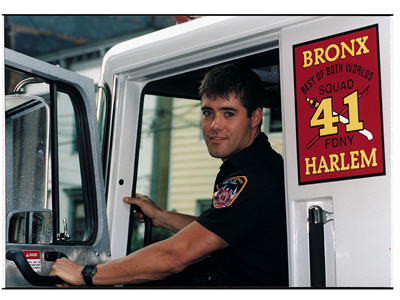 No registration is necessary for the 9/15 photography reception.  Registration is required, however, for the 9/19 film screening either in person or by telephone at (845) 477-8377 Ext. 101.
For additional information about these special exhibits and special programming, contact Kelly Corrado, Supervisor of Adult Services, Special Programs, Publicity, and Promotions, either by telephone at (845) 477-8377 Ext. 108 or by E-Mail at This email address is being protected from spambots. You need JavaScript enabled to view it..