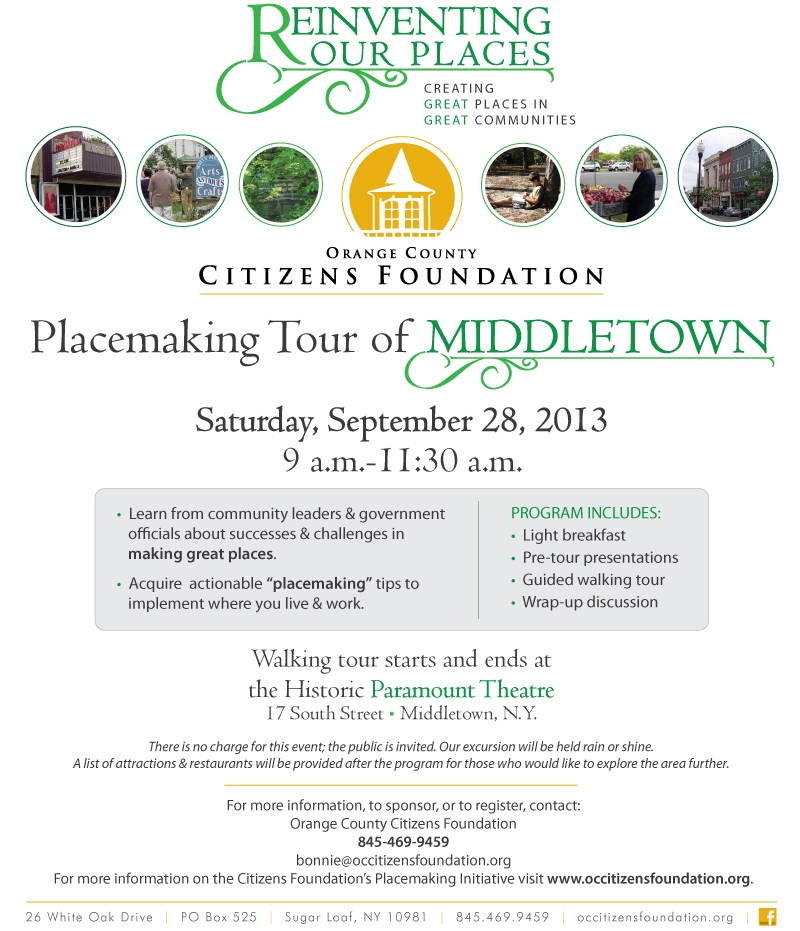 The Orange County Citizens Foundation has organized a "placemaking tour" of Middletown, N.Y. for Saturday, September 28 from 9 a.m. to 11:30 a.m. The goal of the tour is to provide opportunities for community leaders, activists, interested citizens, and planning/zoning board members to learn more about creating quality "places" within their communities.
"Young people, families, and our older populations are all looking for walkable communities with strong downtowns where they can afford to live, shop, work, and enjoy their leisure time," said Nancy Proyect, President of the Orange County Citizens Foundation. "Still, many of our downtown areas are struggling due to our past development patterns and changes in demographics. We believe that by helping communities create new areas where people want to 'be', Orange County can remain competitive economically and maintain a positive quality of life."
Placemaking is a multi-faceted approach to the planning, design and management of public spaces. It involves looking at, listening to, and asking questions of the people who live, work and play in a particular space to determine their needs and aspirations. This information is then used to create a common vision for that place. The vision can evolve quickly into an implementation strategy, beginning with small-scale, do-able improvements that can immediately bring benefits to public spaces and the people who use them.
The guided walking tour – which starts and ends at the Historic Paramount Theatre located at 17 South St., Middletown – will feature presentations by community and government officials about successes and challenges in making great places.
"Our goal is to begin a candid discussion among people in our communities who are interested in placemaking to find the best techniques available to meet their goals," said Proyect. "We want attendees to not only be inspired to create great communities, but to learn placemaking tools and develop connections with those who are already doing it."
The program includes:
Light breakfast
Pre-tour presentations
Guided walking tour
Wrap-up discussion
There is no charge for this event and the public is invited. The excursion will be held rain or shine.
In the past, the Citizens Foundation has organized "placemaking tours" of Beacon, Cornwall, Goshen, Monroe, Sugar Loaf, Walden, and Warwick, as well as Ramsey, N.J. and Milford, Pa.
For more information, to sponsor, or to register, contact the Orange County Citizens Foundation at (845) 469-9459 or This email address is being protected from spambots. You need JavaScript enabled to view it..
About the Orange County Citizens Foundation: The Orange County Citizens Foundation is a membership-based non-governmental organization that improves quality of life for Orange County residents through land use and transportation planning, water conservation, waste management, cultural affairs planning and education, public policy, and advocacy. For more information, visit occitizensfoundation.org or contact Nancy Proyect at 845.469.9459 or This email address is being protected from spambots. You need JavaScript enabled to view it..