-- Newly Formed Grassroots Group, Parents for Change Strives to Maintain District's Highly-Rated Education Standards through Community Action and Lobbying --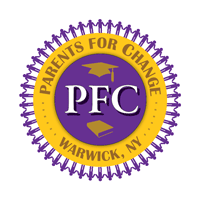 June 1, 2013 (Warwick, NY) - In response to drastic anticipated spending cuts to the Warwick Valley Central School District (WVCSD) budget, concerned parents announced the formation of Parents for Change (PFC), a group committed to preserving the District's superior quality of education. Founded in January 2013 by three local parents, PFC plans to leverage community engagement and activism, legislative lobbying and fundraising efforts to advance its goals.
"Costly and unfunded mandates coupled with the imposition of less State Aid and Tax Levy caps, not only impact the New York State education system as a whole, but have trickle down effects which can financially cripple local districts such as Warwick Valley Central," said Kathy Skafidas, one of the co-founders of PFC and parent to 2 elementary-aged children. "Now more than ever, it's critically important for parents and local community leaders to work with Parents for Change and take an active role in ensuring our children receive the high-quality education we expect from a historically top-ranked school district."
In 2012-2013 the Warwick Valley Central School district budget gap was around 3.6 million. In the upcoming 2013-14 school year, the WVCSD is faced with a $2-3 million budget revenue shortfall, which has lead to a second elementary school closing, teacher layoffs, potential closure of extracurricular programs and activities. In the next few years these budget gaps would potentially leave the District "educationally insolvent" – meaning, unable to fund all state and federally mandated student instruction and services.
PFC has a multi-pronged approach to minimize the impact of impending budget cuts by effecting change at the legislative, district and community levels.
Lobby at the local and state level for change in the NYS education system

Research, implement and execute additional revenue streams including the creation of the Warwick Valley Education Foundation.

Integrate the community with local PTA's and

district

officials by aligning with state-wide advocacy groups on common goals and approaches.
For more information about Parents for Change, visit www.parentsforchangewarwickny.com or our Facebook page at https://www.facebook.com/ParentsForChangeWarwick.