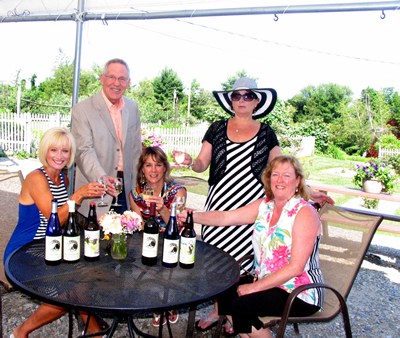 WARWICK – Set foot onto the grounds of one of the oldest working farms in the historic Hudson Valley, where vineyards and orchards grace the picturesque vistas at Applewood Winery for The Warwick Valley Chamber of Commerce after –hours 'Summer Wine Mixer' on Wednesday, July 23, from 6:00-8:00 p.m. at 82 Four Corners Road in Warwick.
Pack plenty of business cards, wear comfortable shoes, and be prepared to meet, greet and socialize with business professionals in a casual summer setting. Take advantage of a rare opportunity to sample some of the great wines available in the tasting room. Enjoy live music by Steve Wells and admire the surrounding gardens while sampling complimentary hors d'oeuvres.
Applewood Winery is open through December, Friday through Sunday from 11-5 pm with live music. In following a Hudson Valley tradition of wine making since Revolutionary War times, Applewood has pioneered the planting of Vinifera grape varieties. Their wines are made on premise from their own vineyards, orchards and from across the state. Their Naked Flock Hard Ciders available in Original, made with local honey: Draft, made with Belgian Ale yeasts and Citra Cider made with a Citra Hops will be available at the event. These are also available throughout New York State and New Jersey in Bars, Restaurants and retail shops. The ever-popular Pumpkin Cider, made with fresh roasted sugar will be available in the fall.
Join Chamber members for this unique social event. Cost is $10 for members, $20 for non-members. For more information or to make a reservation, please call the Chamber at: 845-986-2720 or e-mail: This email address is being protected from spambots. You need JavaScript enabled to view it..