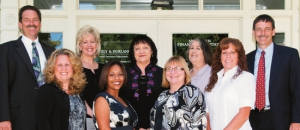 Seely and Durland is part of an elite group of independent insurance agencies around the United States, being named just one of 216 "Best Practices" agencies throughout the country by the Independent Insurance Agents and Brokers of America (IIABA).
"We are thrilled to be honored as a "Best Practices agency," says Garrett W. Durland, CIC, Seely and Durland president. "Our agency and staff have worked so hard over the years to improve workflows and procedures so all of our clients can benefit from a well run organization."
Each year since 1993, IIABA and Reagan Consulting, an Atlanta based management consulting firm, study the country's leading agencies in six revenue categories. The agencies comprising the study groups are selected every third year through a comprehensive nomination and qualifiying process and awarded a "Best Practices" agency designation. The selected "Best Practices" agencies retain their status during the three-year cycle by submitting extensive financial and operational data for review each year.
More than 1,100 independent agencies through the U.S. were nominated to take part in the annual study, but only 216 agencies qualified for the honor. And only 12 agencies in New York State were selected. To be chosen, the agency had to be among the 35-45 top-performing agencies in one of six revenue categories. The agency was nominated by either an IIABA affiliated state association or an insurance company and qualified based on its operational excellence.
Since their founding in 1934 , Seely and Durland Insurance has become an industry leader by serving as a local partner with world-class insurance solutions. They've helped thousands of individuals, families, and businesses throughout the Hudson Valley and tri-state area get the protection they need and the personal service and attention they deserve. They are nationally recognized in Rough Notes magazine. For more information, contact Durland at This email address is being protected from spambots. You need JavaScript enabled to view it. or call 845-986-1177 x309. Visit their web site, http://www.seely-durland.com/