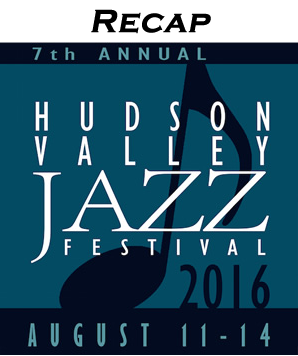 August 11-14, 2016 was the 7th year of The Hudson Valley Jazz Festival. Having grown from it's original Warwick Valley Jazz Festival, the HVJF has shown two principal growth factors: 1.) The number of participating musicians and venues 2.) In 2014, it moved from being singularly represented by Orange County as towns in Ulster and Dutchess took part.
The central theme has been to feature local talent on the same schedule as a few top names in jazz. 2016 was a celebration of the return to local. 15 shows in four days, 12 of them in Warwick. The singular marque name was replaced by highlighting the regions deep resource of local jazz talent, and mixing in some new folks on the outer Valley edges.
KJ Denhert's blues, folksy jazz material was very well received at The Warwick Valley Community Center and Hudson's Valley's Lindsey Webster's show lit up the stage at The Town Crier in Beacon.
This season was about the collective support of other organizations as part of the festival.
The Village of Warwick Concert Series chipped in with The NY Swing Exchange to open, which was then generously received by The Reformed Church due to rain.
The Warwick Historical Society, Sustainable Warwick, Warwick Grove, The Pine Island Chamber of Commerce and The Warwick Valley B&B were presenting venues and sponsors.
Returning as it has most of the seasons were The Iron Forge Inn, The Dautaj, and Pennings. With Daryl's House in Pawling and Milkweed in Sugar Loaf, we heard everything from bluesy to jazz education, to spoken word to Chris Persad's dynamic bop ensemble.
While the heat and humidity presented some obvious challenges, folks showed up and the musicians made it happen.
PARTICIPATING GROUPS AND MUSICIANS

NY Swing Exchange
Chris Persad Group with Chris Persad, Danny Walsh, Joe Tranchina, Dan Chester, Robert Kopec, Scott Neumann and Antoinette Montague
Lindsay Webster
Slide Attack
The Voyagers with Bob Myers, Steven Frieder and Rusty Holloway
The David Crone Trio
The Jeff Ciampa Group with Jeff Ciampa, Robert Aires, Richie Morales, Gregory Jones, Kay Road
The Eric Person Quartet with Rusty Holloway, Joe Tranchina, and Tony Jefferson
The Hudson Valley Jazz Ensemble with Gabriele Tranchina, Bob Rosen, Rick Savage, Neil Alexander, Steve Rubin and Robert Kopec
Stonehouse Jazz Project with Michael Hickey, Rave Tesar and Mickey Kopchak
The Jazz Patients with Michael Antonelli, Tom Venable, Pete Nobile, Jason Miller, Ryan Cerullo
Khalif Bobatoon
KJ Denhert
Karl Latham with Mark Egan & Clifford Carter
3D Rhythm of Life