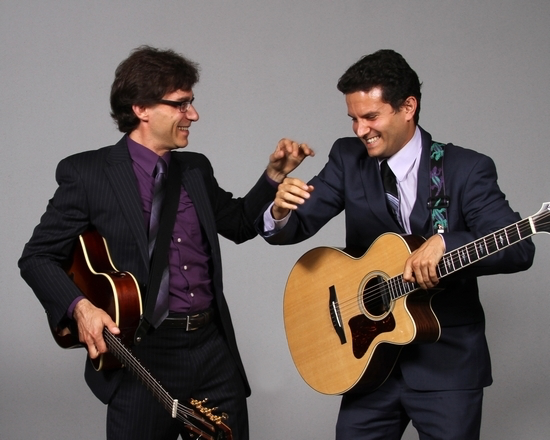 WEST MILFORD — Music at the Mission is presenting Frank Vignola and Vinny Raniolo on Saturday, April 25 at 8 p.m.
With nearly 1,000 engagements in the five years they've been performing as a duo, Frank Vignola and Vinny Raniolo have become one of the most popular and sought-after duos on the international music scene. Their dynamic genre-spanning music has brought them to 14 countries on three continents - so far - performing in some of the world's most illustrious venues, including the Sydney Opera House in Australia, The Palace of Fine Arts in San Francisco, New York's Lincoln Center and the world's oldest indoor concert hall, Teatro Olimpico in Vicenza, Italy.
Often featured on National Public Radio, Vignola and Raniolo have also become familiar figures on Public Television, featured previously on three popular shows, including the heavily programmed Tommy Emmanuel and Friends. Their own PBS special, "Four Generations of Guitar," produced by Peter Berkow, premieres in the 2015 season as part of the forthcoming 13-episode series "Music Gone Public", where they will be joined by special guests Bucky Pizzarelli, Joe Craven and Tommy Emmanuel.
Often called brilliant musicians, they never allow their virtuosity to overshadow the purpose of their music, which is to entertain their audiences.A typical performance will take the audience on a whirlwind tour of musical history. Bach, Mozart and Beethoven will be freely mixed with Ellington and Waller, blended with Gershwin and Carmichael, peppered with Bob Marley, Sting and Lennon/ McCartney, and spiced with Rodrigo and Lecuona.
"We like to have people leave our shows feeling better than when they arrived," said Vignola. "Night after night, all over the world we see how happy people are after a show. This is very important to us. We love to entertain people. Obviously, we entertain with the music, but making people laugh a bit by swinging our guitars back and forth, doing a silly cheesy dance step or having a few comedy routines is very satisfying."
In 2015/2016, Vignola and Raniolo are booked in seven countries and are setting up tours in celebration of their new CD release, "Swing Zing," and DVD release, "Live in Italy".
Music at the Mission, located at 1452 Union Valley Road, at the West Milford Presbyterian Church.