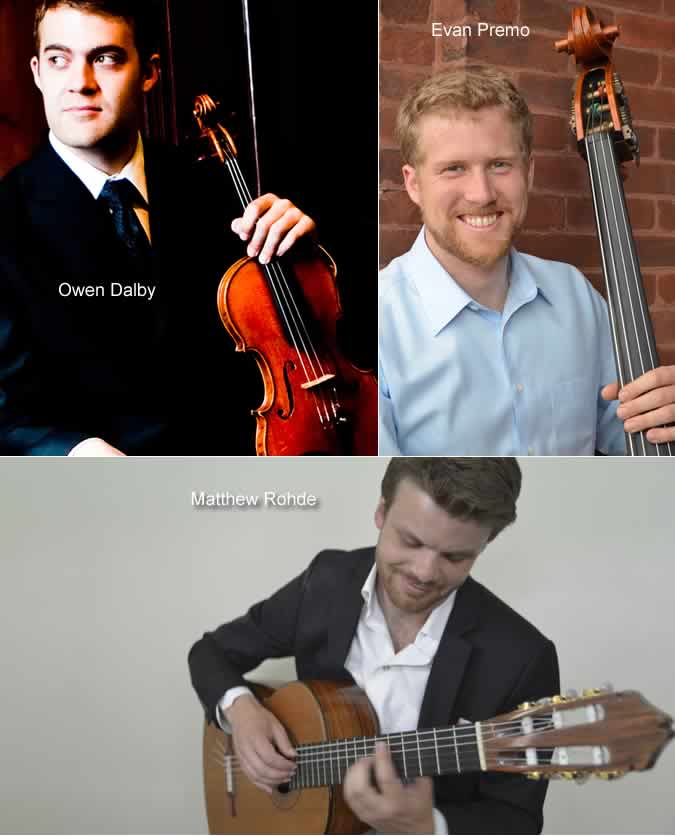 On Sunday, August 11th at 5 pm, Pacem in Terris welcomes classical guitarist Matthew Rohde , double bassist Evan Premo, and violinist Owen Dalby .
Program to include Benjamin Britten's Nocturnal for solo guitar, bassist Edgar Meyer's virtuosic duo written for himself and the violinst Joshua Bell….and a selection of trios for violin, guitar and double bass!
Brooklyn-based classical guitarist Matthew Rohde has earned a reputation as one of the finest American guitarists of his generation. He has been heard on stages throughout the United States, Europe, the Middle East, and Southeast Asia and as a soloist with the Yale Symphony Orchestra, the Hindemith Ensemble, and the Santa Fe Desert Chorale. In 2007 he was invited to perform at an address delivered by President Hu Jin Tao of China during his historic visit to the United States, and in 2009 he was the only American to advance to the semi-final round of the Guitar Foundation of America International Concert Artist Competition, arguably the most prestigious event of its kind in the world. And, together with fellow guitarist Alexander Henry, Matthew is a founding member of the Brooklyn Guitar Duo.
Double bassist and composer Evan Premo is a member of the New York City-based chamber music collective, Decoda, with whom he performs in residencies around the world, including two he led in Abu Dhabi, United Arab Emirates. As a member of Ensemble ACJW Evan has performed many concerts at Carnegie Hall and participated in residencies in Spain and Germany.

Along with the Pittsburgh Symphony Chamber Orchestra, Evan premiered his own double concerto for violin and bass, "Simple Mysteries" inspired by the nature poetry of Mary Oliver. As a soloist, Evan also premiered "Concerto for Bass and Orchestra" by Finnish composer Jukka Linkola. His chamber opera, "The Diaries of Adam and Eve" (text by Mark Twain) was commissioned by the Pine Mountain Music and has been staged several times, most recently featuring the Bergonzi String Quartet. Evan has performed at summer chamber music festivals throughout the country and has been featured as a soloist and chamber musician on National Public Radio's Performance Today.
Praised as "dazzling" (New York Times) and "a fearless and inquisitive violinist" (San Francisco Classical Voice), Owen Dalby is hailed for his gripping interpretations of music from across the stylistic spectrum. He is a co-founder of Decoda, New York City's trailblazing society of virtuoso chamber musicians, arts advocates, and educators. Owen made his solo debut at Lincoln Center in 2010. His varied career involves frequent appearances as a member of the Orchestra of St. Luke's, Princeton Symphony, Ensemble ACJW, and the Metropolis Ensemble. He is the concertmaster of NOVUS NY, the contemporary music orchestra of Trinity Wall Street church. He can also be heard on baroque violin with Four Nations Ensemble, Clarion Music Society, and
the Trinity Baroque Orchestra and Choir. Owen completed a three-year tenure in The Academy, a fellowship of Carnegie Hall and the Juilliard School that seeks to link a performer's life with advanced training in education and community engagement. Owen is regularly invited to perform chamber music at international festivals from Hamburg to Honolulu, and from Iceland to Mumbai. His chamber collaborators have included Daniel Hope, Dawn Upshaw, the Persian kamancheh virtuoso Kayhan Kalhor, and Simon Rattle. He is a native of Berkeley, California and received bachelor's and master's degrees from Yale, where he studied with Syoko Aki.
Pacem in Terris is a not-for-profit organization under the Education Laws of the State of New York, located at 96 Covered Bridge Road, Warwick, N.Y. NO RESERVATIONS POSSIBLE. Tickets go on sale at 4 p.m. rain or shine. Suggested donation $15. Please call (845)986-4329 or visit our website, www.frederickfranck.org.