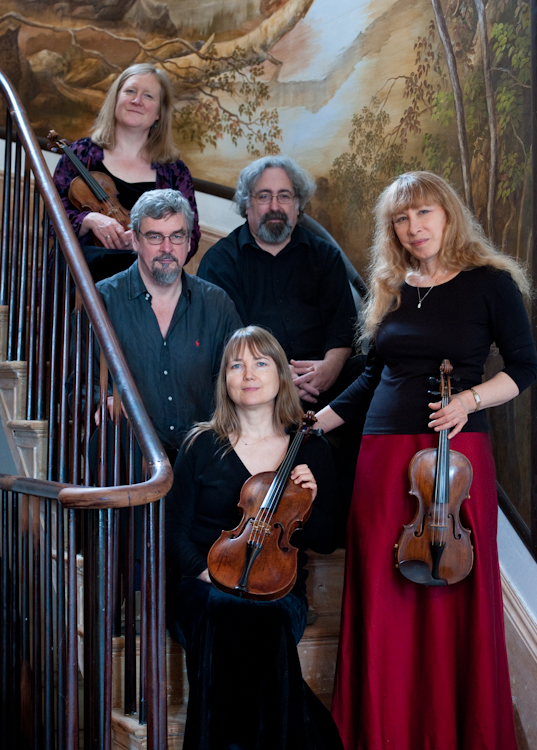 On Sunday, July 28th at 5 pm, the concert series will continue at Pacem in Terris with the DNA Quintet that includes the Loma Mar Quartet and John Feeney on bass, with special guest Owen Dalby on violin returning to perform works by Joseph Haydn, George Onslow and Johann Sebastian Bach.
The Loma Mar Quartet – Krista Bennion Feeney and Anca Nicolau, violins, Joanna Hood, viola and Myron Lutzke, cello – was formed in 1997 after being invited to perform Haydn String quartets at Bard College in New York State. Equally at home in many musical genres, they have established a reputation for the broad stylistic range of their programs, from medieval to contemporary. They worked with Paul McCartney in a recording for EMI entitled Working Classical, that includes nine of his songs arranged for string quartet, and two original compositions by Sir Paul written for the Loma Mar Quartet; Haymakers and Midwife.
Shortly after the release of Working Classical, then at the top of the classical charts, the Loma Mar Quartet appeared with the London Symphony Orchestra in a live concert from Liverpool which has been broadcast worldwide. Continuing their eclectic career, in 2002 the Loma Mar Quartet recorded The Rhythm of Life with jazz singer Claudia Acuna, bassist Dave Holland and pianist/arranger Billy Childs. In 2008 the quartet with bassist John Feeney, began the DNA project or Dragonetti's New Academy, and have since released two award winning cds of world premiere recordings of the chamber music of Domenico Dragonetti.
In April 2013 the Loma Mar Quartet were featured soloists for a two week run with The San Francisco Ballet Company in the ballets Criss-Cross and Ibsen's House. Ibsen's House was danced to Dvorak's beloved Quintet for Piano and Strings and Criss-Cross was danced to Arnold Schoenberg's rarely heard Concerto for String Quartet and Orchestra. They are all either members and/or principal players of the Orchestra of St. Luke's, and internationally recognized soloists and chamber musicians.
Praised as "dazzling" (New York Times) and "a fearless and inquisitive violinist" (San Francisco Classical Voice), Owen Dalby is hailed for his gripping interpretations of music from across the stylistic spectrum. He is a co-founder of Decoda, New York City's trailblazing society of virtuoso chamber musicians, arts advocates, and educators.
Owen made his solo debut at Lincoln Center in 2010. His varied career involves frequent appearances as a member of the Orchestra of St. Luke's, Princeton Symphony, Ensemble ACJW, and the Metropolis Ensemble. He is the concertmaster of NOVUS NY, the contemporary music orchestra of Trinity Wall Street church. He can also be heard on baroque violin with Four Nations Ensemble, Clarion Music Society, and the Trinity Baroque Orchestra and Choir. Owen completed a three-year tenure in The Academy, a fellowship of Carnegie Hall and the Juilliard School that seeks to link a performer's life with advanced training in education and community engagement.
Owen is regularly invited to perform chamber music at international festivals from Hamburg to Honolulu, and from Iceland to Mumbai. His chamber collaborators have included Daniel Hope, Dawn Upshaw, the Persian kamancheh virtuoso Kayhan Kalhor, and Simon Rattle. He is a native of Berkeley, California and received bachelor's and master's degrees from Yale, where he studied with Syoko Aki.
Pacem in Terris is a not-for-profit organization under the Education Laws of the State of New York, located at 96 Covered Bridge Road, Warwick, NY. No Reservations possible. Tickets go on sale at 4 pm. Suggested donation - $15.00. For further information: (845) 986-4329 - www.frederickfranck.org