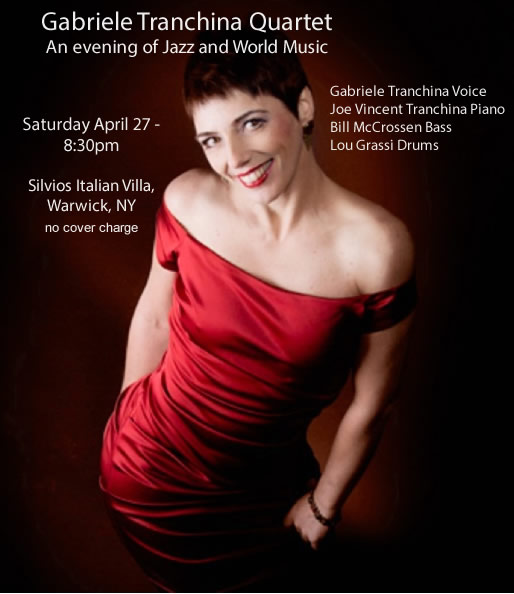 On Saturday, April 27, internationally acclaimed vocalist Gabriele Tranchina and her quartet will perform an exciting evening of Jazz and World Music at Silvio's Italian Villa. Bringing a worldview of music as a force for wholeness, a source of unity and energy for all, the event will be a night for all to celebrate, enjoy and appreciate.
In her latest CD "A Song of Love's Color," Tranchina ventures to cross the bridge through music, drawing from the world's beauty and versatility. Songs from the album, in addition to a repertoire of music from Brazilian, Afro-Caribbean, World, Jazz and European Art Songs will be presented.
Top New York musicians will also be on hand to accompany Tranchina. Her husband, pianist Joe Vincent Tranchina, has performed in most major jazz clubs in NYC and has a large body of work ranging in style and composition. Considered one of the top pianists on today's music scene and voted Hudson Valley's 2010 Jazz Musician of the Year in a Times Herald-Record readers poll, his acclaimed compositions from "A Song of Love's Color" along with Gabriele's unique interpretations and vocal dynamics will hold audiences rapt with delight.
Also accompanying Tranchina will be Bassist Bill McCrossen, who plays out frequently as does drummer Lou Grassi. "These musicians have been on the music scene forever," says Tranchina. "They are seasoned professionals at the top of their game."
For more information about the show call (845) 987-1500. Silvio's Italian Villa is located at 274 New York 94 South in Warwick, NY 10990.