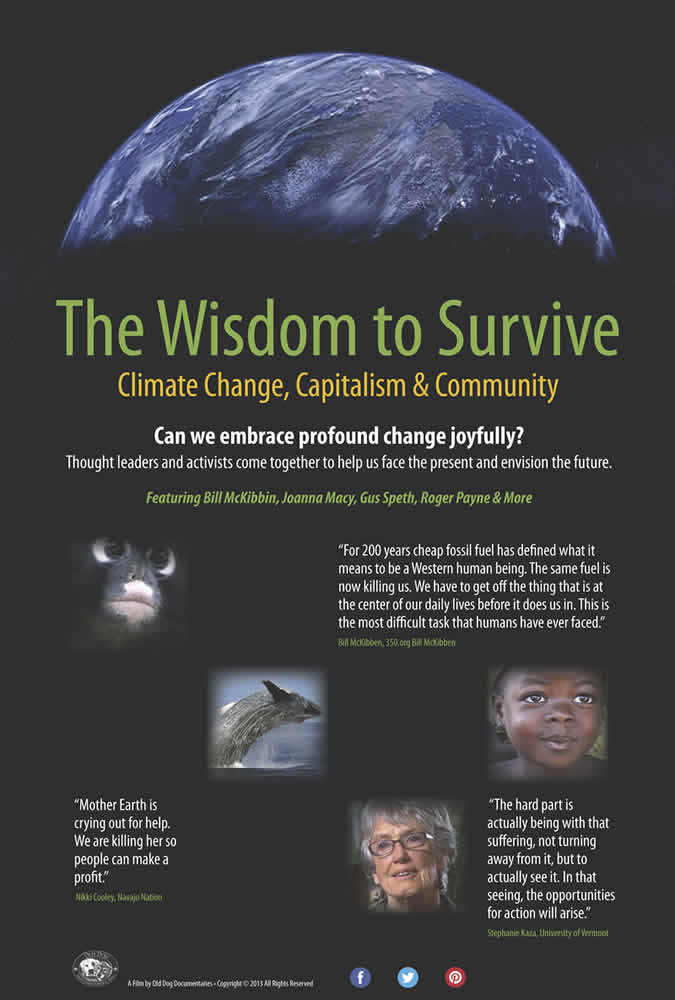 This film accepts the consensus of scientists that climate change has already arrived, and asks—what is keeping us from action? In discussions with thought leaders and activists, the film explores how unlimited growth and greed are destroying the life support system of the planet, the social fabric of the society, and the lives of billions of people.
Join Sustainable Warwick on Sunday, February 16th, 1:30 p.m., at the Albert Wisner Public Library in Warwickfor an engaging afternoon watching this documentary and participating in a discussion afterwards. Filmmaker Anne Macksoud, a former Warwick resident, will be present to share her insights about making this film. She, along with co-director, John Ankele, through their company Old Dog Documentaries, create films that inspire dialogue and action on social dialogue and action on social, economic and environmental justice.
They have been working together for 25 years producing issue oriented documentaries on public policy and social ethics. Titles include: Arms for the Poor; The Global Banquet: The Politics of Food; Coming to Say Goodbye: Stories of AIDS in Africa; William Sloane Coffin: A Lover's Quarrel with America; Beyond the Politics of Life and Choice: A New Conversation on Abortion; Birdsong and Coffee.
Their film Search for Spirituality was broadcast on ABC-TV and two films on aging--Grow Old Along With Me and Life Stories--were broadcast on PBS. Their film, Grandmother to Grandmother: New York to Tanzania, is about grandmothers living in two model projects where they are raising their grandchildren in community, one group in the South Bronx and the other in Dar Es Salaam, Tanzania.
What others say about the film:
"This is a starkly prophetic film. It combines the direst of warnings with deep love of life. Better than any other film I know, it makes clear that our profit-oriented growth economy has caused the climate catastrophe and cannot itself rescue us from disaster. We need new thinking and a new way of life."  Tom F. Driver, Paul Tillich Professor Emeritus of Systematic Theology, Union Theological Seminary
"A brilliant, achingly poignant film. Please SEE THIS FILM - bring it to your community, talk about it, share it with others. It is one of the most artfully-rendered films on the planet's crisis (and how we move through it) I have ever seen....—Shyla Nelson, Founder, One Earth One Voice Campaign
"I was deeply moved by this film... and it's taking me a bit of time to integrate... I feel inspired that there is still hope and there are good people out there doing good things to join up with. The film is absolutely a call to action.... — Emma Bragdon, PhD, Director of the Integrative Mental Health University