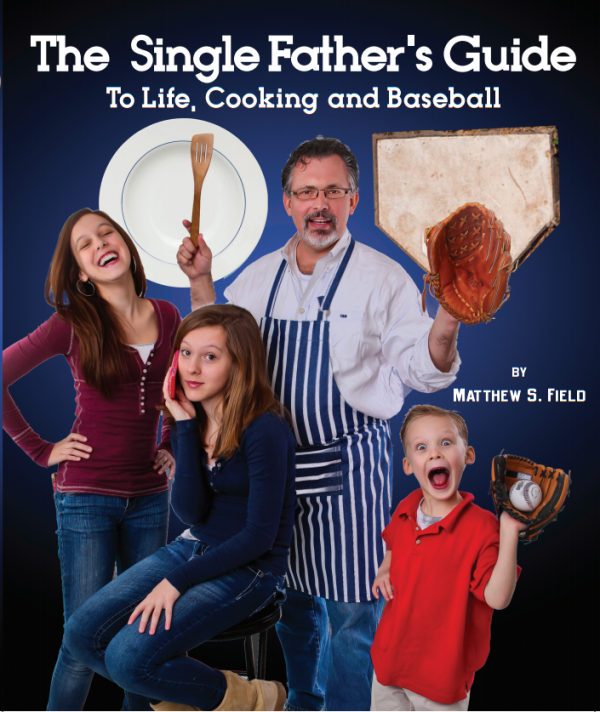 Prologue
It's a Game of Inches
Single fatherhood? Very likely, you did not plan to be here. Whether you said, "I do," or "I do tonight," you probably hadn't considered the possibility that you wouldn't have a partner to help raise your child or children. Divorced? Widower? A little surprise? Okay, perhaps a few single fathers actually planned to be a single father, and that's cool, too.
"The number of men who list themselves as single fathers has increased dramatically in the past 20 years.[i]" According to the U.S. Census Bureau, there were 1.8 million single fathers in the United States in 2010. Of that number, approximately 46 percent were divorced, 30 percent were never married, 19 percent were separated, and 6 percent were widowers. Among those, about 154,000 were stay-at-home dads.[ii]
Regardless of the path, you're in good company. Counted among the ranks of current and former single fathers are musician/activist Bob Geldof, baseball slugger Mark McGuire, actor Al Pacino, basketball star Dwyane Wade[mr1] , actor Colin Farrell, international soccer great Cristiano Ronaldo[mr2] , musician Lenny Kravitz, and, ahem, me.
You may know how to change your oil and flush the coolant in your car. Maybe you're the best defense attorney in the city or a high-powered captain of industry. You might be able to fillet a trout or field dress a deer. You may even know the answer to the question, "Who played third base for the '42 St. Louis Browns?" or recite the infield fly rule verbatim. Regardless of who you are, what you know, or the specifics of your situation, it's time to add another dimension to your toolbox. It's time to put up because someone, or maybe more than one someone, depends on you part of the time or all of the time. Let's go, Dad. You need to step up to the plate.
As far back as I can remember, I have heard parents lament (particularly when their kids are creating havoc), "Well, children don't come with a user's manual." If a user's manual doesn't exist for families in which the mother and father share the responsibilities of making a home, earning a living, and raising the kids, there certainly is no step-by-step guide [mr3] for the single father.
I wouldn't have ever considered a playbook for single fathers had I not, quite reluctantly, become a single father myself under circumstances worthy of a made-for-television movie.
♂
On an unseasonably warm, early spring day in Saratoga Springs, New York, where I lived with my wife, Lori, and our two daughters, I clearly remember thinking to myself, "You know, you've got it pretty good."
At that time, I was a thirty-six-year-old middle manager working for a publicly traded company. Although I was a bit of a "road warrior," I was usually home on Mondays and Fridays, and my office was 3.2 miles from my front door, which allowed me to effectively balance my work with my family. I had two beautiful daughters, ages five and two. I married the girl with whom I'd fallen in love at first sight when I was a high school freshman. I wasn't able to convince her to date me until I was a junior in college, but eventually, she relented. Lori and I dated for six years before we married.
The two of us made a pretty good team. Whenever there was an opportunity for career advancement that came with the attached string of relocation, I was on the job at the new office the next business day while Lori coordinated moving our belongings with a company-provided relocation consultant. At each new home, we divided the labor: she took care of the inside of the house, while I maintained the outside. The two of us explored our new communities while we enjoyed five years together before our kids came along.
In 1997, while living in Rhode Island, we welcomed a baby girl at Women & Infants Hospital in Providence. A few years later, our second daughter was born in Stafford Springs, Connecticut. In 2003, the four of us enjoyed a life that included a nice home in a great, historic town where, after a three-hour car ride, we could have been in Montreal, Boston, or New York, or at one of the Great Lakes. We had health. We had love. We had, well, just about anything a person could want or need in life. Then, it seemed almost overnight, our lives turned from a fairytale into a tragedy.
I really do recall thinking to myself on that March afternoon as I drove back to my office after having lunch with my wife at home, "You know, you've got it pretty good. We aren't there yet, but for the first time in our lives, we can actually see where there is." Although, in truth, my very next thought was, "Every time you get things working in one place, you're asked to move to a new office." That night, I told Lori about my premonition.
Cue Coldplay's, "Viva La Vida."
We closed on our new home in September 2003. The picturesque Warwick Valley in New York is nestled among the foothills of the Catskills, the Taconics, and the Poconos in Orange County. The Town of Warwick is composed of several villages, including the town's namesake, Warwick, in addition to the Villages of Florida, Pine Island, and Greenwood Lake, where Babe Ruth amused himself during home stands and the off-season several decades earlier. Agriculture, in the form of apple orchards and onion fields, and an eclectic combination of artists, writers, and small-business owners, comprise its backdrop. Strange, considering the wonderful ambiance of the area and all the moves we'd made, but this was the first time that I felt uneasy when we relocated. It would turn out, I had good reason.
In October, Lori and I learned we'd welcome another child, a son, to our family. A couple of months later, my employer announced that it had acquired a competitor and would undergo an organizational restructuring. Considering I'd just relocated and had a consistent record of improving customer satisfaction and the company's bottom line I was confident that my job would not be affected. For Christmas, we gave ourselves a couple of "family" gifts, like a trip to Disney World in April before our son would be born in July. When we returned from our trip, we planned to get a German shepherd puppy.
On February 27, 2004, I was called to my employer's headquarters office in central New Jersey and informed that my job had been eliminated. Of course, I was disappointed, but a much bigger concern loomed. A few weeks later, Lori noticed a swelling at the base of her neck and left shoulder. Several doctors and specialists, starting with her primary care physician and ending with an infectious disease specialist, examined the inflammation during next several days, but none were able to diagnose the condition. Finally, her doctor ordered a sonogram and determined a clot had partially blocked a blood vessel. Because the clot could have potentially broken loose and caused an aneurysm, Lori was admitted to the hospital and prescribed blood thinners to safely break down the clot.
While the mystery of the swelling had been solved, the question of what caused the clot still needed an answer. A day or two later and less than a week before the family was supposed to get on a plane to Orlando, I sat on an extremely uncomfortable chair and Lori lay in bed at St. Anthony's Community Hospital while her doctor confirmed the diagnosis: occult metastatic breast cancer. We canceled the trip and postponed the puppy.
Adversity causes some men to break; others to break records.—William Arthur Ward
The lymph nodes under Lori's left arm had mounted a defense against the invading bad cells, creating a flood of white blood cells, which thickened her blood and clotted near the suspected primary cancer site. The treatment dissolved the clot, but the horse had escaped before the barn door was closed. Six months pregnant with our son, Lori immediately began chemotherapy treatments. In June, as I sat by her hospital bed, Lori gave birth to our son. Eight weeks later, blood tests detected no cancer. In October, however, the disease had returned with a vengeance. The cancer had metastasized first to her spinal fluid, then to her liver. Fewer than eight months after having our son and ten months after she was first diagnosed, Lori passed away in the hospital as I sat there holding her hand. It had been less than two years since I commented to myself about our perfect life, "You know, you've got it pretty good."
♂
If there is one thing I've learned about a good made-for-television movie, it is that the protagonist, after facing a difficult or painful setback, somehow dusts himself off and steps back into the box.
Since February 4, 2005, I have been a single father of two daughters and a son, who were seven years old, five years old, and seven months old, respectively, when they lost their mother. And, no, there weren't any instructions. No single father's manual to guide someone like me as I began to deal with the emotional and physical needs that my children and I have experienced as I raise them without a mother.
When the going gets weird, the weird turn pro.—Hunter S. Thompson
Forging ahead, in the context of an entirely new framework for our lives, I reverted to the lessons I'd learned to guide me, although I may not have been so appreciative at the time. I recalled everything from the Red Cross babysitting course my mother insisted I complete when I was ten years old to my summer job as a short-order cook at my uncle's restaurant in Florissant, Missouri, to the idea of the "balanced man," espoused by my college fraternity. I even applied some of the lessons gleaned from the scores of leadership classes I attended during nearly two decades of climbing the corporate ladder. Mostly, though, I relied on two fundamental ideas, which are often considered clichés. First, the lesson that I had so personally re-learned: "If you have your health, you have everything." The second: "Baseball is a metaphor for life[mr4] ."
♂
When I'd heard people say, "If you have your health, you have everything," I thought I got it—but I only understood the words, not the devastating effects of a terminal illness on a loved one. Lori's illness and death really drove home the point. So, my first priority would be to keep my family healthy. Again, from my own experience, diet, exercise, and rest were the variables in the health equation that I could most easily control.
♂
Ever since I was a boy, I played organized and pick-up sports. My favorite had always been baseball, but at different times, I'd played basketball, football, and soccer. I didn't really understand the reasons my father and others said, "Baseball is a metaphor for life," unless he meant to imply that life was a game. As I played and then studied the game, I eventually "got" it.
Baseball is an allegorical play about America, a poetic, complex, and subtle play of courage, fear, good luck, mistakes, patience about fate, and sober self-esteem.—Saul Steinberg
The baseball season is long, but doesn't last forever. Life sometimes seems long, but it, too, does not last forever. For an individual to be successful, he has to perform as an individual, like he does when he's at bat; but he also has to work as part of a team, like he does when he plays the field. In life, a person who has character and integrity must take responsibility for his own actions, as well as live and work in a series of communities to accomplish greater goals for the larger society. Finally, as Branch Rickey suggested, "Baseball is a game of inches," in which small changes, small improvements, applied consistently and every day, will make a big impact both for the individual and for the team in the long run. Like Kevin Costner's character, Crash Davis, lamented in the 1988 film Bull Durham:
You know what the difference between hitting .250 and hitting .300? I got it figured out. Twenty-five hits a year in 500 at bats is 50 points. Okay? There's 6 months in a season, that's about 25 weeks—you get one extra flare a week—just one—a gork, a ground ball with eyes, a dying quail—just one more dying quail a week and you're in Yankee Stadium![iii]
In life, like in baseball, small improvements mean a lot. Bread is a simple and practical example of that idea. Okay, I know most of us grew up eating good old, all-American white bread. For many, old habits may be difficult to break, but check this out. A quick grocery store comparison of one particular brand indicates that a slice of wheat bread has ten fewer calories than the same brand's white bread; the wheat bread also has three grams of dietary fiber compared to the white.
Assume you pack your grade-schooler's lunch every day. The little scholar usually finds in the lunch box a ham and cheese sandwich on white bread. Doing the math, the ten additional calories in the white than in the wheat, multiplied by two slices of bread each school day, multiplied by 180 days in the school year yields a grand total of 3,600 additional calories each school year! Considering the average child between the ages of four and eight requires between 1,400 and 2,000 calories per day[iv], white bread sandwiches compared to wheat bread sandwiches add about two days worth of eating. Of course, wheat bread also contains three times the dietary fiber, keeps your child feeling fuller longer. Considering the "prevalence of obesity among children aged 6 to 11 years increased from 6.5% in 1980 to 19.6% in 2008[v]," saving twenty calories each day by switching your sandwich bread is an easy way to get ahead of the game.
♂
So, single fathers, regardless of your situation, this book can be your user's manual. Whether you are divorced and share visitation rights with your ex-wife, or you're a young widower who has kids at home full-time, or you have some other permutation of a single father existence, these are your basic instructions. First, however, there are a few disclaimers.
Yes, this is a cookbook. I believe keeping your children healthy keeps your children happy, and keeping your children happy keeps you happy. I've included recipes and ideas for breakfast, lunch, dinner, and snacks. And depending on your perspective, don't worry that the recipes are too difficult or too gourmet for you to handle. [mr5] I am no gourmet.
I'm also not a nutritionist. While I'm aware of calories, I don't count them. Moreover, I believe that nutrition is both a science and an art. Scientifically, our bodies need vitamins, minerals, proteins, carbohydrates, and fats to function properly. Artistically, there is more than one way to skin a . . . chicken breast. In this context, some nutritionists who read The Single Father's Guide will be critical of the fact that I prefer to use soy milk, artificial sweetener, or wheat flour in some of my recipes. Other nutritionists would have been critical that I use too much dairy, too much sugar, or not enough high-fiber foods. In the simplest terms, though, these are the recipes that I have used to keep my family healthy and able to enjoy active and fulfilling lives.
Finally, some of my suggestions and anecdotes come from my experience as a husband in a marriage that was a positive and rewarding experience. In the universe of single fathers, I realize that many readers are much more likely to be recently divorced. When there are no children involved, divorce is usually a moderately complicated breakup. When kids are involved, divorce is at best, civil, and at worst, ugly and painful. In the descriptions of my marriage, I in no way intend to insinuate that one circumstance of single fatherhood is more or less preferable. Regardless of the path that a man has taken to arrive at single fatherhood, we're all on the same road now.
These are my new shoes. They're good shoes. They won't make you rich like me, they won't make you rebound like me, they definitely won't make you handsome like me. They'll only make you have shoes like me. That's it.—Charles Barkley
No, this is probably a life you didn't expect. Likely, it's a life you would have done just about anything to avoid. But, now, it's your life. You're a single father. Because you love your children, you'll do the best you can for them. Again, because you love your children, you'll do the best you can for you, too.
When you've finished reading, I hope you'll find The Single Father's Guide to be a recipe for creating a healthy, productive, and contented life for you and your family. Remember, it's a game of inches.
---
---
---